About the Book
Title:
I Kissed Shara Wheeler
Cover Story: Will You Be My Big Face?
BFF Charm: Eventually
Talky Talk: Magically McQuiston
Bonus Factors: Scavenger Hunts, Awesome Parents
Relationship Status: Hunting Buddies
Cover Story: Will You Be My Big Face?
It's a big face hidden behind a Valentine! Okay, so it's not actually a Valentine, it's a note from Shara Wheeler that contains a clue to her whereabouts, but in the grand scheme of things…it's totally a Valentine. I actually have a confession about this cover, which is that I am not completely sure if the blonde Big Face in question is supposed to be Shara or Chloe. Shara seems like she'd be a hot blonde, but Chloe, who does not give off hot blonde vibes, is our protagonist here, so it makes sense that she'd be on the cover. I'm at a loss. Someone leave a comment and clue me in.
The Deal:
Shara Wheeler is perfect. She's the coolest, hottest girl at Willowgrove Academy. Her dad is the principal, she's going to Harvard, and she dates the star quarterback. But one day, Shara grabs Chloe Green (Willowgrove's queer, SoCal transplant and Shara's academic rival), pulls her into a broom closet, kisses her and then disappears. Like, really disappears. No one has seen Shara in days. And turns out, Chloe isn't the only person Shara kissed before skipping town.
Desperate for answers, Chloe enlists the help of Smith, Shara's football star boyfriend, and Rory, Shara's neighbor who's long harbored a crush on her. Smith and Rory both got mysterious Shara smooches too, so the trio teams up to follow the breadcrumbs Shara left behind for them. Chloe NEEDS to beat Shara for valedictorian fair and square, and she won't be satisfied winning by default. At least, that's what she's telling herself as she frantically follows the trail of hints and clues toward whatever Shara is leading her toward.
BFF Charm: Eventually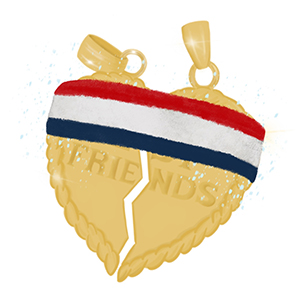 Chloe is strung tight as a violin and as competitive as they come. She can be a bit too headstrong and at times, she was so caught up in herself that she was a crappy friend to Georgia (who is INCREDIBLE and deserves better). But I also saw some of my high school self in her: quick to judge her peers, thinks she's better and smarter than everyone else at school, obsessed with being the best at all costs. Luckily for Chloe (and me), she goes on a bit of a character arc adventure and comes out better for it.
Swoonworthy Scale: 5
Chloe's feelings for Shara are COMPLEX AS HELL. She hates her, she's obsessed with her, she sees her as her academic equal and needs Shara there when Chloe beats her for valedictorian fair and square. But y'all KNOW this lady doth be protesting too much. While there is some tension and build-up between them, the complexities of their feelings are so…..well, complex, that it wasn't a straightforward romance. And even after its resolution I found myself mulling over how I felt about Chloe and Shara's ending.
That said, there is another romance in this story that, while also not straightforward, did feel really sweet and had me clutching my heart.
Talky Talk: Magically McQuiston
If you've read Red, White & Royal Blue or One Last Stop, you know that McQuiston's writing style is fun, fresh, and filled with whip-smart jokes. It somehow reads a million words per minute, like a Gilmore Girls script. Between chapters, the reader gets snippets "from the burn pile," little notes, letters, class assignments, etc. from various characters in the book. And like RW&RB, we get a delightful slew of supporting characters to fall in love with. McQuiston does a lot of things really well, but her side characters might be my favorite.
Bonus Factor: Scavenger Hunts
It was fun to follow Shara's clues and figure out where she was leading Chloe, Smith and Rory. At first, I thought man this girl is REALLY self-absorbed to be sending people on this kind of journey to find her. But as everything started coming together and it became clear WHY Shara did what she did, the result was pretty satisfying.
Bonus Factor: Awesome Parents
Chloe's moms are the BEST. They trust her and give her the space to figure things out on her own, but they're also there for her when she needs them.
Relationship Status: Hunting Buddies
While I Kissed Shara Wheeler did not punch me in the feels quite the way Red, White & Royal Blue did, it was overall a fun, funny, and well-paced contemporary read that combined lighthearted humor with important topics like gender and sexuality. I loved that the story was about kids who didn't fit the mold in their Evangelical Alabama high school, and the pressures they felt as well as the pressures they applied when they decided to push back to the powers that be.
Literary Matchmaking
Paper Towns
If you love a book with quests, scavenger hunts, and a protagonist searching for a girl they've always been fascinated by, check out John Green's Paper Towns.
FTC Full Disclosure: I received a review copy of this book from HarperCollins. I did not receive money or Girl Scout cookies of any kind (not even the gross cranberry ones) for writing this review. I Kissed Shara Wheeler is available now.