Cover Story: I Walk Alone
BFF Charm: Let Me Love You
Talky Talk: Straight Up With a Twist of Sadness
Bonus Factors: Road Trip, Hot Musician
Relationship Status: I'll Be There
Content Warning: This book deals with the topic of suicide.
Cover Story: I Walk Alone
The cover doesn't do it for me. We've got a stock photo redhead (our main character is a brunette, just like her best friend) walking alone on the side of the road. Between that and the bright yellow type, it doesn't really evoke the feeling of "my best friend committed suicide and I have no idea why."
The Deal:
Cody's best friend, Meg, killed herself suddenly, and left behind a trail of unanswered questions. Cody and Meg's family are left behind to pick up the pieces, and no one is coping very well.
When Cody goes to Meg's college apartment to clean out her stuff, she discovers that Meg wasn't exactly acting on her own. Questioning everything she knew about her best friend, Cody sets off to find out why her vivacious and charming best friend chose to end her life so unexpectedly. On the way, she meets Meg's old roommates, her former crush, Ben, and Meg's multitude of friends in the Seattle music scene. But can she ever get a satisfying answer to one of the most traumatic questions she's ever had to ask?
Gayle Forman is in fine form here, writing about grief in her signature accessible style. She sensitively deals with the topic of suicide—never glamourizing it or exalting it—and shows the horror of being left behind by someone you love. It is, perhaps, even more tragic than the events of If I Stay, because the person Cody grieves over made the choice to die. While both books deal with the ups, downs, and, ultimately, the gift of life, I Was Here's main character undergoes serious growth and change.
BFF Charm: Let Me Love You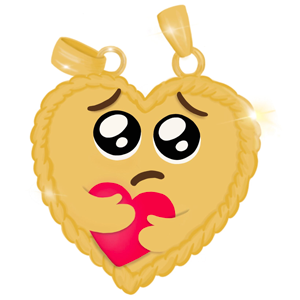 Cody is superprickly at first—with good reason—but she takes it out on people who just want to help. That was frustrating to read, because there are plenty of well-intentioned people around her in the wake of Meg's suicide. Although she has a perfectly good reason to doubt the motives of the boy who possibly, maybe broke Meg's heart, she's downright cruel to him. When she starts to let people in, though, she becomes infinitely more relatable and human. Everyone grieves in different ways, and it seems that Cody had to hate everyone before she could accept that maybe everything was not as it seemed. I spent most of the book wanting to either smack her and tell her to be nicer, or hug her, but overall, Cody is a good person in a terrible circumstance.
Swoonworthy Scale: 7
Falling for your BFF's ill-fated one-night-stand is not exactly the stuff fairy tales are made of, but it makes sense that two grieving people with similar upbringings would be drawn to each other. At first, Ben is guarded and harsh, but as they both bond over their shock and grief, he becomes the swoonworthy arty guy that Gayle Forman is so good at writing. Their relationship has a delicious slow burn, fraught with plenty of (occasionally ridiculous on Cody's part) conflict that makes the payoff more satisfying. It's not the focus of the novel, but it is a subplot that serves to balance the bleak journey.
Talky Talk: Straight Up With A Twist of Sadness
Obviously, if you're reading a Gayle Forman novel, you knowing going in that she's going to make you feel things. I Was Here is no different. In the hands of lesser writers, the elements of the story could have rung hollow: the memories, the road trip, the absent mother, the romance. What Gayle Forman does so well, however, is write warm but subtle character growth, so you're allowed to watch someone grow up on the page.
The answer to why Meg killed herself is fairly obvious to everyone but Cody, yet everyone helps her as she tries to find answers. As Cody goes on her journey to reconcile the Meg she knew with the Meg who took her own life, she's also learning to broaden her horizons, to accept help, and to change her relationship with her mother. Cody's anger, particularly with herself, leaps off the page. Despite her obsessive focus on Meg, this story belongs to Cody and her survivor guilt.
Bonus Factor: Road Trip
Even with a broken AC, a dark objective, and a morally questionable companion, a road trip is exhilarating.
Bonus Factor: Hot Musician
You keep writing the sexy musicians, Ms. Forman, and we will keep swooning over them.
Relationship Status: I'll Be There
Oh book, you were poignant and reminded us all that we never really know what someone else is going through. Do you need a tissue? A shoulder to cry on? Come here, let me give you a hug.
FTC Full Disclosure: I received my free review copy from Speak. This review was originally posted on Kirkus Reviews in exchange for monetary compensation, which did not affect or influence my opinions. I Was Here is available now.