About the Book
Title:
If I Was Your Girl
Cover Story: Beautiful Big Face
BFF Charm: Heck Yes!
Talky Talk: 2 Legit 2 Quit
Bonus Factors: Trans Representation, Friendship, Faith, Awesome Grownups
Relationship Status: Please Know That I'm Yours to Keep
Cover Story: Beautiful Big Face
My disdain for Big Face is well-documented (it's often deployed lazily and meaninglessly), but even a broken clock is right twice a day. And this cover is so, so right. It should come as no surprise that cover girl Kira Conley is an actual model, because she totally BRINGS IT. Her Amanda is defiant yet vulnerable—like she's baring her soul and daring the world to get to know her (which you absolutely should, BTW). This photo also reminds me of Johannes Vermeer's Girl with a Pearl Earring, both pose-wise and them being utter works of art.
But the absolute best part of this cover is having a trans woman portrayed by a trans woman. It shouldn't feel revolutionary, but it does. Phenomenal job all around, Flatiron Books!
The Deal:
Newly arrived in Lambertville, GA, Amanda Hardy is looking for a fresh start when she goes to live with her dad. Being the new kid is never easy—esp. during your senior year—but Amanda's determined not to get too close to anyone. Complicating that plan is her growing relationship with the sweet and kind-hearted Grant. As understanding as Grant may seem, Amanda is still apprehensive about telling him her biggest secret: she was assigned male at birth. Would Amanda's new life and new romance survive if the truth comes out?
BFF Charm: Heck Yes!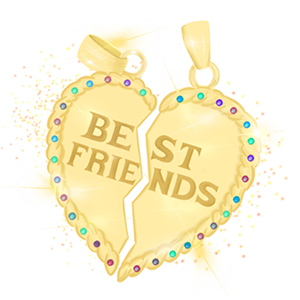 Oh, Amanda — feeling like you don't fit in can be scary enough, but it's much worse when the simple act of being your true self can bring out such ugliness from hateful idiots. Because how could anyone not love you, or at least empathize with you, once they get to know you? I'm firmly in the 'love' camp, because HELLO—you like sushi and puzzles AND you use proper grammar even when inebriated. I realized that I had already subconsciously added you as a BFF when your interests became mine, as my previous library visit included a hunt for your current read, Sandman. So let's make it official with a Star Wars marathon-ish* slumber party and squee over Poe Dameron together, OK? (You are a Poe fangirl, right?!?)
*Y'all fully know why that qualifier needs to be there. #NabooTaboo
Swoonworthy Scale: 10
Amanda understandably has trepidation with regards to Grant, but he is such the ideal first boyfriend: sincere, respectful, great kisser, and not at all boring. As good of a guy as he is, though, I couldn't help but share Amanda's lingering fear that this could all go south, like it did with her first crush. (Seriously—eff that dude, in all ways but literally.) But swoon always won out over caution, because ughhhhh I want only good things for the two of them!
Talky Talk: 2 Legit 2 Quit
Even before the book actually begins, Meredith Russo serves so much realness in her dedication and author's note. Then when it does, she so vibrantly illustrates Amanda's life with delicate, achingly beautiful words. And keep in mind: this is only Russo's first novel; if there's any justice in the world, we're all witnessing a YA powerhouse in the making.
Bonus Factor: Trans Representation
Starting with the protagonist and the author, trans people are present both on the page and behind the scenes, which is incredible and necessary—although, as Russo points out in the author's note prefacing the story, Amanda's experience should by no means be treated as gospel of the complexities and challenges that trans people face. They are many, they are varied, and they deserve to be heard. Are you listening?
Bonus Factor: Friendship
Amanda didn't really have any friends her own age prior to Lambertville, but she gains several true friends in her short time there.
Bonus Factor: Faith
Amanda's faith has helped her through some difficult times, even if the church itself hasn't been a source of comfort. There might be a vocal few that brandish religion against the LGBTQ+ community, but the latter two don't always have to be so disparate.
Bonus Factor: Awesome Grownups
The adults in Amanda's life certainly aren't without faults—some with more faults than others, as especially evident through the flashback structure. It's easy to claim unconditional love, but it's hopeful to see how far they've come along in embracing and loving Amanda for who she is. To amend the famous Yoda quote (which I hope Amanda would appreciate): try, try, try until you just do.
I'd be remiss not to give a shout-out to Virginia, Amanda's trans mentor and surrogate big sister. Selfless and supportive, Virginia is nevertheless cool enough to sneak Amanda into bars. (The rule-follower in me is reaching for pearls to clutch, but it's legal for someone Amanda's age to get into bars where I live, so the pearls can stay where they are.)
Relationship Status: Please Know That I'm Yours to Keep
As soon as I heard about you, Book, I wanted to fall in love with you. I try to avoid placing too many hopes and expectations on books, but you just sounded SO GOOD that I couldn't contain my excitement about finally getting to meet you. Now that I have—siiiiigh, you know you'll be staying in my heart forever now, right? You make me want to be a better ally, a better person—for the entire world to rebuild itself into a better place that's more deserving of your loveliness.
FTC Full Disclosure: I received my free review copy from publisher. This review was originally posted on Kirkus Reviews in exchange for monetary compensation, which did not affect or influence my opinions. If I Was Your Girl is available now.