About the Book
Title:
If It Makes You Happy
Cover Story: Happy As Can Be
BFF Charm: Big Sister
Talky Talk: Straight Up (But Could Be Sped Up)
Bonus Factors: Small Town Traditions, Fat as Fact
Factor: Family
Relationship Status: Happy Ending
Cover Story: Happy As Can Be
Whoever chose Claire Kann's cover brand to be happy Black girls is a VISIONARY. Plus, the model hasn't been photoshopped to be more digital image than human! (Although those flawless eyebrows might be an argument to the contrary, since they're TOO PERFECT FOR THIS WORLD.)
The Deal:
For Winnie Woodson, summertime means visiting the small town of Misty Haven. Between working at her granny's diner, Goldeen's, and hanging out with her no-longer-long-distance BFF, Winnie's poised for a great summer before going off to college. And she has big dreams for the diner—which she hopes to own one day—but those dreams aren't cheap. If Winnie could convince Granny to enter Goldeen's in the televised cooking competition that's conveniently come to town, however, their fortunes could change in a hurry. But convincing Granny to do anything is a mighty big 'if'.
BFF Charm: Big Sister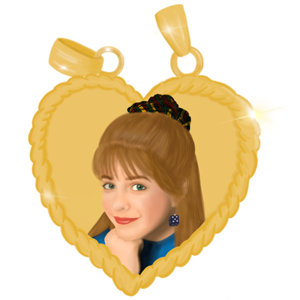 As someone whose temper and big mouth has gotten her into plenty of trouble as a kid, I found a kindred spirit in Winnie. But the expectation of niceness is even more amplified because she's Black and because she's fat. Winnie's had to put up with a lot of shizz—sometimes even from her own family—so it's no wonder that she's had to toughen up. But Winnie, if you ever want to let your guard down, I've already staked a spot firmly in your corner.
Swoonworthy Scale: 4
Baker extraordinaire Kara is Winnie's platonic life partner—emphasis on partner, because they really are a packaged deal that anyone who wants to date Winnie will have to accept. Unfortunately, the murky, non-romantic beef between Kara and Dallas, Winnie's Misty Haven forever crush, keeps rearing its ugly head, as does Winnie's insecurity that conventionally attractive guys like Dallas don't date girls like her.
Talky Talk: Straight Up (But Could Be Sped Up)
Claire Kann's writing is as easy to devour as any menu item at Goldeen's. And she has a knack for picking pop culture references that make me go, "DID SHE JUST…?" (Where my fellow Pokémon trainers at?! Although I'm offended for all us Olds that the book alludes to A Walk to Remember being an old movie, HOW DARE.) Those references include one from her previous novel, and I am here for a literary shared universe. Why should comic book movies get to have all the fun?
If It Makes You Happy isn't without more serious moments, like when issues such as fat-shaming and racism are weaved into the narrative. The pacing, however, could have been a little faster for my liking. And I realized a little too late that what I thought would be the plot is actually the subplot and vice versa, so the focus of the book could have also been clearer.
Bonus Factor: Small Town Traditions
Each year, a ceremonial Haven Summer Queen is randomly drawn. When there are multiple volunteers as tribute to be the consort counterpart, they compete in a tiebreaker because of course they do. There's also a long history of royal couples ending up together, for those who believe in the matchmaking powers of Haven Summer Royalty. (Side note: why has there never been a Bachelorette x Amazing Race hybrid show? It'd be like the Triwizard Tournament, but with kissing instead of killing.)
Bonus Factor: Fat as Fact
Winnie is fat. She'll also tell you that she's fat, and that she's perfectly OK with being so. But the world can be pretty terrible to people who are fat, even when—especially when—prejudice is masked as concern. And it's extra awful to get it from health care professionals who should know better. News flash: not all people who are fat want to lose weight, and fat and fit aren't mutually exclusive. (They're even only one letter different; how much more obvious does it have to be?)
Factor: Family
Sweet might not be the first thing that comes to Winnie's mind about her baby brother, Winston, but their relationship totally is. (I almost raised a small stink over their cutesy names, until I remembered that I know an IRL example as well.) She and her cousin, Sam, might not have very much in common, but they get along and Sam means well—to a point.
Granny, though, is a force of nature. Which would usually place her as a contender to be a Kickass Gram, but sometimes that force of nature isn't necessarily on your side. Winnie's relationship with Granny is complicated and messy, which doesn't happen very often with YA grandparents.
Relationship Status: Happy Ending
The book and I had fun shooting the breeze, but it took a while for us to get deeper and for the true direction of the date to take shape. So it's not quite a happy ending, with the book and I living happily ever after. Our time together is over but we're happy about going our separate ways.
FTC Full Disclosure: I received my free review copy from Swoon Reads. This review was originally posted on Kirkus Reviews in exchange for monetary compensation, which did not affect or influence my opinions. If It Makes You Happy is available now.