About the Book
Title:
Five Flavors of Dumb
BFF Charm: Yay!
Talky Talk: SXSW Journal
Bonus Factors: Bands, Rock and Roll, ASL, Keith Mars Award
Anti-Bonus Factors: Makin' Me Feel Old
Relationship Status: Favorite Gig Buddy
The Deal:
Seattle-born Piper Vaughan, eldest child, chess club president, and school outcast, is not exactly having a banner year. Her best friend, Marissa, has recently moved to another school. Everyone at her school either ignores her or stares at her. Her younger brother, Finn, is getting into trouble and she keeps having to bail him out. Her parents are pretty much only interested in her baby sister, Grace. Plus, they just raided Piper's college fund. To pay for baby Grace's cochlear implant. Which Piper would be all for, except that, like Grace, she is also severely deaf, and there's certainly no possibility of a cochlear implant for her.
Just when Piper is at her wit's end – and desperate for money so that she can go to the college of her dreams, Gallaudet University – her school's ragged band of musical misfits, Dumb, ask her to be their manager.
Now she has to turn Dumb into a band that can actually play more than three chords, make them some money, and manage a jackass pretty boy, a silent bassist, a surly lead guitarist, a crush and the token beauty, while still navigating her crazy home life. Who said rock and roll was easy?
BFF Charm: Yay!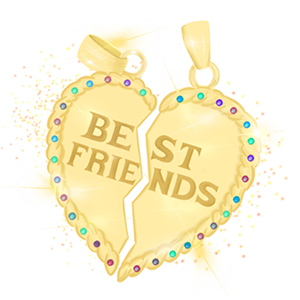 Yay, yay, a thousand times yay! I love you, Piper Vaughan! It's a testament to Piper's awesome attitude – and Antony John's writing – that I didn't even want to roll my eyes when Piper complained about her parents raiding her college fund, which is ordinarily my NUMBER ONE PET PEEVE PLOT DEVICE. (I just want to scream "It's not the end of the world! Take out financial aid and go into horribly crippling debt like the rest of us!!")
But, like I said, even when Piper complained about her missing college fund, I felt for her. She has all the standard problems of being a teenager: too old for your parents to baby you and too young for them to treat you like an adult, feeling like an outcast/freak at school and not knowing where you fit in in all of your shifting dynamics, not to mention some non-standard ones, like the fact that she's the only deaf person at her school. Plus, Piper is not afraid to stand up for herself and tell it like it is to her family, her friends, and the members of Dumb.
Swoonworthy Scale: 6
I have a yen for Ed Chen! (Sorry, I'll stop that.) So, the one place that Piper could use some help is in her Romantic Radar, because she CLEARLY doesn't get it. I kept wanting to shake her and scream/sign/hire a skywriter to say "GIRL HE LIKES YOU."
But when she finally DOES figure it out, it pays off. Quite hotly! I'll never look at coffee the same way again.
Talky Talk: SXSW Journal
While I no longer live in good ol' ATX, I spent the best/drunkest five years of my life there. And if you know anything about Austin, you've probably heard about South By Southwest, which is our yearly week-long interactive/film/music festival in March. If you've never been to SXSW, allow me to describe it in one sentence of Kanye Caps: MUSIC STREET PIZZA MY FEET HURT MUSIC EVERYWHERE FLIRTING WITH BASSISTS HAVEN'T SLEPT IN THREE DAYS NEED A SHOWER AND A NAP TIME TO SEE ANOTHER BAND LET'S DO THIS THING!
SXSW is a frenzied, heady celebration of music, of life. It's the only place I can, in one day, watch Cherie Curry carve a statue of a man using a chainsaw, then avoid Perez Hilton at one venue, catch the latest indie darlings and then flirt with some of them after their set at the next, stop to listen to a Japanese hip-hop band performing on the street on my way to see a world-renowned performer do an acoustic set in front of 50 people, then run over to meet Sarah for happy hour, and then go have a dance party to Jay-Z. Just as an example.
Sarah nicknamed South By Southwest as "SXSmas" a few years ago, which is the perfect explanation of the range of tingling joy/exhaustion/euphoria/depression once it's over that SXSW causes. It also causes, in me, a complete removal from my typically cynical self.
SXSW Erin is a wide-eyed optimist, up for anything and everything, and alive in the music. SXSW Erin scratches out effusive reviews of bands on scrap paper and daily schedules. SXSW Erin is, in that week, 100% rock and roll.
This book totally reminded me of SXSW Erin! It's a love song to the power of rock and roll music to define people, to release people, to anchor people and to let them fly free.
Bonus Factor: Bands
One of my DJIIWIW (Dream Job If I Were Independently Wealthy) is as a band roadie. It's the best job evs! I'd get to travel the world (well, if it was a popular band) AND drink every night AND get to wire electronic equipment AND unwrap cords, which is my favorite soothing activity!!! (seriously; the way I deal with holiday stress is to unravel Christmas tree lights.) But, best of all, I'd get to hang out with bands! Moody, sullen, artistic, funny, talented bands!!
Bonus Factor: Rock and Roll
I like a lot of music, from the most navel-gazing singer songwriter to the most egotistical hip hop artist (Kanye, call me!). But rock and roll is the bones of my body, the bread and butter my parents raised me on. So reading about Dumb's influences, or following along on Piper's Rock Musician Field Trips made me grin from ear to ear.
Bonus Factor: ASL
Hooray for American Sign Language!! The only ASL I know is what my daughter or frequent commentor Meredith has taught me, but I love the ways in which it can usually be more expressive than spoken English.
Bonus Factor: Keith Mars Award
Believe me, if you had told me at the beginning of this book that I'd be awarding Piper's dad, Ryan, with the coveted Keith Mars Award of Awesome Dadhood, I'd have laughed in your face and then poured you a black coffee, cause CLEARLY YOU ARE DRUNK AND NEED SOME SOBERIN' UP. No one was more surprised than me that Piper's dad had me crying, nodding in agreement and needing to call my own dad to tell him I love him by the end of this book. As great as YA books are for honest portrayals of teens, it is, for me, even greater when a book can have an honest portrayal of parents – people who have found themselves responsible for other humans when part of them still wants to sit in their underwear and eat cereal straight out of the box, people who are reconciling their parent self with their rock and roll self.
Anti-Bonus Factor: Makin' Me Feel Old
While I was reading Dumb, I kept finding myself offended and annoyed by the fact that very few of the characters knew basic facts about Nirvana and various other early- to mid-90s bands. "COME ON," I would silently fume, while rolling my eyes. "EVERYONE KNOWS NIRVANA'S ENTIRE DISCOGRAPHY. STOP FRONTIN', JOHN!" And then I realized . . . the characters in this book were born the year Kurt Cobain died. And then I simultaneously downed the rest of my drink while peering in the mirror, looking to see if any new wrinkles had cropped up in the last few pages.
Relationship Status: Favorite Gig Buddy
Anecdote time! A few years ago, my buddy Dachelle and I travelled to Chicago to see a band. (Yes, this is something we do.) Before we went, we invited two other girls – friends of friends of friends, who we had never met – to crash at our hotel, since they were also from out of town. What transpired that night is like something out of Nick and Norah – we rambled around the city, falsifying government documents, being driven around in insane cabs, getting lost, getting found, getting kicked out of clubs, sneaking back into them, being threatened with arrest, marking up a Tiger Beat, sitting through sound check with the band, then wandering down back alleys with same and, more than anything, feeling that euphoria that comes from sharing drum beats and bass strings with 300 strangers-turned-friend: the press of bodies, the cloud of smoke, the pulse of the lights.
That gig remains the best of my life, though it's had a lot of competition. And not so much because of the band itself, but because I had by my side a group of old and new friends who loved the music as much as I did.
This book is totally my new favorite gig buddy!! It won't laugh at me when I passionately explain the joy of seeing a live band, when I argue over instruments or influences. It will agree with me that there's nothing like the joy and the pain and the thunder of music. And it'll probably hold my hair after too many shots of Makers Mark.
FTC Full Disclosure: My review copy was an ARC I received from Penguin. I received neither money nor cocktails for writing this review (dammit!). Five Flavors of Dumb is available in November.