About the Book
Title:
I'll Meet You There
Cover Story: Motel California
BFF Charm: Goose and Maverick
Talky Talk: She Says, He Remembers
Bonus Factors: Semper Fi, Depiction of Poverty, Kitschy Motel
Relationship Status: Take My Breath Away
Cover Story: Motel California
Thank you, Henry Holt and Co., for resisting the urge to go with a giant kissyface cover, and instead representing the most important setting in the book. Having the sky (har) half in darkness and half in light is also an incredibly evocative image.
The Deal:
Creek View is the kind of small town that many dream of escaping but few ever do. Freshly graduated Skylar Evans is more than ready to leave this life behind for art school in San Francisco. But when her mother loses her job, Sky's bright future suddenly doesn't seem so certain anymore.
Josh Mitchell did make it out of Creek View—all the way to Afghanistan with the Marines. But he returns home from battle with one less leg and way less of the cocky 'tude he once had as the town stud.
The only thing Sky and Josh seem to have in common is working at the Paradise Motel. As the two of them grow closer, their unexpected friendship starts to become something more.
BFF Charm: Goose and Maverick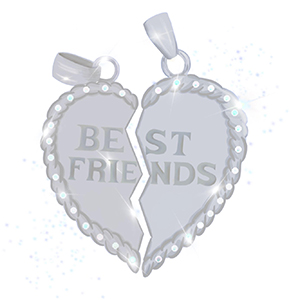 Sky is totally my girl—and not just 'cause we'd be the only sober kids at a teen party together. (Well, if I was also a teen. Go to a teen party when you're my age, and you'd probably belong on a list.) Just like a perfect wingman, she always has her friend's backs. And on the subject of perfect wingmen: Sky loves Top Gun and OMG SO DO I, I WILL DEFEND THAT MOVIE TO THE DEATH. Or OK, maybe just to the loud argument.
But there's no arguing Sky's artistic talent with her collages, or how she's the type to look after everybody else before herself. Sky, as your self-appointed Goose, I'd love to take care of you for a change, even though you can more than fend for yourself. It might be starry-eyed naiveté (or, you know, middle-class privilege), but I just wish life wasn't always so difficult for you. And keeping your emotions as bottled up as you do only leads to messy explosions, so VENT, GIRL, VENT.
Bonus BFF charms to Sky's besties, Chris and Dylan, aka the greatest support system in Creek View. I wouldn't want to replace either of them, but I'd gladly invite myself to be the fourth member of this crew, even if that honor sort of already belongs to Dylan's baby, Sean.
Swoonworthy Scale: 10
When a couple does hurt-y twisty things to my heart, they immediately earn a top score for swoon. Sky and Josh DEFINITELY qualify. Every moment between them feels like A Moment, you know? When you witness two people fall in love before they even realize it themselves. When they hurt each other when it's the last thing either of them really wants to do. Oh yes, Sky and Josh go through a blissful, excruciating gamut of emotions. And there's also some S-E-X, which is pretty dang H-O-T. (It's actually more S-W-E-E-T—although hotness is present, too—but I do love parallelism.)
Talky Talk: She Says, He Remembers
Skylar narrates most of the book in her frank, takes-no-shizz voice, with the occasional detour to Josh's heartbreaking state of mind, and sugar-coating nowhere to be found with either character—esp. with Josh's PTSD, emphasis on the traumatic. He may have left the war, but the war hasn't left him. Not even close.
Bonus Factor: Semper Fi
Josh's unit, the family he found, is never far from his mind: the boisterous camaraderie, the salty language, and the back-and-forth ball-busting. But even the happy memories are tinged with sorrow for the friends he'll never see again.
Bonus Factor: Depiction of Poverty
Forget paycheck to paycheck, Sky and her mom are living dollar to dollar. The despair of not knowing where your next meal will come from, the judgment from bystanders who think you have as little value as there is in your bank account: it's easy to see how so many people in Creek View—and in Creek Views all over the world—become trapped in the cycle of poverty.
Bonus Factor: Kitschy Motel
The Paradise Motel might be a little worse for wear, but its themed rooms are full of quirky charm. The owner, Marge, is more of a surrogate mom than a boss, so she's pretty awesome. Plus, that cute co-worker certainly makes the days go by easier.
Relationship Status: Take My Breath Away
Book, I'm putting this in Cruise-McGillis terms, so you know I'm for serious. (Although fortunately, there are no awkward silhouette make-outs for us. Only hot ones.) I'll probably have to get used to sharing you, since you're going to have people falling in love with you everywhere you go. But that's OK; you've nestled your way into my heart, and I'm going to keep you there always.
FTC Full Disclosure: I received my free review copy from Henry Holt and Co. This review was originally posted on Kirkus Reviews in exchange for monetary compensation, which did not affect or influence my opinions. I'll Meet You There is available now.