About the Book
Title:
I'll Stop the World
Cover Story: Ominous
BFF Charm: Mixed Bag
Talky Talk: Cinematic
Bonus Factors: The Eighties, Time Travel, Diversity
Relationship Status: I'll Melt With You
Cover Story: Ominous
I think this cover actually works pretty well – the ominous "figure standing in the rain" is pulled directly from the book, and with the giant title splashed over the image it's following similar "thriller" cover trends. They could have gone heavy on the '80s nostalgia, but that would've felt out of place because the book actually does a decent job of making the '80s feel real and lived-in and not like a Saved by the Bell episode.
The Deal:
Justin lives in Stone Lake in 2023, a high-school senior who lives with his alcoholic mom and his mom's deadbeat cousin. As someone with bad grades, no money, and not a lot of personal drive, Justin doesn't have a lot of prospects post-high school, so he resigns himself to his Dollar General job and being his mom's caretaker after a bad bender.
Rose also lives in Stone Lake – but in 1985. Her life is on a much different trajectory than Justin's: her days are full of pretending not to be in love with Noah, her BFF, pretending to be the perfect daughter for her step-mom's mayoral campaign, and pretending that it doesn't bother her that her friend-turned-sister, Lisa, isn't being honest about why they haven't been as close lately.
On the nights of their respective school pep-rally bonfires, their lives are about to collide in a world-shattering way. The more Rose and Justin wonder "why us?" the more signs seem to point to a mysterious fire that burned down half of their high-school back in 1985—a fire that killed Justin's grandparents before he was born. Will changing history send Justin back to the future, or are some things predetermined?
BFF Charm: Mixed Bag
We get short chapters from multiple different perspectives of various people around Stone Lake, but Justin and Rose are definitely our protagonists.
As the time-traveling outsider and someone with a tougher home life, Justin's outlook could sometimes be pessimistic and I'd get frustrated with him, wanting him to CARE more. I'm not the most peppy person out there, but I don't think he'd get a BFF charm from me until he worked out his personal issues. As we saw with his only friend, Alyssa, having a friend's support can only help so much when you kind of loathe yourself.
My girl, Rose, on the other hand, is the kind of person who invites some rando on the street into her car and finds him a place to stay, or fundraises for her BFF's grandma after her garage burns down because of possible arson. Even though she has her own struggles not communicating her needs to her friends and family, she is solidly BFF material.
Swoonworthy Scale: 3
The story follows a few different relationships and potential relationships throughout, and while none of them really knocked my socks off, they fit within the context of the plot.
Talky Talk: Cinematic
Debut author, Lauren Thoman, has given us a very cinematic novel, in that readers move through the plot at a brisk pace, being introduced to the important, often archetypal players and doling out bits of backstory at just the right times until everything comes together at the end. In Mandy Kaling's foreword (the book is published under her new imprint), she says that after she finished reading she immediately wanted to reread it to spot all the little clues she missed, and I can see why. As I mentioned in the Cover Story, I appreciated that Thoman's '80s version of Stone Lake gave you a great sense of place and time without dipping into a caricature, and I think that helped the story feel more realistic.
This was a fun and at-times poignant debut that has me excited for future books from this author!
Bonus Factor: The Eighties
There are some plot devices that just can't work anymore in a modern-setting when everyone is so connected with technology. It was fun seeing Rose's world through Justin's eyes, like when she says she and Noah will come and "pick him up later" and he just has to wait around and hope for them to show because he can't call them while they're out.
Bonus Factor: Time Travel
Do we just love time travel because of the infinite possibilities and mind-screws, or did Back to the Future just influence all of us more than we realized? This book is light on the mechanics and whys of the time traveling and focuses more on the "what will you do with this gift that's been given to you?" Justin, ever the pessimist, also hasn't ruled out the fact that he's actually dead and this is all a very elaborate way for his mind to come to terms with his death.
Bonus Factor: Diversity
I talk about this feeling like a movie, but we know if this had actually come out in the '80s we wouldn't have seen some of the faces that populate this current story. Rose and her father are Asian and her step-mom and step-sister are Black, and you can imagine that has some impact on Rose's step-mom's political campaign. Two of our characters are also coming to terms with their sexuality and with telling their friends and families. None of these things are major plot points, but they make the world feel real and inclusive.
Relationship Status: I'll Melt With You
Awkward implications of that song aside, if you were ever lost in my time and needed a friend to help you figure out what to do, I'd be there for you, Book.
Literary Matchmaking
The Love That Split the World
Emily Henry wasn't always the premier adult romance writer she is today: her debut novel, The Love That Split the World, is a YA story filled with time-travel trope and an MLD.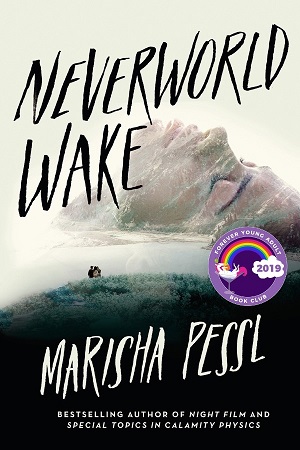 Neverworld Wake
If you want a book that will keep you on your toes and rip your heart out, check out Neverworld Wake by Marisha Pessl.
FTC Full Disclosure: I received my free review copy from Mindy's Book Studio. I received neither money nor peanut butter cups in exchange for this review. I'll Stop the World is available April 1st.