About the Book
Title:
In the Neighborhood of True
Cover Story: Magnolia Queen
BFF Charm: Yay
Talky Talk: Ain't It Swell
Bonus Factor: Judaism
Relationship Status: Not Ready To Go Steady
Cover Story: Magnolia Queen
No doubt, this cover is pretty, with the soft pastels, golds, and the magnolia, which has significance in the story, since Ruth is competing in the Magnolia Queen debutante ball. But I also feel like it doesn't show any sign of the darkness in this story, which was actually a problem I had with the book as a whole—not just the cover.
The Deal:
After her father's death, Ruth Robb's mother transplants Ruth and her little sister from New York City to Atlanta, where they live in Ruth's grandparents' guest house and enroll in the local Covenant school. Ruth is surrounded by southern belles in pastel dresses as she throws herself headfirst into her new life as a pre-debutante. The only problem? Ruth and her family are Jewish, and in the south in 1958, acts of anti-Semitism are on the rise. Ruth finds herself torn between loving her new life, with new friends and newfound popularity, and her secret life, attending temple with her mother. She's even torn between two boys: handsome, charming Davis at school, and Max, the activist college student she gets to know at temple.
But as tensions rise around Atlanta, it becomes harder and harder for Ruth to hide who she really is. The news is filled with stories of the Klan burning crosses in front yards around town, and lately, someone has been terrorizing the temple too. Ruth has to decide if she can keep up the ruse, or if it's time to embrace who she really is, even if that ruins everything and puts her in serious danger.
BFF Charm: Yay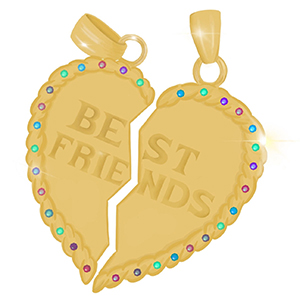 There's a lot to like about Ruth. In some ways, she's a typical teenage girl who loves makeup and clothes and reading fashion magazines. But Ruth's also got guts. She never shies away from a challenge when the local mean girl, Claudia, tries to intimidate her. She was also totally down to hook up with Davis because she wanted to, and didn't let societal pressure affect her decision about it. At temple, when Max challenges Ruth by pointing out how easy she has it compared to Atlanta's black community, she tries to change her way of thinking and the way she treats the black people in her life. Her intentions are good, even when ignorance causes her to sometimes miss the mark.
Swoonworthy Scale: 5
There's a sorta-love-triangle happening here, and I feel like this book was meant to be swoonier than it ended up being. When Ruth joins Covenant, she's quickly smitten with Davis Jefferson, the handsome, charming, most popular boy at school. Their relationship develops with all the hallmarks of swoon we should be familiar with. However, I never really trusted Davis, and kept waiting for him to disappoint me, so I couldn't feel the heat between them. Meanwhile, Ruth continues to grow closer to Max at temple, but Max was sometimes a bit mansplainy, and I have little tolerance for activist college boys who tell girls everything they're doing wrong.
Talky Talk: Ain't It Swell
Set in the 1950s south, In The Neighborhood of True has all the charming slang of the time period, which is fun to read. But for whatever reason—and I have spent a lot of time thinking about this with little success—there was something about Carlton's writing style that I kept bumping up against. The prose is a bit quirky, even outside of the fifties slang, and Ruth's sometimes random thought processes were a bit hard for me to follow. I also found myself wishing there was a little less focus on clothes, and boys, and debutante balls, and more emotion fused into the writing. Sure, the 1950s had that glossy sheen of perfection on the outside, but I wanted more focus on the dark underbelly of racism and prejudice, and less time spent necking boys by the pool.
Bonus Factor: Judaism
It's been awhile since I read a book with a Jewish character that actually focused on Judaism as a theme of the story. As a person who has all the culture of a slice of white bread, I found the scenes when Ruth went to synagogue every Shabbos to be a really enriching part of the story.
Bonus Factor: Atlanta, 1958
Despite the previously mentioned dark underbelly, I did enjoy the setting and time period. Gleaming pools, perfectly manicured lawns, lunches at the Club, and southern belles with names like Thurston-Ann.
Anyone from the south can relate to this moment, in which Ruth's grandmother serves her deviled eggs as a snack:
"Birdie thought y'all could use something green," she said, presenting a platter of deviled eggs.
Relationship Status: Not Ready to Go Steady
Book, we shared a Co-Cola float at the drive-in, and I had a swell time, but I'm not sure I'm ready to wear your letterman jacket. Despite your pretty aesthetic, I thought you fell a bit flat on occasion, and I'm looking for a book that'll really razz my berries.
FTC Full Disclosure: I received a free copy of this book for review from the publisher. I did not receive money or Girl Scout cookies of any kind (not even the gross cranberry ones) for writing this review. In The Neighborhood of True is available now.