Cover Story: Mirror, Mirror
BFF Charm: Let Me Love You
Talky Talk: Real Talk
Bonus Factors: Dean Winchester Award for Cool Older Brotherhood, Keeping Up Appearances, Jesus Is Just Alright With Me
Relationship Status: An Affair to Remember
Cover Story: Mirror, Mirror
This is a cute illustration that probably sums up the plot in the best way possible—provided that you don't misconstrue the two versions of Toya as a human Catdog, anyway.
The Deal:
As one of the few non-white students at her Montgomery, AL high school, LaToya Williams has a tough time fitting in, and she desperately wishes to not be Black anymore. But then it happens: Toya wakes up one morning as a white blonde, and her new persona Katarina skyrockets to the top of the social ladder. Which is everything that Toya has always wanted. Right?
BFF Charm: Let Me Love You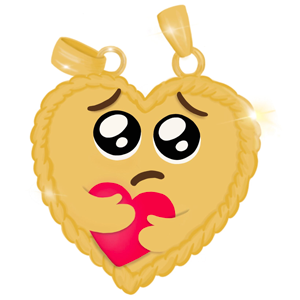 Oh, man—Toya's insecurity and self-loathing feel so, so real. Sacrificing your identity to hang out with people who you kind of hate but whose validation you seek anyway? YUP, YUP, YUP. (If that has you thinking Mean Girls, the reference is definitely apt.) Toya, you are a wonderfully pensive and gentle girl. You might be feeling a little lost and alone, but the problem isn't with you. At all.
Swoonworthy Scale: 4
Josh Anderson might be the hottest guy in school—and whom she's been crushing on from afar for years—but Toya quickly learns what a ginormo douche he really is. Besides, there's someone else far more deserving of her affections, even if he has to overcome dubious origins for the two of them to be quite a cute pairing.
Talky Talk: Real Talk
Randi Pink dives into the plot right away, and she also wastes no time digging into the complexities of race. In this day and age, it's absolutely believable and devastating that race is at the forefront in the minds of Toya and other African American teenagers who don't have the luxury of ignorance. White-on-Black racism (esp. shizz that gets spouted behind backs and closed doors), Black-on-Black tensions, misogynoir, and the general idea that the Black experience is not a giant monolith (which: duh)—this book covers a lot of ground, y'all.
Bonus Factor: Dean Winchester Award for Cool Older Brotherhood
A protective and supportive big brother, Alex always has Toya's back, even after her major transformation. Theirs is such a sweet sibling relationship, and I could totally see them conquering the world together. (Or, at the very least, the giant hill Colossus that they regularly climb to the top of.)
Bonus Factor: Keeping Up Appearances
In his constant quest to be deemed worthy in a white community, Toya and Alex's dad is all about status, as evident by his taste for massive McMansions and vintage cars. Except the Williamses can't afford to furnish their "empty castle" nor repair their lemon of a convertible. Not only have these splurges placed huge financial and emotional strains on the family, but the ruse isn't fooling anybody, either.
Bonus Factor: Jesus Is Just Alright With Me
So, regarding exactly how Toya becomes white… it's Jesus. Literal, actual Jesus. And he's a pretty rad character, too. This book has fun with faith, à la Saved! and Dogma before it in irreverent religious humor.
Relationship Status: An Affair to Remember
I'll be honest: I wasn't sure what to make of this book when I finished it, but it's certainly given me plenty to ruminate on. Bold and outspoken, Into White is fiercely unique and immensely thought-provoking. Its fascinating premise and wise words guarantee that I won't be forgetting about it anytime soon.
FTC Full Disclosure: I received my free review copy from Raincoast Books. This review was originally posted on Kirkus Reviews in exchange for monetary compensation, which did not affect or influence my opinions. Into White is available now.