About the Book
Title:
It All Comes Back to You
Cover Story: Mistaken Identity
BFF Charm: Big Sister x 2
Talky Talk: She Says, He Says, She and He Said
Bonus Factors: You've Got Mail, Desi Wedding, Faith
Factor: Secrets
Relationship Status: More Than Meets the Eye
Cover Story: Mistaken Identity
Don't get me wrong — this cover designed by David DeWitt and illustrated by Zahra Fatimah is absolute PERFECTION. Deen looks smug, Kiran looks annoyed, they're at a wedding, and the phones in their hands are important for a reason. But I have an extremely Old Person Problem of constantly mixing up the title with that of a Celine Dion classic. (And then further continuing down this song word association spiral leads me to an S Club 7 less-classic.)
Also, this bright, beautiful cover made me think this book would be much more rom-com-y than it actually is. (Not that bright and beautiful things always have to be happy and light, but I've just been conditioned to assume so.) And I might have to start keeping track of the book taglines that are "All's fair in love and [something]", because there have been A LOT.
The Deal:
Kiran Noorani and Deen Malik have no reason to be in each other's lives anymore — not since he brutally ghosted her three years ago. Except now Kiran's older sister has fallen in love… with Deen's older brother. Like, put-a-ring-on-it LOVE. As dutiful younger siblings, Kiran and Deen are helping the lovebirds plan the perfect wedding — if they can stand being in the same room as each other, that is.
BFF Charm: Big Sister x 2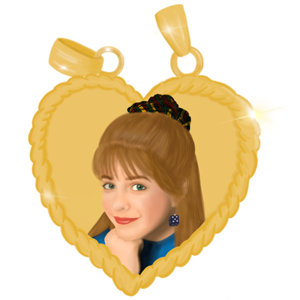 Kiran's pain is understandable: ghosting is an awful way to get dumped, especially right when she needed support due to her mother's ultimately fatal ALS diagnosis. It's no wonder that she's wary of anyone and anything in Deen's proximity, and even more so when it concerns her sister.
Likewise, Deen is just as protective of his brother, even at the sake of any other relationship in his life. They've always been a team, and no one else in the world knows what it's like to live with the optics-obsessed parents that they have.
I get where Kiran and Deen are both coming from, but in looking out for their older siblings, they're each capable of going to some extreme measures — way more extreme than "Who among us?" lapses in judgement. Their hearts are in the right place, which is why I wouldn't write them off completely, but WOW, we would need to have quite the heart-to-heart to discuss and unpack ALLLLL of that.
Swoonworthy Scale: 6
There's a fine line between love and hate, as well as the same letters in hate and HEAT. The rift between Kiran and Deen might be growing increasingly insurmountable, but it's obvious that their story is nowhere near finished.
Talky Talk: She Says, He Says, She and He Said
The chapters alternate between Kiran and Deen's perspectives, with the occasional text convo from when they were dating. There are also chat transcripts between two anonymous players of an online role-playing game, who — you guessed it — are actually Kiran and Deen. Underneath all the baggage, they still get each other, and they're able to be real in a way they never could if they knew who was on the other side. Dramatic irony abound!
Bonus Factor: You've Got Mail
It might be pure coincidence that Kiran and Deen are unknowingly in an online situationship and that Deen's handle is literally Fox(x). But at least Deen's less of an asshole than Joe* (and would also have better reason for being one, since he's barely a college sophomore while Joe Fox is a grown-ass millionaire who doesn't pay nearly enough taxes).
* Lol am I about to start another FYA Civil War?
Bonus Factor: Desi Wedding
The actual wedding has all the lavish spectacle — esp. with Deen and Faizal's parents footing the bill — while the mehndi beforehand is a much more lowkey affair. These rich traditions provide ample opportunities for the two families to get to know each other — as well as warring exes with ulterior motives to (figuratively) THROW DOWN.
Bonus Factor: Faith
I'm not particularly religious, but I appreciate reading about the impact it has on other people's lives, like casually citing passages from the Quran or eye-rolling at gossip about harami-pastrami relationships. (That brilliant turn of phrase is all Kiran's.)
Factor: Secrets
So why did Deen disappear all those years ago? It's a secret that he's desperate to keep in the past — which means the reader only gets agonizing bits and pieces of the mystery before it's unravelled. Sometimes the hype in these situations is so overblown, but it's justified here. (Although the secret is more of the tragic variety than fun and juicy.)
Relationship Status: More Than Meets the Eye
I rarely reread a book's profile blurb before going on the actual date, so I definitely wasn't expecting it to make me think so much about redemption and morality in an enemies-to-lovers wedding book. It was a JOURNEY and my thoughts keep wandering back to our time together, so it really must be true — *puts on CSI sunglasses* — it all comes back to you.
Literary Matchmaking
Virtually Yours
Sarvenaz Tash's Virtually Yours features a different kind of virtual romance.
Hana Khan Carries On
Can't get enough of the You've Got Mail trope? Try a grown-up version with Hana Khan Carries On by Uzma Jalaluddin.
FTC Full Disclosure: I received my free review copy from Quill Tree Books. I received neither money nor gelato for writing this review (dammit!). It All Comes Back to You is available now.