Cover Story: Confuddled
BFF Charm: Heck Yes!
Talky Talk: Gothic Echoes
Bonus Factors: Art, Giant Mansions, Umbrellas, Loyal Pets, Clue
Relationship Status: Obsessed
Cover Story: Confuddled
Is this a huge spray of water coming towards me? Really shiny metal? I'm doing that thing where I stare at the cover with my eyes open really wide like that will help me see better, but it's not making this…whatever this is any clearer. But even if I did unlock the mystery, it's still super boring and tells you absolutely nothing about the book contained within the pages. It's a hard book to pin down, so I get that the jacket designer probably had a tough go of it, but Jane makes beautiful umbrellas. SURELY they could've mined SOMETHING from that?
The Deal:
Jane is an ordinary, aimless college dropout still grieving the loss of her dear Aunt Magnolia when she runs into her old tutor, Kiran, an obscenely rich socialite who can't figure out what career she should go for since she really doesn't need one. Impulsively, she invites Jane to her family's mansion, named Tu Reviens, and Jane feels like this is Aunt Magnolia speaking to her from beyond the grave.
See, right before she died in a blizzard in Antarctica, Aunt Magnolia made Jane promise that if she was ever invited to Tu Reviens that she would accept no matter what. So Jane packs her bags and a selection of her favorite umbrellas (because they are her art and she makes them, not because she is a weird umbrella-lady) and follows Kiran to the family's private island off the coast of New York.
From the moment she arrives, Jane soaks up the strange and mysterious atmosphere of the lovely but eclectic estate, searching for clues as to why Aunt Magnolia would send her there. But Jane also needs to keep an eye out for herself, because at Tu Reviens, nothing and no one are what they seem.
(There is so much going on in this book, dear readers, but to explain any more would ruin the fun.)

BFF Charm: Heck Yes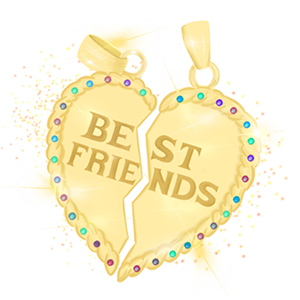 Jane was orphaned when she was young, so she was raised by her wildlife photographer aunt, who was the center of her world. Now that she's gone, Jane has no idea what to do with herself. I think we've all felt what Jane is going through at age nineteen: the confusion over your place in the world as you struggle to figure out who you will become as an adult. The actions she took during the book felt like decisions I could see myself making if I were in her place, so I feel like she has a good head on her shoulders (if I may say so myself—and I do). At her core, Jane is smart and thoughtful and a nerd just like us (she wears Doctor Who pajama bottoms and makes Harry Potter references with the best of them). I would gladly give her my BFF charm and go sneaking about a giant house with her in the middle of the night.
Also, her jellyfish tattoo? So cool.

Swoonworthy Scale: 6
There is no shortage of attractiveness for Jane to feast her eyes upon, like Ravi, Kiran's dramatic and sexually-voracious twin brother. But as charming as he is, Jane keeps finding herself drawn to the beautiful and mysterious Ivy, who lives and works at the house as one of the staff (and grew up playing with Kiran and Ravi).
Jane hasn't had much experience in the romance department, and this book is, in part, an exploration of her sexuality, but she's comfortable enough with herself to be open to all possibilities. I liked that the portrayal of her romantic explorations was given a thoughtful examination but was still treated as commonplace and normal (because it is). There is always a need for more sex positive diversity in YA!

Talky Talk: Gothic Echoes
I think many fans of Cashore's previous Graceling series have been eagerly awaiting a new book of hers for what feels like forever, and I'm thankful to say that the wait was not in vain. The elements of what I liked about her writing are still there: that dreamy play of words, wry humor, and complex subjects. I saw echoes of Bitterblue in Jane, but this is a completely different genre with a modern protagonist, so Jane still felt like her own character.
Cashore was clearly influenced by the Gothic novel—I mean, an orphan gets invited under enigmatic circumstances to a slightly spooky, unnerving mansion filled with strange and furtive characters? It hits all the right notes. But lest one gets comfortable thinking this is merely a straightforward play on the genre, the reader (and Jane) get thrown some curveballs in the form of choose-your-own-adventure-esque intrigue. This is the kind of story that you almost need to go back and reread as soon as you finish because you'll realize you missed so many little clues.

Bonus Factor: Art
Octavian, Kiran and Ravi's father, is, like his forefathers before him, a huge collector art, so Tu Reviens is filled to the brim with priceless Vermeers and Rembrandts and all manner of sculptures and photographs. The characters in the book are art enthusiasts, and even though I have just a beginner's level of knowledge on art, I was swept up in their passion for it.
Bonus Factor: Giant Mansions
Tu Reviens is one of those houses you dream about visiting (maybe "living in" for you, but, honestly, I can't even imagine living in a place with my own pool and bowling alley and three story tall greenhouse. It both boggles the mind and makes me unbearably bitter, and no one needs me to go there), like one of my favorite mansions, the Biltmore estate in Asheville, North Carolina (why, yes, I've been there three times and I regret none of it).
Bonus Factor: Umbrellas
Umbrellas keep our heads and arms dry and give us something to swing about when it's not raining, or just something to constantly leave behind in a restaurant booth. That's about the extent of my interest in umbrellas. Jane, however, designs and creates her own umbrellas by hand, turning a simple human convenience into a work of art. They sounded lovely, albeit not always completely practical, and I wish I could've "seen" them in real life.
(I may have created the above image on one of those coloring apps because now, whenever I think of umbrellas, I think about this book.)
Bonus Factor: Loyal Pets
Jasper the basset hound is the kind of dog everyone wants.
Bonus Factor: Clue
Janie has stepped into a veritable board game of mystery, and she even at one points starts writing down all the suspects and checking their alibis, just like in a game of Clue. She's basically living the movie, with less zany antics.
Relationship Status: Obsessed
It's been more than a month since we dallied, Book, yet I'm still thinking about it. I think it's safe to say that our affair was intense and dazzling, and while you may have confused me at times, your mysterious ways served only to intrigue me more. Tell me it won't be long until we meet again.
FTC Full Disclosure: I received my free review copy from Kathy Dawson Books. I received neither money nor peanut butter cups in exchange for this review. Jane, Unlimited is available now.