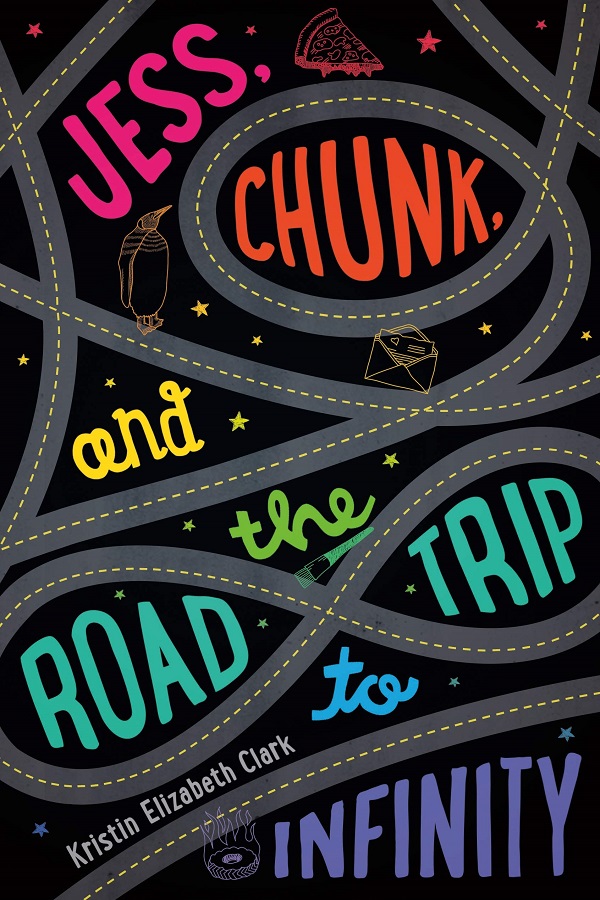 About the Book
Title:
Jess, Chunk, and the Road Trip to Infinity
Cover Story: My God, It's Full of Stars
Drinking Buddy: They Grow On You
Testosterone Estrogen Level: Subdued
Talky Talk: Changes
Bonus Factors: Roadside America, Transgender
Bromance Status: Shotgun!
Cover Story: My God, It's Full of Stars
Though I'm not a fan of black covers, the trippy colors and infinity sign make me want to just stare at my hands…far out, man.
The Deal:
After surviving her mother's successful battle with breast cancer and her parents' bitter, bitter divorce, aspiring artist Jess is out of high school and ready to do something for herself for once. Mainly, after eighteen years as Jeremy, she's finally ready to start presenting as female. With the support of her mother and her best friend Chunk, she's going to enter college as a woman.
No thanks to her father. The man who abandoned her and her mother. The man who took up with her mother's ex-best friend. The man who refused to let Jess start taking hormones at sixteen, delaying her transition for years. And now he's actually invited Jess to his wedding to that cheating cow? Not likely!
Except Jess's best buddy Chunk thinks she should go. It'll be good for her, bring her some closure. He'll go with her. A road trip. It'll be fun. Really.
Drinking Buddy: They Grow On You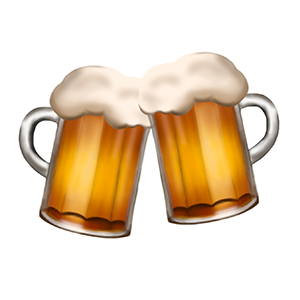 It took me a while to warm up to the two main characters. Jess initially came off as whiny and self-absorbed, while Chunk didn't really have much of a personality. Jess was looking to pick a fight, while Chunk seemed disinterested in her problems.
But after a couple thousand miles of arguing, car trouble, hitchhikers, and roadside attractions, I grew to like the pair. Jess is a young woman who refuses to compromise on anything, for better or for worse. Chunk is a stabilizing force, a guy who's willing to just take things as they came.
Honestly, I wouldn't mind riding in the back seat on this trip.
Testosterone Estrogen Level: Subdued
This wasn't a road trip full of car chases and kung fu fights. Jess and Chunk hit the road, see the sights, and bicker like an old married couple. In fact, the most intense scenes come from Jess's flashbacks, where she relates her experiences with her parents' divorce and her coming out as transgender (the flashbacks sometimes threw me…who the hell is 'Jeremy'? Oh…)
What really kept me turning pages was the thought of what was going to happen when Jess showed up at her father's wedding. Would it be a dramatic 'I object! Yes, me, your TRANSGENDER DAUGHTER!' Or a tearful, all-is-forgiven hug? I had no idea how things would play out. Neither does Jess, really.
Talky Talk: Changes
So can a lifelong friendship survive when one of the friends suddenly undergoes a massive an unexpected change? And I'm not talking about Jess here. You see, Jess has grown used to Chunk being the anchor in her life. Good old tubby Chunk, with his Star Trek quotes, trivia, and online debates. One of the first people Jess came out to. They are going to have a total blast on this trip!
But…what the hell? Chunk spends half the trip texting some girl he met online. Some chick named 'Lizard' who's probably a serial killer or eighty years old or something. And now Chunk is like watching what he eats and wanting to be called Chuck now? Doesn't he realize what a trying time this is for Jess? Hey, pay attention!
Obviously, Jess isn't the only one on a journey, and it takes her a while to realize this. The author did a great job of writing a transgender character who was not defined by her gender dysphoria and a plot that centers around both protagonists.
Still, I felt the ending to be a little rushed, with Jess's problems with her father and her friend both being wrapped up in less than fifteen pages. I would have liked another couple more chapters to flesh this out.
Bonus Factor: Roadside America
Jess and Chunk make an effort to stop and see some of the great, off-the-beaten-path attractions on their California to Chicago road trip. This includes Riverside, Iowa, the future birthplace of Captain James T. Kirk. So that's kind of awesome.
Bonus Factor: Transgender
It seems lately that it's been one step forward and two steps back when it comes to transgender rights. Jess is well aware of how rough things can be, even outside of her family. She doesn't flawlessly pass, what with her Adam's apple and beard stubble. She goes for an androgynous look while on the road, with varying levels of success. She'll hold her pee for hundreds of miles, rather than use a public bathroom. She realizes that one wrong move could get her arrested or assaulted.
And yet, she persists. With the help of her supportive mother and her best friend, Jess is going to live as the woman she is inside. If only all LGBTQ people had that option.
Author this is author Kristin Elizabeth Clark's second novel about a transgender character. In the introduction to this book, Clark tells us that her own daughter is transgender. She states that fear for her child's safety was her initial reaction, and she hopes this book will help make the world a less dangerous place.
We need more moms like her.
Bromance Status: Shotgun!
I'd take you on any road trip, though you'd do well for a short one, as you're a nice, quick read. Maybe just slightly too quick.
FTC full disclosure: I received neither money nor AAA roadside assistance for writing this review.