Cover Story: Zoiks!
BFF Charm: Eventually
Talky Talk: Straight Up Book Licker
Bonus Factors: Newton North, Wagamamas, London
Relationship Status: MTBRN
Cover Story: Zoiks!
This cover is embarrassing to the max. Even Big Ben can't save it. But it's also… kind of pretty? Mostly, it screams that it is a girly book of the highest order. Also, don't those models look like grownups?
The Deal:
When Julia signed up for her school's trip to London, she was sure her best friend would be able to go along. Unfortunately, that didn't work out, and now she's been partnered with the class clown, Jason, who is ridiculous and flirty and disrespectful, and couldn't care less about THE RULES. On their very first night in London, he drags Julia to a house party, where she gets rip-roaring drunk, loses her pocket Shakespeare, and is pretty sure she generally made a fool of herself. But that's before she starts getting flirty texts from Chris, a boy she apparently met at the party she can't remember. Jason agrees to help her with the finer points of looove, in exchange for her doing his homework, but as he drags her all over London, Julia begins to wonder if it's worth it. Will she ever find her MTB?
BFF Charm: Eventually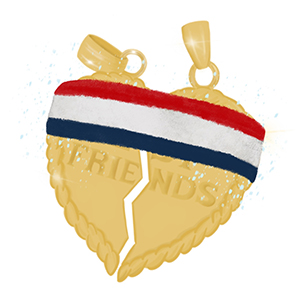 It would seem like Julia and I would be soul mates, what with our love of London, Shakespeare, and organizing things. But it was hard, you guys, watching her spend her entire time in the most beautiful city in the world being SO STRESSED OUT, and making assumption after wrong assumption, until… epiphany! Julia totally WAS me growing up! Thankfully, we both learned a lot, and I was able to proudly present her with a charm upon her return to Newton.
Swoonworthy Scale: 7
The love interest in this book is not my type. He's wiggly and wiggy and gross and chews grape bubble gum and always seems to be looking for the wrong kind of attention, and is such an annoying BOY, but Morrill develops his character so craftily that I found myself falling for him right along with Julia. And a certain scene in a field in the rain? Ahem.
Talky Talk: Straight Up Book Licker
Morrill hit all the highs and lows I want in a contemporary YA novel, and while I predicted the end from the very first chapter, I did NOT predict how she brought it about. The story sped along at a great clip, and watching the author unfurl her characters' depth and growth was like watching one of those nature shows where a flower slowly blooms before your eyes. I signed on for fluff, but I got a solid, sweet, satisfying story with complex characters.
Bonus Factor: Newton North
You guys! (Who don't live in the Boston area.) There is this suburb of Boston called Newton, which is where mostly really wealthy people live, and is home to my old office (holla! Cancro Chiropractic in the old Newton Highlands T Station!) and a great baker called Bread and Chocolate, which has the BEST blueberry muffins ever in the world! It is also the home to two, yes TWO high schools! Newton North — which just got rebuilt — and Newton South. Now, there is a pretty vicious rivalry between these two schools*, as Newton South has the better theatre department, and Newton North has the better pretty much everything else, but BOTH schools have pretty much a 100% graduation-and-go-on-to-college record, so it's really all good.
*Based on hearsay and gossip, only.
Bonus Factor: Wagamama
You guys, I love Wagamama so much, I got their cookbook! And I made my favorite dish, Chicken Chilli Men!!!! And it was DELICIOUS! But it was a lot of work. Needless to say, when Julia and Jason stop for a noodle break, I got the mouth-waters. And then I couldn't believe Julia had waited until she was in London to try it! Julia! Head to Harvard Square or Faneuil Hall!!! Because while the rest of the country is still in Wagamama drought, the Boston area has TWO of them!!!!
Bonus Factor: London
Oh London! I totally agreed with Julia's parents about this. Keep the rest of the world, but give me London.
Relationship Status: MTBRN
If this book taught me anything, it's to seize the moment, to live in the now! There might not be any such thing as perfect perfection, but if you truly follow your heart, you're never wrong. So while we might not be completely ideal for each other, we really had a fun time, so I'm going to go with that.
FTC Full Disclosure: I received my review copy from Delacorte Books. I received neither money nor cocktails for writing this review (dammit!). Meant To Be is available now.