Cover Story: Funereal
BFF Charm: Caution
Talky Talk: Oof
Bonus Factor: Creep Factor
Anti-Bonus Factor: Murder
Relationship Status: Dazed and Confused
Content Warning: Katzenjammer features a lot of gore, violence, and abusive behavior, including bullying, homophobia, self-mutilation, murders, gun violence (a school shooting), and mentions of an eating disorder.
Cover Story: Funereal
If the figure wasn't holding a flower to its chest, I might think this was someone (or something) lying in a meadow filled with flowers. But that one on the chest really skews this in a "this is a dead body, let's honor them" kind of way.
The Deal:
Cat doesn't know why she and her fellow students are trapped in School, changing in strange and sometimes disturbing ways. She remembers things from before, but doesn't remember what happened to get them all stuck. Or why they're continuing to change—for example, Cat's feline mask is fused to her face, and she no longer has eyes, but can somehow still see.
When her fellow students start turning up dead, murdered in grisly ways, Cat is determined to figure out who's doing it. And, perhaps, figure out the rest of their strange situation, too.
BFF Charm: Caution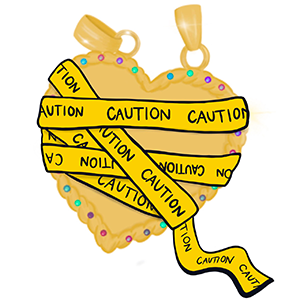 Cat seems like a strong, determined, take-charge kind of person, which I certainly admire. And in the flashbacks of her memories, we see that she was a good friend and a talented artist, which add to her appeal. But the uncertain nature of this story, which gives off really creepy vibes, kept me from wanting to freely give Cat a charm. I was just too uncertain about her true nature.
Swoonworthy Scale: 0
Although part of the story deals with Cat's crush on an unattainable guy, it's not a vital aspect of the book. And the guy she likes is The Worst, so it's not even swoony when it does come into play. I feel for Cat, though—you can't always help who you're attracted to, even when your brain is waving that red flag all over the place.
Talky Talk: Oof
As a fan of Zappia's Eliza and Her Monsters and the book's poignant examination of mental illness through a fandom lens, I had high hopes for Katzenjammer. And for much of the book, I was enthralled. The world of School is a truly bizarre, terrifying place, but it's no less intriguing for its brutality. The questions come hard and fast: Who is Cat? Why are she and her fellow students stuck in their school? Why are they mutated? Who is killing folks? The answers come tantalizingly slow, through glimpses into the past that connect to the present. But then the full reveal arrives and hits you in the face like a dodgeball thrown by the strongest kid in class.*
Zappia has a vivid imagination and doesn't shy away from dark and painful topics. But this book ultimately feels a little too brutal—although one might make the case that its subject matter deserves to be called out in such a way. I just wasn't expecting it to go there, and so I can't quite decide if this book was absolutely brilliant or a bit too sensational.
*I won't spoil the reveal here, but am glad to do so in the comments if you'd like to know. Do keep in mind the Content Warning at the top of this review, though.
Bonus Factor: Creep Factor
Most of the kids stuck in School have mutated in some strange way: Cat's mask face is one, while others have turned to literal cardboard or porcelain, grown tentacles, turned into stuffed animals, etc. It would be fascinating to read a list of all of the changes and compare them to the personalities of the kids pre-change because Zappia was clearly making connections with the mutations.
(It also reminded me, oddly, of the animated show The Amazing World of Gumball. Gumball is a lot less dark, though. Most of the time.)
Anti-Bonus Factor: Murder
I don't love reading about kids getting brutally murdered.
Relationship Status: Dazed and Confused
Our date was really going well, Book, until the end and the record scratch moment in which I finally understood your true nature. I'm still a bit in shock, I think, and I'm not sure I'll ever be able to fully decide how I feel about you. I'm gonna need some time to sit with all this.
Literary Matchmaking
A Peculiar Peril
Jeff VanderMeer's first foray into YA is equally bizarre and otherworldly.
The Upper World
Femi Fadugba's novel also mixes magical realism with violence.
FTC Full Disclosure: I received a copy of this book from Greenwillow Books, but got neither a private dance party with Tom Hiddleston nor money in exchange for this review. Katzenjammer is available now.