Cover Story: Yin and Yang
BFF Charms: Yay, Eventually
Talky Talk: ​​Scifi Contemporary
Bonus Factor: Soulmates
Relationship Status: Cheerleader
Cover Story: Yin and Yang
In a sea of illustrated covers, this one truly stands out. I am LOVING how the characters' hair melds into the space background and the looks on their faces are just lovely. The guy's arm looks a little awkward, however, but I get what the illustrator was going for.
The Deal:
Joy and Felix have known each other their entire lives, thanks to being Kindred, which, for their species, means they're mentally and emotionally connected by a form of technology meant to give a voice to each member of their society. But they've never met, not physically, in part because Felix is a member of the nobility and Joy's a poor girl from the lower class. And because people in their lives who frown upon the match have kept them apart on purpose.
But that all changes when they're implicated in the assassination of their King and the two have to go on the run, crash landing on a backward little planet they call Terra—but the residents refer to as Earth.
Together with the help of some humans, Joy and Felix must figure a way to clear their names and find a way to stay together.
BFF Charms: Yay, Eventually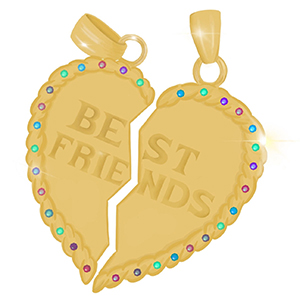 Joy is an absolute delight. She's grown up with nothing but has seen someone who has everything thanks to being connected to Felix. While that might have made other people bitter, it has made Joy a more thoughtful, hopeful individual. She goes through a lot of growth in this book and comes to realize that she's absolutely worthy of the good things she has—and more. I'd give her a charm in a heartbeat.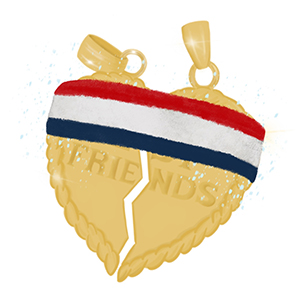 Felix, on the other hand, is everything you'd expect from a spoiled rich kid—at least, at first. He's unmotivated, a playboy, and a relentless flirt with no life goals. But by the end of the book, you realize that there's more to him than first impressions might indicate. And he's devoted to Joy, which is lovely to see. (Because, as I said, she's so deserving!)
Swoonworthy Scale: 7
Not all Kindred end up falling in love, and Felix and Joy have actually tried to keep each other at arm's length because of the social situations they find themselves in. But when they get together, they can't escape their feelings. They can't quite figure out how things will work out, but they certainly want to try.
Talky Talk: Scifi Contemporary
When The Kindred begins, it's obviously set in another galaxy with a human-adjacent group of folks. I didn't expect it to end up on modern-day Earth—I obviously didn't read the synopsis carefully enough—but I loved when the plot took it there. It was fun reading how Joy and Felix struggled to fit into a society that was close but not wholly familiar, although they had it much easier than I would have expected. Because of that, the tension of the plot never really made me feel like the stakes were all that high. Although Dow told us, plenty of times, how much was at stake.
And even when it was clear who's POV I was reading (Joy and Felix switch off), I got confused frequently as to who was who. (But I bet we can blame that on pandemic brain, because they honestly weren't that similar.)
Bonus Factor: Soulmates
I'm not sure I'd love having someone all up in my business, in the figurative sense, like Joy and Felix do. But I can't fault the idea of trying to connect people from different walks of life to make sure that everyone in their society gets a better understanding of the whole, rather than just their part. And the idea of being that connected to another person so that so much can go unsaid is swoony, for sure.
Relationship Status: Cheerleader
Although I enjoyed our time together, Book, I ended up feeling more like a third wheel than a true partner in our story. I'm OK with that, however; sometimes it's good for others to have the connection and the chemistry while I just root them on from the sidelines.
Literary Matchmaking
Skyward (Skyward #1)
Brandon Sanderson's Skyward series also sees a member of the human race unexpectedly thrown into galactic society.
FTC Full Disclosure: I received a copy of this book from Inkyard Press, but got neither a private dance party with Tom Hiddleston nor money in exchange for this review. The Kindred is available now.