Cover Story: Adorbs
BFF Charm: Heck Yes x2
Talky Talk: Black (Boy) Joy
Bonus Factors: Secondary Characters, Real Estate
Relationship Status: Kings of My Heart
Cover Story: Adorbs
These boys are TOO CUTE. They look way younger than I think 15 and 16-year-old boys look, but perhaps I'm remembering teenage boys incorrectly. (I don't spend much time around actual teens.) I'd 100% join them on some hijinks-filled adventures.
The Deal:
Best friends Harrison and Linus have spent the entire summer before their junior year together, working at the same job and visiting the Baltimore Cemetery in their off time. (They're mostly just visiting for the quiet they find there and the history in the graves, they're not normally the type to lurk in graveyards, and they'd like to make sure you know that.) But Linus has been keeping a secret: He's moving to South Carolina. On Sunday, which is four days away.
When he learns the news, Harrison is sent reeling. But he regroups and comes up with a plan to have a Ferris Day—a day of adventure inspired by Ferris Bueller's Day Off—so that Linus never forgets him and their friendship.
BFF Charm: Heck Yes x2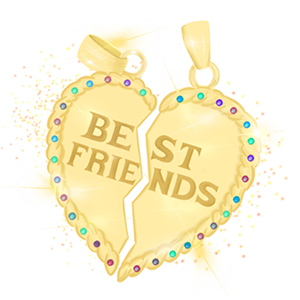 Harrison and Linus are as cute as the depictions on the cover of this novel would suggest. They're unsure of themselves yet confident, anxious yet casual. They act like they know everything but inside they're completely unsure of life. Thomas has captured two young men on the cusp of some massive life changes—and not just Linus's move—so brilliantly; I don't think we'd be friends now, considering I'm the same age as their parents (*sob*), but they're absolutely deserving of BFF charms as two sweet people I would have loved to hang out with when I was the same age.
Swoonworthy Scale: 2
Kings of B'more is a book about love—deep, lasting love—but Linus and Harrison are not in love with each other. (Although I think Thomas would forgive my thoughts about what the future might hold for these two.) There is a teeny bit of swoon for Linus and a bit of Harrison remembering a past summer fling, but both those threads are very non-central to the main plot.
Talky Talk: Black (Boy) Joy
I've long been a fan of Thomas's from his online persona and email newsletters. (Seriously, do yourself a favor and subscribe. It never fails to make me smile, even when I don't fully understand the references he makes. (He talks a lot about theater and Broadway, which, awesome, but not my area of expertise at all.)) So I was super excited to get my hands on this book, which is his debut YA novel. It's as delightful as I expected, with more heart than I'm used to from his writing, but was in no way surprising. Thomas poured his heart into this book, and it felt like an honor getting to see Baltimore, and Harrison and Linus's Ferris Day, through their eyes. Although there are elements of drama to the book—it is a YA novel, after all—it's mostly just a joyful, heartwarming account of a friendship that far surpasses most. And not to downplay the fact that this is just a lovely read, but the fact that Harrison and Linus are two Black, queer boys makes this novel even more important. This isn't a book specifically about their Blackness or their queerness, but Thomas deftly points out those aspects of the characters at appropriate times; it never turns into an Issues Book, as it shouldn't.
All that said, there is a lot of humor in Kings of B'more, too. For example:
On the nightstand, he spied a bottle of Mint Chocolate Dream lotion from her weird summer job at a bath and body store called Potions. He flipped the cap open and took a sniff. It smelled like something you want to eat, which gave him pause about putting it on his skin. But his elbows were a little ashy, so he took a dollop. If he got eaten, he got eaten.
Y'all can bet I highlighted (with paper flags—I'm not a heathen) a bunch of passages while reading.
Bonus Factor: Secondary Characters
I adore Harrison and Linus, but I'm also totally enamored with some of the secondary characters in this book, namely Aparna Aiyar, Harrison's friend and the stage manager of all of their school's drama productions—and Ferris Day. She is an absolute firecracker who's a killer stage manager and also a hilariously driven sales associate at Potions. I want an entire book that dives deeper into the offhand comment that she frequently gets herself embroiled in adventures through no real effort on her part.
There are also these tertiary characters with the last name Quatch ("no relation") who show up a couple of times in the book and really only serve to drive the plot forward. But they are super compelling, and I need to know more about them, too.
R. Eric, please write a whole series of books around these folks.
Bonus Factor: Real Estate
Nearing the end of Ferris Day, Harrison and Linus find themselves at a house party at a house that feels a bit like a fever dream. The house was nothing more than a set, a location for action to progress, but the way Thomas described it caused it to become something more in my mind.
Up ahead was a row home with huge swaths of fabric hanging down from the roof. The building was made up of two three-story mansions combined, with the door moved to the center. It was as tall as it was wide, a perfect square. The fabric was stretched tight, extending from the roof over a small cement yard ad tied at a point along a black metal fence. … There was a checkerboard of windows across the face of the building, all frosted over in white with silhouettes of pine trees. The silhouettes looked like sketches, hasty and jagged and whimsical.
And then the inside gets even better:
He discovered he was standing in the hollow of a great swirling staircase, rising up three tall levels, a flurry of right angles made of mahogany. At the very top, in the center, sending lit triangles and squares raining down on them, was a giant rectangular stained-glass window. It glowed. It lit up the whole floor around them like they were all inside a gem.
If this isn't a real place, I so, so wish it was.
Relationship Status: Kings of My Heart
Our time together was delightful and sweet and all synonyms for a time that was delightful and sweet. I am better for the time we spent together, and look forward to revisiting it for a long time to come.
Literary Matchmaking
Darius & Twig
Another book about POC male friendships, with a more serious vibe.
FTC Full Disclosure: I bought a copy of this book with my own money and received neither a private dance party with Tom Hiddleston nor money in exchange for this review. Kings of B'more is available now.