About the Book
Title:
Lady Renegades (Rebel Belle #3)
Cover Story: Sir, You Have Insulted Me
BFF Charm: Yay
Talky Talk: Paladins Back Again
Bonus Factors: Road Trip, Aunties
Relationship Status: Third Date Reevaluation
Cover Story: Sir, You Have Insulted Me
The juxtaposition of the formal glove (with bows, natch!) and the sword/dagger makes me think of a simpler time, where we could get away with slapping rude people with our gloves and sniffing haughtily. Did those days ever exist? If not, the sword is sure to bring a little heft to those words.
The Deal:
Warning! This review is for the third book in the Rebel Belle series, and thus contains spoilers for the first two books. Are you ready? Read on…
David Stark is still on the run, after being increasingly overwhelmed by his Oracle visions. He can't just let Harper give up her whole life to protect him, especially when he's destined to go insane anyway. The only problem? He keeps turning other teen girls into Paladins, and they think Harper is the enemy.
All of that might not be insurmountable…except that Harper's powers have been rapidly diminishing, and she's still no closer to finding her MIA ex-boyfriend.
BFF Charm: Yay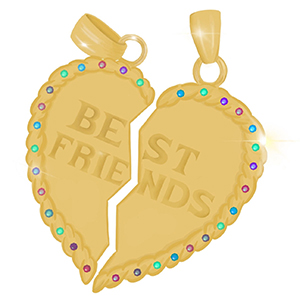 Oh, Harper. Life sure has made you reevaluate your priorities lately, huh? Our heroine is still hyper-organized, Type-A, fashionable and smart, but her main focus remains on saving David…and the world. So while she describes people as looking non-threatening, "like an Easter Barbie," and silently judging their outfits, these are just background thoughts during her main mission.
Swoonworthy Scale: 3
Since Harper and David are kept apart for the vast majority of this book, there isn't much swoon—and I'm still not sure how I felt about the ending. On the other hand, the fact that this lady is off fighting monsters and magic for the guy she loves is pretty swoonworthy in and of itself. It just won't melt your heart—or your pants—this time.
Talky Talk: Paladins Back Again
The most consistent thing about the Rebel Belle series is its voice, which remains my favorite part. This version of the South is, although whitewashed, a pretty entertaining place to be: half the country club carries guns in their handbags, macaroni and cheese is considered a vegetable, and etiquette rules everything. Our protagonist still says "eff" instead of the actual word, even when she's just been in hand-to-hand combat. Manners, y'all!
Bonus Factor: Road Trip
There's nothing like a road trip, even when you're tracking down your possibly-insane ex-boyfriend. Harper even makes Appropriate Quest Music mix CDs. I hope this song made it onto the list:
Bonus Factor: Aunties
Harper's aunts are the best, particularly Aunt Jewel, who informs her that the ladies of their family have always been a bit too well behaved for her taste.
Relationship Status: Third Date Reevaluation
Book, after the way we left things on our second date, I couldn't wait to see what you brought to the party. You tied up all those loose ends I was worried about, which left me satisfied, but I'm not quite sure about the ending of this date, either. Our first encounter was definitely the best, but the ride you took me on this time was still entertaining…even when you talked about pear halves filled with mayo. Ew. Anyway! I like you, but I don't like like you. Let's be friends instead.
FTC Full Disclosure: I received a free review copy from Putnam Books. I received neither money nor a pet unicorn for writing this review, despite how hard I wished for one.  Lady Renegades is available now.