Cover Story: Not So New
BFF Charm: Yay
Talky Talk: E For Effort
Bonus Factors: Rebecca, Boarding School
Relationship Status: Dorm Friend
Cover Story: Not So New
JEEZ. I don't even know what to say anymore. At least the floating dead girl has a head? And a full face? And the blue is a pretty color? Also — the tag line on this version is, "What if nobody knew your name?" I can't decide if that's better or worse than on the one I read, which was, "Some secrets run deep."
The Deal:
Senior year is NOT the best year to become the "new girl", but there wasn't anything she could do when her parents surprised her by sending her to Manderley Academy, the boarding school she was desperate to attend — in eighth grade. Too bad now she's happy with her friends and public high school in St. Augustine, and the idea of trading Florida beaches for New England snow is not her idea of a good surprise. And the reason she finally got in? Becca Normandy, gorgeous and popular, went missing at the end of the school year and her place came open. Now she's stuck somewhere she doesn't want to be, and she can't seem to escape the memory of Becca — and that is kind of sucky, since she can't seem to stay away from Becca's ex, Max.
BFF Charm: Yay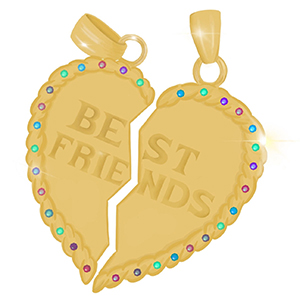 I liked the main character about 80 times more than her literary predecessor1. I just visited St. Augustine a month ago, and while parts of the historic downtown felt a lot like Disneyland, I can totally see why she wouldn't want to leave and go someplace cold and snooty. And it has to suck to show up and be nothing but the "new girl" who can't fill the old girl's shoes — constantly being compared to her and always reminded of her, down to the creepy roommate, Dana, who keeps all Becca's pictures on the wall and suitcase under the bed. The narrator has cause to wallow, is what I'm saying. But you know what? She doesn't. Not really — she takes it for a while, but the moment she realizes it's all bullshit is an awesome moment, and she gets a BFF charm with that major fist pump, because the girl has brass ovaries.
Becca, on the other hand, just gets a major fist IN HER FACE.
1 See bonus factor: Rebecca
Swoonworthy Scale: 7
It's a coed boarding school! You can expect some sexin' to be going on. Some of it is creepy and off-putting (Becca), some of it will make you want to hurl and facepunch some dickheads, but when it's dead hot, it's dead HOT. Even when Becca's at her Becca-ist, the animal attraction between her and Johnny will hit you right in the gut. I'm just a little disappointed by the tasteful fades to black.
Talky Talk: E For Effort
Or is it supposed to be "A"? Either way, what I mean is Harbison did a pretty good job. Anyone expecting a word-for-word retelling of Rebecca (see below) will be disappointed, as she didn't translate every last detail to this version, and put in some disturbing sexual elements that weren't part of the original material — although I'm not saying she shouldn't have, because they're definitely a part of real life. It alternates between the main character and Becca's points of view, which sometimes works, and never makes me like Becca. For the most part, it's atmospheric and goes down like a dark and stormy (that's one part dark rum, two parts ginger beer, and a slice of lime). Sure, there are times when it is a little heavy handed or choppy, but it's nothing unforgivable.
Bonus Factor: Rebecca
Hey, does the plot sound familiar? That's because it is! Even though it's mentioned NOWHERE on the book or the publisher's website, it's totally a retelling of Rebecca. And I love Rebecca! The book's not intended to plagiarize du Maurier's novel (although du Maurier was accused of plagiarism!), since it's way too obvious a retelling, but it still is kind of sneaky and shady not to mention it. I mean, a dedication line? Or something? But oops — this is supposed to be a bonus factor, not an anti-bonus factor! And it is a great retelling — the original isn't so old that translating it to modern teenagers is a stretch, and setting it in a boarding school was a great way to include all the gothic spookiness of the original, like the feelings of being watched, the weird Mrs. Danvers, the creepy old house, the gossip and mystery.
Bonus Factor: Boarding School
If there's one thing boarding school provides, at least in the imagination, it's ample opportunity for sex and drinking.
Relationship Status: Dorm Friend
This book is totally the one who hosts pre-parties in her room, and all the girls like to hang out there to get ready to go out to the pub. She's the one I always count on for an hour-long gossipfest in the hall bathroom, and if my roommate kicks me out, I can always crash on her futon. We don't have any classes together, and she certainly wouldn't be the best one to snag a study room at the library with during finals, but she's super fun and if I get a seat at her table, it makes even 7:30 am breakfast worth getting up for. Of course, she rarely makes 7:30 breakfast, unless it's on her way to bed.
FTC Full Disclosure: I received neither money nor cocktails for writing this review (dammit!). New Girl is available now.