About the Book
Title:
Leah on the Offbeat (Simonverse #3)
Cover Story: Leahtastic
BFF Charm: Big Sister
Talky Talk: 2 Legit 2 Quit
Bonus Factors: Fan Creations, Prom
Relationship Status: Catching Up with an Old Friend
Spoiler Alert: This is the third book in the Simonverse and the second that takes place at Creekwood High. Subsequent books after Simon vs. the Homo Sapiens Agenda can be read as sort of standalones, although I would recommend having read at least Simon before Leah, since the same characters appear in both. However, this review does not contain spoilers about any of the previous books.
Cover Story: Leahtastic
Cue the David Rose GIF, because I'm OBSESSED with this turquoise colour. I also love that Leah is front and centre, and in her beloved yellow floral dress, since she often feels overlooked. Well, NOT ANYMORE. (Although funny enough, I feel like iced coffee was much more prominent in Simon's book rather than hers. But I could also be confusing that with the movie.)
The Deal:
Leah Burke always feels like the odd one out. All her friends live in giant houses with their married parents, whereas she and her young single mom* can only afford a more modest and money-conscious lifestyle. Not to mention that her best friends are coupled up, while she's only ever had unrequited crushes and her bisexuality under wraps.
Leah's rock-solid friendships used to be the one thing that she could always count on, but now those are on shaky ground — and during their senior year, too. With prom and college just around the corner, relationships (platonic and otherwise) are being put to the test. Including one that Leah hadn't admitted to herself that it was anything at all.
*She's not a regular mom; she's a cool mom. (To her credit, Leah's mom would never actually say that unironically, but she would probably understand the reference since she's a millennial.)
BFF Charm: Big Sister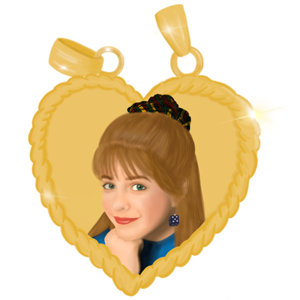 Leah might judge me for this music reference, but she reminds me of this lyric from "Dark Blue" by Jack's Mannequin: "Have you ever been alone in a crowded room?" She always feels like she's just an afterthought, to which I would throw her own words back at her: your brain is an asshole, Leah! You matter, and you always have.
Also, you don't need to be good at a hobby in order to share it with anyone, even though you're actually quite good at both drumming and drawing by all accounts. BUY INTO YOUR OWN HYPE, LEAH! (We should also talk about your self-sabotaging habits, but one thing at a time.)
Swoonworthy Scale: 5
Leah's in total denial about her true feelings. The lady doth protest too much about the object of her affections, so it's a slow, SLOW burn. In fact, it takes her a while to even acknowledge that anything's burning! Although I understand why Leah would be so guarded when she's falling for someone who might not even like girls, let alone her specifically. That's an extra shitty layer of rejection to contend with!
It'd be so much easier if Leah could reciprocate Garrett's feelings for her. He's so earnest and upfront about pursuing her, like the Ralph Wiggum to her Lisa Simpson. Although as sweet as he is in his himbo-ish ways, Leah just doesn't feel the same, as nice as it is to feel wanted.
Talky Talk: 2 Legit 2 Quit
Leah's voice is definitely more cynical and wry than Becky Albertalli's past protagonists, but the writing is still so immensely devourable. I also loved getting reacquainted with the Creekwood students from a different perspective, especially the supporting characters who were more prominent than they had been in Simon vs. the Homo Sapiens Agenda.
However, even though I don't mind real-life references giving specificity to a setting, the shoutouts to Harry Potter and Prince William probably would have been better received if I had read this book back in 2018, when I still held those two in better esteem.
Vague spoilers ahead. The ending also felt a little abrupt. I didn't necessarily need to see everything played out, but there was a lot of angst over fallout that eventually gets skipped over. Which I could rationalize away as high school dramatics of magnifying stakes out of proportion, but was nevertheless jarring.
Bonus Factor: Fan Creations
Not only does Leah read fanfic, but she draws fan art too. Which makes it a little ironic that she doesn't even notice when she's living out some classic fanfic tropes. (Check out the tags at the bottom for the spoiler-y bonus factors that I couldn't name.)
Bonus Factor: Prom
Even Leah isn't immune to the allure of PROM.
I guess all the teen movies were right: prom is slightly, slightly magical. There's just something about being crammed onto a dance floor with all your friends, surrounded by twinkle lights and dressed up like movie stars.
(This is also why I, as An Old, want to have a giant dance party with my friends after COVID times.)
Relationship Status: Catching Up with an Old Friend
I fell out of touch with this series, so maybe I would have enjoyed our reunion even more if I had read it in a more timely manner, back when we were a little more compatible. But I'll always be glad to reconnect with these characters that I first fell in love with all those years ago.
Literary Matchmaking
Tell Me Again How a Crush Should Feel
I use any excuse to recommend Sara Farizan's Tell Me Again How a Crush Should Feel, so I'll do it again here for another unexpected (to the heroine) romance.
Ship It
Britta Lundin's Ship It is another cute romance with a fandom-obsessed protagonist.
Verona Comics
For a romance between two bisexual leads, check out Verona Comics by Jennifer Dugan.
FTC Full Disclosure: I received my free review copy from Balzer + Bray. I received neither money nor gelato for writing this review (dammit!). Leah on the Offbeat is available now.