About the Book
Title:
Rainbow Valley (Anne of Green Gables #7)
Cover Story: Watch It!
BFF Charm: If I Could Give Four Winds a Coke…
Talky Talk: Down Pat
Bonus Factor: The Merediths, Rainbow Valley
Relationship Status: It Must Be Love
Cover Story: Watch It!
Okay, so this cover belongs on the shelf of a child. However, just try being snide if you see me reading it, and I just might pick up a piece of codfish (that happened to be drying nearby) and chase you around the town with it.
The Deal:
Anne and Gilbert's children are growing up and making friends. Those friends have a knack for getting into trouble. The community of Four Winds goes about its life. It's pretty cool.
BFF Charm: If I Could Give Four Winds a Coke…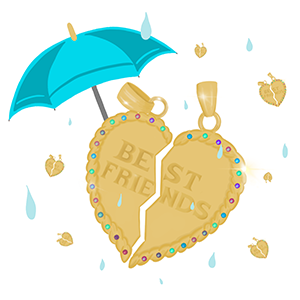 Who in Four Winds WOULDN'T I give my BFF charm to? Well, maybe Mrs. Alec, because beyotch needs to TONE IT DOWN. Also, though I love Mary Vance, I'm not sure I'd want to be her BFF. Girl gives me a headache sometimes. Anne is very much in the background in this book. In fact, she's hardly mentioned at all, and while I definitely felt her absence, I was kept entertained by the rest of the 'characters'. (See what I did there? There's a double meaning in that.)
Swoonworthy Scale: 5
I loved Misses Rosemary and Ellen West, and John Meredith, bless his heart, and Norman Douglas, Lord help us! Their romances kept me on my toes throughout, even though I just KNEW they'd have a happy ending. And can I just say? John Meredith and Rosemary West? SaaaWOON!
Talky Talk: Down Pat
There's really nothing like Lucy Maud Montgomery's writing. Having been immersed in it for weeks now, I feel comfortable in saying that as popular as she was, nobody I've ever read successfully captures the FEELINGS her writing style brings.
So what if Rachel Lynde was cloned in Miss Cornelia, or if Rosemary West reminds of Miss Lavender, or if the scrapes the Meredith kids get into are a little familiar. It's soothing and cozy, and thoroughly enjoyable.
Also? Despite the cover, I really feel that this book was written for adults.
Bonus Factor: The Merediths
I LOVE these kids AND their dad! But especially Faith. Oh, Faith Meredith, you are my hero! Always intending to do what's right, and then racing on a pig down Main Street. Standing up to Norman Douglas, and writing that letter to The Journal, just to explain! But really, I kind of felt jealous of Rosemary, because who wouldn't want to join such a dear, funny little family? And also CLEAN THAT HOUSE. And start feeding those kids something edible.
Bonus Factor: Rainbow Valley
Oh to have had a place like Rainbow Valley to play in! I can literally picture the whole place, from the fallen tree by the brook to the edge of the old Bailey garden, and when I picture it, I see Walter, seated on the tree, reading from his book of myths in that far-away voice that sends chills down Mary Vance's spine. Jem is fishing for trout with Jerry, Carl is watching the meanderings of a spider, and the girls are playing by the brook. Sigh.
Relationship Status: It Must Be Love
Truly, I missed that Anne-girl too much for this to be my favorite-favorite. However, just like when I was 11, and saw The Goonies and fell in love with Sean Astin, and then proceeded to watch everything (and I mean EVERYTHING) his mother and father and brother were in just because they were related to him… I love Anne's world. I love her neighbors. I love her children. And I love the valley in which they play.
FTC Full Disclosure: I received neither money nor cocktails for writing this review (dammit!). Rainbow Valley is available now.