About the Book
Title:
Marie Antoinette: Princess of Versailles, Austria-France 1769 (The Royal Diaries #4)
Cover Story: Valley of the Dolls
BFF Charm: Big Sister
Talky Talk: Flowers for Algernon
Bonus Factors: Cake, Being a Princess
Anti-Bonus Factors: Being a Princess, Abstinence-Only Education
Relationship Status: Unexpectedly Deep Connection
The Official FYA Royal Diaries Drinking Game
Unsurprisingly, Marie Antoinette's story lends itself particularly well to hedonism.
Take a sip when:
There is talk of a betrothal
The protagonist references the diary concept (i.e. apologizes for not writing often enough, has to find a hiding place for the diary, explains why she's writing in it to begin with, etc.)
The protagonist wonders what it would be like to be a "normal girl"
There's a ball
Somebody is poisoned or strangled or in some other way Ye Olde Murdered
You wish you were a princess
Take two sips when:
The protagonist becomes betrothed (for realsies)
It's the protagonist's birthday (or culturally equivalent celebration)
Obvious historical foreshadowing (i.e., from this book: her doll falls off a ledge and loses its head)
You're really glad you're NOT a princess
Take a shot when:
The protagonist gets hitched*
Another Royal Diarist is mentioned
*Twice. Ask me how!
---
Cover Story: Valley of the Dolls
Scholastic recently relaunched the Royal Diaries series, starting last year with Anastasia and Marie Antoinette. Now, I'm all for updated covers, but this one takes a sharp left turn at Mannequinville straight into the Uncanny Valley. I'd be afraid to own this book for fear I'd accidentally enable Marie Antoinette to come to life and start singing. Why is her neck so long? Why is her head so big? Where is the rest of her infamous towering hair, and is it full of secrets?
The Deal:
Marie Antoinette (or Antonia, as she's known to friends and family) is the fifteenth of sixteen children, making her the youngest archduchess of the Holy Roman Empire. Her mother, the Empress, is exactly as much of a Boss as that title implies, except she doesn't need to worry about balancing work life with family life, because they're basically the same thing. The most important assignment in Hapsburg Dynasty, Inc. goes to Antonia: to marry the dauphin of France and one day become Queen. Despite months of preparation, it turns out no amount of etiquette lessons can prepare Antonia for navigating the complicated politics and unimaginable scrutiny of the French court. She's got a husband who won't make eye contact, a father-in-law who's entirely wrapped up in his power-hungry mistress, and fourteen people to help her get dressed in the morning. How's a girl supposed to keep her head on straight?
BFF Charm: Big Sister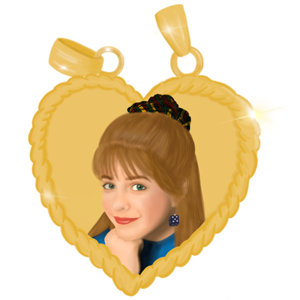 Antonia is an incredibly sweet kid. She's about the same age as the other princesses I've reviewed so far, but her simple sweetness made her seem quite a bit younger. (Which is not to say she doesn't mature quite a bit over the course of the book.) She loves children and animals and going on picnics, and she tries incredibly hard to be a good friend/daughter/princess/wife. I wish I could tell her it's okay to put herself first sometimes, and that all the people she's trying so hard to please aren't worth the effort…but she is the future queen, so that's not exactly true. Even if I couldn't make things magically okay for her, I think Marie Antoinette could use another good friend.
Swoonworthy Scale: 1.5
Unlike many Royal Diarists, Antonia doesn't completely dread her upcoming wedding. In fact, she's pretty adorable in her excitement, spending her time imagining which Greek god Louis probably most resembles and trying to get to know him through pen pal-ship. She's predictably crushed when they finally meet and he's…not what she expected. Still, Marie Antoinette and Louis' hesitant developing friendship in the later part of the book, if not exactly swoonworthy, is pretty sweet.
Talky Talk: Flowers for Algernon*
The reason Marie Antoinette starts keeping a diary (take a sip!) is to improve her writing abilities, which are initially subpar for a thirteen-year-old. So the book starts out like this:
My second time writing. I am keeping the resolution. Abbé de Vermond would be proud. I spelled the word solemnly correctly, too, I think.
But eventually becomes:
But look how I have improved. Look how interesting my sentences have become since I started. As my writing has improved and my sentences have become more interesting, I do believe that my thinking has become more interesting. I think about people and actions in a new way now–and most of all, I reflect on my feelings deeply, sometimes too deeply.
As Antonia's thinking and writing improve, there were more and more lines I wanted to highlight for their loveliness or their remarkable insight. Kathryn Lasky also wrote Elizabeth I, and in my opinion her entries in the Royal Diaries series feature the most beautiful prose.
*Luckily, this comparison does not extend to the depressing ending.
Bonus Factor: Cake
Marie Antoinette (correctly) never utters that famous phrase in the book, but cake does make a cameo appearance. In celebration of Antonia's engagement, the royal pastry chef makes a replica of the entire Palace of Versailles…out of cake. Clearly, the real Cake Boss lived over two hundred years ago and might've been fictional.
Bonus Factor: Being a Princess
Monarchy may have peaked in 18th-century France, at least in terms of sheer extravagance. Marie Antoinette gets to wear dozens of beautiful dresses, which are first modeled for her on little dolls in an outfit-selection process that rivals even Cher Horowitz's. When Antonia and her brothers want to go sledding, snow gets shipped in from the mountains for their pleasure. She even gets princess lessons just like Mia Thermopolis–and just like Mia, she complains about them a lot. But hello, your lessons are in horseback riding and dancing and gambling and occasionally curtsying, and every single one of those things sounds better than trig. The story of Marie Antoinette completely embodies all the best and most envy-inducing things about being a princess.
Anti-Bonus Factor: Being a Princess
Unfortunately, it also embodies the worst. Starting with the royal family motto, as oft-quoted by the Empress: "Others make war, but thou, oh happy Austria, make marriages." Antonia never gets a chance to be her own person; she is only ever a symbol, a mouthpiece, a pawn. Her mother controls every aspect of her life; once Marie Antoinette is married, that role is taken over by the strict etiquette of Versailles. Lasky does a wonderful job portraying Antonia's struggles to claim agency and privacy in her own life, but even her little victories are insignificant enough to seem hollow. (And while trig might not be much fun, it's better preparation for the "real world"–say, ruling a nation–than learning to curtsy.)
Anti-Bonus Factor: Abstinence-Only Education
Okay, here's my one beef with this book. Though many of the Royal Diaries books deal with the protagonists getting married, most leave off sometime before the wedding night. After all, these books are aimed at middle schoolers, and while Cleopatra seeing her sister's severed head displayed on a plate is a-okay, s-e-x is not. I get it, and I'm not suggesting Marie Antoinette go all Fifty Shades of Grey halfway through. Luckily, the historical fact that Marie Antoinette and Louis XVI didn't consummate their relationship until seven years after their wedding allows Lasky to stick with Antonia's story for the first several months of marriage. What bothered me was that the idea of s-e-x was not so much as hinted at, even in the form of vague implications of unfulfilled marital duties or the critical pressure to produce an heir. IRL, the unconsummated nature of Marie Antoinette and Louis' marriage was a major scandal and a huge threat to her position at court. I'm sure I didn't notice anything was "missing" when I first read the book as a preteen, but as an adult, the lack feels dishonest.
Relationship Status: Unexpectedly Deep Connection
I have to admit, book, I judged you at first. I expected you to be a fun, frivolous read, and I didn't think our date would turn into anything particularly serious. But you surprised me with your deep reflections and poignant moments. By the time our date was over, I felt humbled by the reminder that I shouldn't let a book's–or a historical figure's–shallow reputation sway me before meeting them myself. And, okay, you were pretty fun and frivolous too. If you wanna go out again sometime, I know of this great little dessert place…
FTC Full Disclosure: I purchased this book with my allowance. Marie Antoinette: Princess of Versailles has been available for years, y'all. So get on that.
---
About the Contributor:
Maria Greer is originally from Montana but goes to school in the Bay Area, where she totally fails to take advantage of the tech industry. Instead, she is majoring in history and creative writing, with which she plans to do…something. Currently her hope is that someone will come along and offer to pay her to read YA novels and eat cupcakes. Until that day, Maria spends most of her time studying and petitioning the university to let her keep a cat in her dorm.