About the Book
Title:
The Life Fantastic
Cover Story: Bright Lights, Big City
BFF Charm: Big Sister
Talky Talk: Half Sung
Bonus Factors: Vaudeville, Historical Setting
Anti-Bonus Factor: Blackface
Relationship Status: Hot Pennies
Cover Story: Bright Lights, Big City
I like this cover. It's pretty, eye-catching, and mostly fits with the theme of the book. Everyone in vaudeville wants to see their name in lights, but having some of the bulbs blown out subtly lets us know that not everything beneath this cover is going to be aces.

The Deal:
Teresa spent the first seven years of her life on the road as the daughter of a moderately successful vaudeville act. By fifteen, her life looks very different: her father never plays the fiddle anymore, her mama lost her voice working in the dusty organ factory, and "vaudeville" is a word verboten at their boardinghouse. With the threat of permanent employment at the organ factory looming over her (darn her perfect pitch being exactly what they need in the tuning room), Teresa knows that if she wants to pursue her dream of being on stage as a singer, she'll have to fight for herself or die trying. A lucky break in the form of a children's singing contest—plus a chance meeting with a black father-son vaudeville dancing duo—gives her the motivation she needs to run away to New York. Will she be able to find success in vaudeville, or will she get the not-so-proverbial hook?
BFF Charm: Big Sister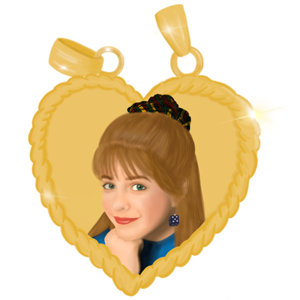 Teresa is nice enough, but she's got a big dream and a one-track mind, and I don't think we have enough in common to really click. She's a bit naïve and trusting, which, lucky for her, mostly works to her advantage. I do like that she's open to learning and changing when she recognizes her ignorance. Teresa's best qualities are her perseverance and kindness, and I hope she doesn't lose that on the jumps (AKA the long travel between cities on a vaudeville tour).

Swoonworthy Scale: 2
Teresa meets Pietro, a cute but surly dancer with a great admiration for W.E.B. Du Bois, in her small town of Brattleboro, and considers herself lucky when she runs into him again in New York City. The book jacket bills theirs as a doomed relationship, but to be honest, there wasn't much of a relationship at all. Teresa is a very young fifteen, and she doesn't know much outside of her little protected world. She finds Pietro attractive, but his focus is on a much larger prize (equality for black men and women), so they're never really able to bring the swoon. I'm sure there could've been some interesting material to sink into had there been more of a romance, but it didn't seem like that was the author's focus.

Talky Talk: Half Sung
I enjoyed much of the history woven into the plot, and this was a unique, behind-the-scenes look at the vaudeville circuit, but by the end I felt like I'd stepped out and missed the part of the performance. Based on the synopsis, I was expecting the characters to face more turbulent opposition and to reach wilder heights of fame than where we left off. Basically, the stakes never felt high enough. It's clear that Teresa and Pietro's stories aren't over—in fact, they feel barely begun—and I would've loved an epilogue to see approximately where they ended up. I know that life doesn't always give us that opportunity, but in this case, the phrase "always leave 'em wanting more" hit too close to home.

Bonus Factor: Vaudeville
I have a casual and basic knowledge of our country's vaudeville history, but this is the first book I've read that really focuses on the performers' lives. I stumbled on the author's note at the back of the book when I was a third of the way through (checking out that glossary, yo), and I would highly recommend reading it first, because I found the idea that the author based Teresa's parents on her own family's history pretty cool! I think it connected me to the story more, knowing that the author had such a vested interest in the time period.
The descriptions of the vaudeville shows were detailed and fascinating. I took a brief reading break to head down a rabbit hole of YouTube videos, some of which even had original recordings of acts from the time period. This is the kind of book that could benefit from a true multimedia platform (I'm imagining a book where you click on the section and a video pops up, or a song starts playing), as being able to properly visualize what an actual "cakewalk" was only enhanced my enjoyment during reading.
Despite the rough conditions the performers had to deal with during travel, I find myself a little sad we no longer have these types of variety shows to visit. The closest thing we have to vaudeville nowdays seems to be TV shows like America's Got Talent or The X Factor. I would've loved to have seen Madame Maeve and her Marvelous Marching Dogs perform!
Bonus Factor: Historical Setting
I love a good historical read, and I can't advocate enough for these types of books that combine fiction and history in positive ways (like the Dear America series, from which we've reviewed all the Royal Diaries here at FYA!) to be required reading in our schools. Factual history books are important, sure, but if you can find a realistic character to empathize with as they face racism and denigration at every turn, then, yeah, I think you're going to be a more well-rounded person for it. Ketchum brought the 1910s NYC to life, using real songs and places to bring an air of authenticity to the novel. I was going to make you, dear readers, a list of all of the songs she mentioned, but if you check out (once again!) the back of the book, you'll find Ms. Ketchum helpfully did the work for me.
Anti-Bonus Factor: Blackface
Before people used shoe polish or greasepaint to do blackface, they would smear burnt cork (like a cork stopper for a wine bottle) on their skin. This is what Pietro and Mr. Jones have to do in order to dance, even though they're already black. Doing so helped "trick" the audience into believing that they were only watching white performers onstage. I also learned that burning cork produces black carbon, which is a carcinogen—so not only is blackface morally deplorable and degrading to your emotional well-being, but it was also very bad for your physical health.
Relationship Status: Hot Pennies
In true vaudeville fashion, I promise I won't throw rotten tomatoes at you, Book. You gave a good performance, and you earned those hot pennies I'm tossing your way. So feel free to gather them up and buy yourself something pretty.
FTC Full Disclosure: I received my free review copy from Merit Press. I received neither money nor peanut butter cups in exchange for this review. The Life Fantastic is available now.