About the Book
Title:
Like a River Glorious (The Gold Seer Trilogy #2)
Cover Story: Wallpaper Worthy
BFF Charm: Big Sister
Talky Talk: Real (Historical) Talk
Bonus Factors: Family of Choice, Superpowers
Anti-Bonus Factors: Awful Grownups, Slavery (and All That Comes With)
Relationship Status: Fellow 49ers
Danger, Will Robinson! Like a River Glorious is the second book in the Gold Seer Trilogy. If you have not read the first book in the series—Walk on Earth a Stranger—turn away now. Do not pass go, do not collect $200. If you have read the first book, however, feel free to continue below.
Cover Story: Wallpaper Worthy
The cover designer for this series finds some absolutely stunning backdrops on which to place his gold dust ladies. But unlike the first cover, there's something more hopeful about this one, from the brightness of the sky to the woman's face and clothing, which is no longer downturned/woeful and a little more fancy, respectively. I still totally dig the gravitas of the title treatment, and how all of the elements work together to make this book feel Important (capitalization intended).
The Deal:
Leah Westfall, her best friend Jefferson Kingfisher, and the rest of the group they traveled cross-country with—at least those who made it alive—have settled in California. They're ready to make a home for themselves, and get rich thanks to the Gold Rush; Leah's "witchy" gift of being able to sense gold makes the latter a whole lot easier than anyone might have hoped.
But Leah's uncle Hiram isn't game to let Leah live peacefully, and will stop at pretty much nothing to use her gifts for his own personal gain.
BFF Charm: Big Sister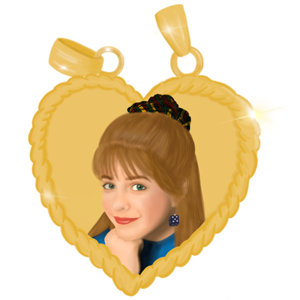 Leah and I got along really well as she was traveling across country, pretending to be a boy, showing up a bunch of men, and hiding her gold sense (i.e., in Walk on Earth a Stranger). We've both grown a little since that first meeting, however, and although I still like her, I worry that she has too much riding on her young shoulders. She's the de-facto leader of her band of gold seekers—even though she'd deny it if asked—and strains under the ever-present threat of what her uncle might do. Add to the fact that she's a woman, which, in the era in which she lives is a constant source of consternation (mostly for the men who see her as lesser), and she's got a whole heap of crud to wade through. Sometimes literally. I feel for her, and wish there was a way I could ease some of her burden.
(As an aside, Leah once "talked" about how she finds writing to be a near useless skill, which made me like her just a little bit less, on principle.)
Swoonworthy Scale: 5
Now that they're settled in one place, Leah finds the time to think about her feelings for Jefferson. He's made his intentions totally clear, but she's still worried about what it would mean to let herself get too attached. Leah tends to listen more to her head—which is (rightfully) worried about her uncle, her gift being revealed, becoming a man's "property" if she were ever to marry, etc.—than her heart, but Jefferson slowly and patiently wears her down. In a good way, of course.
Talky Talk: Real (Historical) Talk
The research and effort Rae Carson puts into this series is yet again apparent in Like a River Glorious. The book is set in the mid 1800s—the height of the Gold Rush—and feels appropriate for the era in language, dialogue, setting and the like while remaining readable. Carson doesn't over-rely on slang, but peppers in phrases and words that serve as reminders that the people and situations in the book are from a very different time.
This adherence to the era can make the book hard to read, however, particularly the descriptions of the squalor of Hiram's mining camp and the treatment of anyone who's not a white male. But the book wouldn't be true to itself, or have as much of an impact, if Carson pulled punches.
Bonus Factor: Family of Choice
I always enjoy reading about people who find their family amongst friends or people who used to be strangers, and Leah's group of misfits is no exception. It's not always easy, but it warms my heart to see them band together when it's needed most.
Bonus Factor: Superpowers
Leah's gift of sensing gold is pretty awesome already, but it goes to eleven in Like a River Glorious.
Anti-Bonus Factor: Awful Grownups
Leah has no shortage of truly terrible adults to contend with. Her uncle Hiram, who murdered her parents and wants Leah's gifts for his own benefit; Frank Dilley, one of the Missouri Men who's threatened by Leah's skills and the fact that she's a woman; Able Topper, Hiram's right-hand man and lecherous creep; various other people—men, mostly (natch)—she runs across who don't think that she, as a young woman, can do anything on her own. Leah finds herself wanting to bust their faces in and I couldn't agree with her more.
Anti-Bonus Factor: Slavery (and All That Comes With)
When Leah's kidnapped by Hiram and taken to his mining camp, she's already somewhat aware of how non-caucasian men are treated. But the conditions for the Chinese workers and Native American slaves at the camp are even more horrific than she could have imagined. The conditions that the Native Americans are forced to live in made me see red and turned my stomach. They're accurate to the time period, according to Carson's notes at the end of the novel, and it's so important to be real with the specifics, but they are horrific.
Relationship Status: Fellow 49ers
I didn't think it would be all sunshine and rainbows once we arrived in California, Book, but I didn't expect such a hard time either. I trust that we can make it through—and strike it rich—if we stick together. I'm also super curious to see we go from here, as your ending felt way more final/wrapping things up than I expected from a middle-of-trilogy book. So you can bet I'm game to meet up again in the future.
FTC Full Disclosure: I received a copy of this book from Greenwillow Books, but got neither a private dance party with Tom Hiddleston nor money in exchange for this review. Like a River Glorious is available now.