About the Book
Title:
Lost in the Never Woods
Cover Story: Optical Illusion
BFF Charm: Let Me Love You
Talky Talk: Retelling
Bonus Factor: Oregon
Anti-Bonus Factor: Absent Parents
Relationship Status: Maybe MFEO?
Content Warning: Lost in the Never Woods includes elements of repressed childhood drama, kidnapping, grief, and death.
Cover Story: Optical Illusion
This cover reminds me of those "is this a crone or a young woman or both" optical illusions from the days of yore. It's a very clever use of the woods and darkness, however, that ties really well to the story within. It's also a great use of illustration that doesn't (thankfully) look like the many, many illustrated covers that are out in the world right now.
The Deal:
Five years ago, Wendy Darling and her brothers went missing in the woods behind their house in Astoria, Oregon. Wendy returned, six months later, but had no memory of what happened to any of them.
When kids start to go missing again, people turn to Wendy. She doesn't have the answers, but when a strange boy named Peter—someone she thought a figment of her imagination—shows up and asks for her help saving the children and returning her shadow, Wendy realizes that there's more to the gaps in her memory than she'd ever imagined.
BFF Charm: Let Me Love You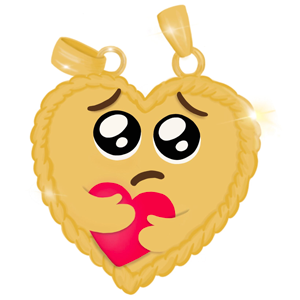 Wendy has a best friend, Jordan, who's always been there for Wendy, no questions asked. But when kids start to go missing again, and Peter shows up literally out of thin air, Wendy feels herself closing off from everyone, even Jordan. I'm sure she'd do the same thing to me, if we were friends IRL; it can be hard to open up to friends who might not believe something magical is happening, even if they are the most open-minded of folks. But I'd still love to be her friend, and not only because of the magical elements of her life. She's a strong, passionate young woman with a lot of (well-deserved) confidence that is lurking just below the surface. Let me help bring it to the forefront, Wendy!
Swoonworthy Scale: 6
I'm a shipper at heart, so I was hoping for something more between Wendy and Peter. And I knew from the start that there was something there, but it was hard for me to lean into that chemistry, particularly because Peter's depicted as a young teen at the start of the book. Peter eventually matures as part of the story, which makes it a bit easier to understand their connection, but I couldn't help but feel a bit like Wendy was interested in her little brother's friend, which dampened the swoon. Their age difference, which at most was 4–5 years, would matter little later in life, but when it's early high school vs. an 18-year-old, it's a struggle.
Talky Talk: Retelling
For those who didn't put the Wending Darling/Peter/missing kids connection together yet, Lost in the Never Woods is a Peter Pan retelling. But it's a retelling that leans heavily toward the horror genre; Peter's shadow is a much more malevolent entity, and the lost boys/kids are … something else. The original tale of Peter and Wendy lends itself nicely to that darkness, and Thomas does a great job of setting up a reveal that both fits the original and feels totally new (and surprising). Wendy is also a sympathetic character who deals with trauma and grief in a really believable, albeit heartbreaking, way.
It took me a bit to get into the story, however. The writing, at the start, was a little clunky and overly tell-y. But I'm chalking that up to the version I read being an ARC. The story certainly grabbed my attention and kept me reading, making it easy to overlook my early struggles with the book's flow.
Bonus Factor: Oregon
I've never been to Astoria, home of The Goonies Wendy and the Darling family, but it's close enough to where I grew up that I was excited to see that the book was set there. And then someone drank a Dutch Bros coffee, which made me grin. I'll never not get suckered into feeling home state nostalgia, y'all.
Anti-Bonus Factor: Absent Parents
The Darling parents used to be fabulous, but since their incident—and only Wendy's return—they've shut down. I can't blame them, and I have no doubt that I'd likely do something very similar if I were to lose two-thirds of my kiddos. But it broke my heart to see how alone Wendy felt, and how much their distance was driving home her feelings of guilt.
Relationship Status: Maybe MFEO?
It took a minute for us to click, Book, but as soon as we did, I knew we had something unique. You're a bit too broken to start something serious right now, but I'm content to be here waiting and see what the future might bring us.
Literary Matchmaking
Faraway
The Faraway collection, which features short stories from Gayle Forman, Rainbow Rowell, Nic Stone, Ken Liu, and Soman Chainani, lean hard into the darker aspects of fairy tales.
FTC Full Disclosure: I received a copy of this book from Swoon Reads, but got neither a private dance party with Tom Hiddleston nor money in exchange for this review. Lost in the Never Woods is available now.