About the Book
Title:
Love and Luck (Love and Gelato #2)
Cover Story: We Meet Again
BFF Charm: Yay
Talky Talk: Straight Up But In Europe
Bonus Factors: Ireland, Road Trips
Relationship Status: Let's Hit The Road
Cover Story: We Meet Again
I LOVED the cover of Welch's Love and Gelato, and Love and Luck being its companion novel, it makes total sense that the covers would be complementary. I like this cover a lot. I'm not sure why I don't love it quite as much as Love and Gelato's. Maybe because I've seen something so similar before, so this doesn't feel new and exciting? Or maybe because clovers aren't as delicious as gelato? Hard to say, hard to say…
The Deal:
Addie's aunt is an HGTV star, which means her destination wedding is bound to be over the top. Sure enough, Addie and her four brothers find themselves on the gorgeous cliffs of Ireland for the romantic nuptials, the absolute WORST place to be for someone as heartbroken as Addie. She still isn't over everything that happened with her long-time crush Cubby last year, and she's dreading leaving Ireland and heading to Italy with her brother Ian, where she'll have to tell her best friend Lina everything.
But when Ian and Addie end up in a fist fight, and Ian tries to bolt on their planned trip to Italy, Addie refuses to let him get away without her. The siblings find themselves on a road trip across Ireland with Ian's internet friend Rowan, where they explore all the stops in a guidebook for the heartbroken on their way to a music festival to see Ian and Rowan's favorite band. Along the way, Addie must figure out how to mend both her broken heart and her shattered relationship with her brother.
BFF Charm: Yay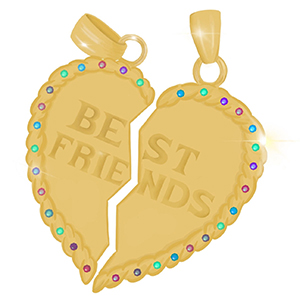 At first, Addie actually seemed a little aggro for my taste. I appreciate a gal who can take up for herself, but Addie's got a temper, and she was always quick to act first (usually with her fists) and think later. But as the road trip progressed and Addie began to actually process the things that had happened to her over the last year, she softened a bit without ever losing her edge.
Swoonworthy Scale: 5
Rowan could not be more my type. He's tall and skinny, he wears sweaters and tortoise shell glasses. He drives a junker car, loves indie bands, and is usually snacking on dry cereal and trying to mediate arguments between Addie and Ian. And did I mention he's got an Irish accent? As Rowan and Addie got to know each other, I experienced all of the expected swoony butterflies, but I had to dock a point or two because the swoon really takes a backseat (pun!) to the family road trip antics. I know that romance doesn't always have to be the focus, but I felt like there was plenty of room for Rowan and Addie's story to get the attention that it deserved, so when it didn't, I was left a bit wanting.
Talky Talk: Straight Up But In Europe
Welch does a lot of things well–her dialogue is realistic, her pacing is always good, and she creates characters you want to root for. What really sets her books apart, though, are the settings. Her contemporary romances lean into their surroundings, delivering sweet stories that will give you a mean case of wanderlust. You can also expect familial relationships to play a huge part of her books, which always help to punch up the emotional impact.
Bonus Factor: Ireland
I love a book that will have you planning a vacation abroad before you've even finished it. Welch's descriptions of the lush, sweeping vistas of Ireland is no exception.
Bonus Factor: Road Trips
I've waxed poetic more than once about how much I love a road trip story, and how road trip stories with the best friend of an older sibling (or a best friend's older sibling, or some combination thereof) get bonus points for me. Love and Luck fits that description…even if said older sibling happens to also be along for the ride.
Relationship Status: Let's Hit The Road
Book, you've got all my favorite things: road trips, Europe, cute boys with even cuter accents, and good music. Let's hit the road and see where the adventure takes us.
Literary Matchmaking
The Carnival at Bray
For another adventure across Ireland to see a favorite band play (this time, Nirvana) check out Jessie Ann Foley's The Carnival at Bray.
And We're Off
And We're Off by Dana Schwartz is about a girl named Nora studying art in Ireland who sets off on a European road trip as she tries to mend a pained relationship with her mother.
FTC Full Disclosure: I did not receive money or Girl Scout cookies of any kind (not even the gross cranberry ones) for writing this review. Love and Luck is available now.