About the Book
Title:
Love and Olives (Love and Gelato #3)
Cover Story: Third Time's a Charming Mosaic
BFF Charm: Big Sister
Talky Talk: School of Sarah Dessen: Study Abroad Program
Bonus Factors: Santorini, The Lost City of Atlantis
Relationship Status: You're Invited to Our Big Fat Greek Wedding
Cover Story: Third Time's a Charming Mosaic
This is Welch's third novel that takes place in a European country, following Love & Gelato and Love & Luck. All the covers match, so this one isn't reinventing the wheel or anything, but it's cute and you know exactly where it takes place with a quick glance.

The Deal:
Olive "Liv" Varanakis is living the good life. She's got a hot senior boyfriend, she's figured out her personal style and pulls it off with aplomb, she's got a great stepdad and half brother, with another one on the way. The only thing she doesn't have is her own dad, who left when she was a kid to search for the lost city of Atlantis. Liv finds this sort of mortifying, so when a postcard arrives from her father Nico inviting her to spend her birthday with him in Santorini, Liv is like "that's gonna be a no for me dawg." But with a little pressure from her mom, Liv finds herself on a plane to Greece.
Upon arrival, she's immediately brought into the fold of her father's close friends and found family, including his friend Ana, who owns a travel bookshop, and Ana's son Theo. Liv soon learns that her father has a chance to film a documentary about Atlantis for National Geographic, and he's brought her to Greece to be his art director. Liv is none too thrilled with this idea, but the more she begrudingly tags along on shoot days, the closer she grows to her father, to Theo, to Santorini, and to maybe believing that there's more to Atlantis than she originally thought.
BFF Charm: Big Sister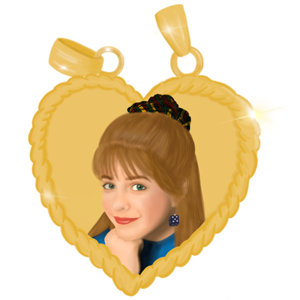 I want to say Liv is cool in a way I wish I had been as a teenager, but tbh, Liv is cool in a way I wish I was right now. She's got a great sense of style, she's a talented artist, and she is surprisingly chill about solo international travel at such a young age. I loved watching her blossom and come out of her shell while trying to navigate a complicated relationship with her father. That said, there were a few times when I wanted to take her by the shoulders and sit her down for a stern talking to. I'm officially of an age when I can relate to a YA character's mother. Liv, your boyfriend sucks and you are too young to attach yourself and your life choices to one person like that, young lady!!!
Swoonworthy Scale: 8
Liv is in a "happy" relationship back home with a guy named Dax. I use quotation marks because I HATED DAX. He's kind of controlling and a dick, and he really wants Liv to go to college near him, and she clearly doesn't trust him around other girls. But I digress. The first person Liv meets in Greece is Theo, her father's cinametographer/general production dude, who is tasked with picking her up from the airport. Theo is grade A Greek hottie, and he is thrilled to meet Liv. They have chemistry together from the start, but Liv keeps insisting that she has to be faithful to her boyfriend back home (eyeroll) and Theo is a respectful king. But being respectful is really hard when you're sharing a bunk room with someone above a bookstore. No, this is not a case of tiny room with only one bed. Liv's dad is cool, but he's not THAT cool. Liv and Theo fall asleep listening to French rap music every night from their respective beds and ugh you KNOW you could just cut that tension with a knife.
Talky Talk: School of Sarah Dessen: Study Abroad Program
Welch writes my favorite kind of contemporaries: coming-of-age stories about girls who are dealing with some sort of major familial shift while also falling in love. Take all of that and drop it into a European setting and it's going to be an instant buy for me every time. Welch's writing packs an emotional punch but is always infused with humor, style, and a mean sense of wanderlust.

Bonus Factor: Santorini
Fair warning: you WILL get online and look at plane ticket prices while reading this book. Just accept it.
Bonus Factor: The Lost City of Atlantis
National Geographic nerds, rejoice! Liv is assisting her father with his NatGeo documentary, and Nico Varanakis is an expert on all things Atlantis. Liv may find it all a bit eye-rolly, but I loved reading about the theories and history behind one of the world's greatest mysteries.

Relationship Status: You're Invited to Our Big Fat Greek Wedding
I loved this book so much, I included it in my favorite books of 2020! It had everything I look for in a book and a few things I didn't know I needed. I will definitely revisit it in the future. I reread Love & Gelato on the plane to Florence last fall, so maybe i can manifest a post-pandemic trip to Greece and do a reread on the way. Until then, I have one question for you, Book……*clears throat and gets down on one knee*
Obviously, for more Jenna Evans Welch, check out her other books, Love & Gelato, set in Florence, and Love & Luck which takes place on a road trip through Ireland.
In Sisterhood Everlasting, the ten-years-later Sisterhood of the Traveling Pants sequel by Ann Brashears, the gals take a reunion trip to Greece!
If you're looking for another swoony, emotional story about a girl reconnecting with her long lost father, check out Where the Stars Still Shine by Trish Doller.
FTC Full Disclosure: I did not receive money or Girl Scout cookies of any kind (not even the gross cranberry ones) for writing this review. Love & Olives is available now.