About the Book
Title:
Love, Creekwood (Simonverse #3.5)
Cover Story: Love in Technicolour
BFF Charm: Let It Rain
Talky Talk: Email My Heart
Bonus Factor: Cameos
Relationship Status: For Devotees Only
Spoiler Alert: This novella takes place after Leah on the Offbeat. However, this review contains minor, minor spoilers about the previous books. If you haven't read them, come back after you do or proceed at your own discretion!
Cover Story: Love in Technicolour
This cover finally made realize that the Simonverse books are SO CLOSE to being a complete rainbow. Maybe there can be a few more books about Nora and her friends to finish the set?
The Deal:
Our favourite Creekwood High students are now in college freshmen! With most of them attending colleges in different states, they're staying in touch through the same way that this whole series began: with emails.
BFF Charm: Let It Rain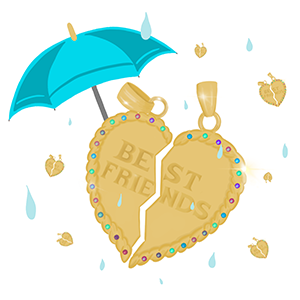 OBVS. If I didn't love these characters, I would not be here.
Swoonworthy Scale: 4
Many of the emails are exchanged between couples, so it's like reading their love letters full of cutesy details and sexytimes innuendoes. Although I do find it a little Harry Potter-like that not a single person has expanded their dating circle beyond who they knew from high school. (The OTPs are obviously still together, but no one else is hooking up new people at college? Really?!?)
Talky Talk: Email My Heart
The email structure is a bit of a double edged sword. The reader is privy to these intimate conversations, and it's especially a treat to hear from characters who haven't had their own books. But that also means nothing is actually happening in real time, so it's a lot of recapping after the fact rather than showing how things unfold. Plus, there's a little bit of contrivance in some situations that probably didn't require any emails at all.
Bonus Factor: Cameos
Practically every Creekwood High alum* appears in some capacity. There are even a few cameos from outside of the Simonverse, which readers well versed in YA might pick up on.
* Except poor Anna, who doesn't get mentioned at all. Even Bieber Spier the dog gets a shout out!
Relationship Status: For Devotees Only
Since I never read (or reread) blurbs before I start a book, I didn't realize that this entire novella was just literally a bunch of emails. While it was nice to find out how everyone's doing after high school, my life is already filled with SO. MANY. EMAILS.* I don't necessarily need to read them in book form too, you know?
* A largely self-inflicted issue, since I start many of the chains.
Literary Matchmaking
Kate in Waiting
If you've run out of Becky Albertalli books to read, you're in luck! Her latest, Kate in Waiting, was recently released.
Emergency Contact
Mary H.K. Choi's Emergency Contact is another story set in college about staying in touch through technology (texting, in this case).
FTC Full Disclosure: I received my free review copy from Balzer + Bray. I received neither money nor gelato for writing this review (dammit!). Love, Creekwood is available now.