About the Book
Title:
The Love Letters of Abelard and Lily
Cover Story: Third Period Doodles
BFF Charm: Let Me Love You
Talky Talk: Real Life
Bonus Factor: Literature
Anti-Bonus Factor: Awful Grownups
Relationship Status: Charmed, I'm Sure
Cover Story: Third Period Doodles
I'm not sure what this really has to do with the book. Let's put on our armchair psychologist thinking caps: The scribbles are chaotic and represent Lily's fears that her destructive tendencies will destroy all love (AKA the hearts)? The blue color is pleasant—that's about as much emotion as this cover can drum up in me.
The Deal:
Lily Michaels-Ryan has ADHD. Maybe that's streamlining things a bit too much, but most times she feels like her ADHD is the biggest and most defining piece of her personality. All she wants out of junior year is to get decent enough grades so her mom will allow her to spend the summer on her father's farm out in Portland, but that is shaping up to be a major struggle.
Then a broken accordion wall and her impulsive nature brings Abelard, a boy with a high-functioning autism spectrum disorder, into Lily's orbit. He doesn't seem to mind that she routinely breaks things, says whatever's running through her head, and can't always remember where she puts her possessions. They start exchanging text messages peppered with quotes from The Love Letters of Abelard and Heloise, one of their favorite (and obviously very appropriate, given that Abelard was named after Peter Abelard) books, and Lily can't believe she's found someone who may actually understand her.
But the fact is that Lily and Abelard are not what others would call "normal" teenagers. Can their love survive their differences and overcome any obstacle?
BFF Charm: Let Me Love You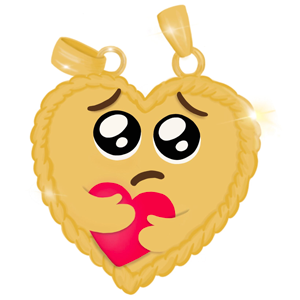 I adored Lily. Simple tasks aren't always easy for people with ADHD, but most especially when you're in high school and expected to conform to exacting rubrics while dealing with bored teachers who delight in pointing out when you don't follow directions. She's a smart girl, but her focus gets so scattered she's basically given up on academics and the dream of ever going to college. Her mom has her on ADHD meds/anti-depressants, but they make her feel fundamentally less her and have gotten her on suicide watch in the past, so she hides them in a pickle jar under her bed. For all her problems, Lily is a good sister, funny, and deserving of big, giant hugs. She often regrets her impulsivity, but it's not always a bad thing—sometimes it can lead to unexpected and wonderful experiences. She goes through rough moments where she wants to give up, but she always comes back around to wanting and desiring to succeed.
She earned my BFF charm 4 life with this observation:
Supernatural. Salad. These are things we do together, eat salads and watch Supernatural because all three of us, Mom, me, and Iris, think those guys are hot. Iris likes the taller baby-faced one, but Mom and I prefer the deep-voiced snarky brother. It's like a miracle, Mom says, to find such transgenerational hotness on TV.
And kind of broke my heart with this one:
I stood up. If Coach Neuwirth wasn't going to let me pass his class, then I wasn't going to listen to his humiliating and discouraging meditation on the total craptacularness of adulthood. Really, this grueling reminder that real adult life is a farce and nothing you do matters as long as you fill out the forms correctly, had all the appeal of an angry suicide note. The world is impossible and untenable, and we all suffer, and therefore we make others suffer to ease our own misery. Like we exist solely to propagate paperwork, because paperwork is infinitely more important than actual human beings. Paperwork demands suffering.
Eff you, Coach Neuwirth. You don't deserve the privilege of being an educator with an attitude like that.
Swoonworthy Scale: 7
I've rarely been so curious to see what happens to a relationship after the book ends than with this one. On the surface, it doesn't seem like Abelard and Lily are going to work – he doesn't get social cues and doesn't speak often, and Lily sometimes forgets about things like personal space and can talk your ear off. Texting is the perfect medium for Abelard, who desperately wants to connect with someone but needs the space and time to formulate his replies. Their banter was fun and nerdy and old-school romantic. (Nothing says "I'm into you" like hunting through literature for the right quote to fit your flirty chats. That's dedication.) Abelard's steady presence is like a natural drug for Lily, who is also in need of someone who won't judge her for just being her. Abelard has a great romantic declaration that deserves a place next to ones like Julia Robert's from Notting Hill and Lloyd Dobbler's in Say Anything. Here's a small sample:
"You are a fractured snowflake, a pattern repeated in infinite detail in a world full of salt crystals. You're not broken—you're perfect."
You'll just have to read the book to get the rest of the swoony context.
Talky Talk: Real Life
Some people might pass on this one because it will look and feel like an "issues" book, but Creedle makes it so much more than that. There was a wry humor to the characters, and plenty of realistic moments about how much adolescence sucks, but with the hope that life can improve with time.
I was drawn to Lily's story because my husband also has ADHD, and it's not something I've seen very often in YA literature. So maybe I felt an extra emotional connection to Lily because I could see a lot of my husband in her—the tendency to ramble on about topics they find interesting; the well-meaning intentions to be somewhere on time or do the thing you asked them to do, but they get distracted; the feeling that their minds are going in a million different directions; and being in crowds of people make them feel way over-stimulated. I probably drove him a little crazy while I read it because I was constantly reading passages aloud and asking him if he felt similarly to Lily, and a lot of it was spot on for him. Obviously ADHD effects everyone differently, but I think many people, even those without direct experience with it, will find in Lily a relatable and root-able character.
Bonus Factor: Literature
People actually appreciating literature and using the sexy bits to flirt with one another? Heck yeah. I haven't read The Love Letters of Abelard and Heloise but their (real-life!) story sounds fascinating.
Anti-Bonus Factor: Awful Grownups
There are definitely some good people in Lily's life, but unfortunately the crappy ones always seem to exert much more influence. Part of Lily's father's absence could be attributed to the fact that he may also have undiagnosed ADHD, but I think more of it is just him being a certifiably selfish jerkwad.
Relationship Status: Charmed, I'm Sure
Some people may deem you a lost cause, Book, because they find your issues too heavy or real. But I see your deep feelings and passion for life, and I am charmed to make your acquaintance.
FTC Full Disclosure: I received my free review copy from Clarion Books. This review was originally posted on Kirkus Reviews in exchange for monetary compensation, which did not affect or influence my opinions. The Love Letters of Abelard and Lily is available now.