About the Book
Title:
Love Scene, Take Two
Cover Story: Quick, Get Me A Cover!
BFF Charm: Yay and Nay
Talky Talk: Easy Breezy
Bonus Factors: Lake Houses, Movie Sets
Relationship Status: Pontoon Pals
Cover Story: Quick, Get Me A Cover!
…Is what I imagine some publishing big wig saying before one of the graphic designers on staff whips this baby up between her third and fourth coffee of the day. It's a fun color for summer, the two director's chairs canoodling is cute, and the font is inoffensive. It's not the best, but it's not the worst.
The Deal:
Teddy Sharpe just had one of the most important auditions of his life…and he's pretty sure he blew it. The movie adaptation of the hit YA series, Parachutes, could have been his Hunger Games, his manager insisted, something to launch him into the stratosphere. But fate plans on giving him another chance: on the plane to Miami, he runs into Bennett Caldwell, the young author of said series, and circumstances contrive to have him hanging out at her family's lake house for the weekend. Sparks fly, but a misunderstanding with an ex-girlfriend put a damper on that fire before it truly gets going.
Months later, Bennett has been good at avoiding Teddy until now, when filming is about to begin. Can she stick with her resolve to resist the unstoppable charm that is Teddy Sharpe? Or is hanging out on a YA movie set a magnet for love? (I think you, dear readers, know that answer.)
BFF Charm: Yay and Nay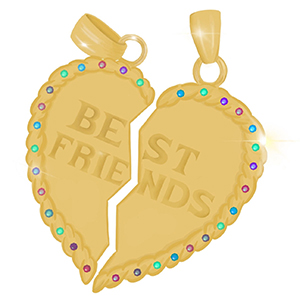 Teddy is a young rising star who's biggest claim to fame is a secondary role on an MTV show (I'm pretty sure this is showing my old, because I sat there thinking, do people even watch scripted shows on MTV anymore? No, seriously, do they? I haven't turned on that station in years). He's a little impulsive but overall he's a sweet guy, the kind of charming and affable that gets him invited to strangers' lake houses after only one plane ride convo. We probably wouldn't see each other in person much, living on opposite coasts, but I like to think I'm a good pen-pal, so I'd keep up with him via text (and he'd make me up my emoji game).
Bennett, on the other hand, is a big ole ball of stress, insecurities, and indecision, and I would be finding some way to politely avoid inviting her to anything because she would bring the mood way down. Girl, you are a successful author before the age of twenty; lighten up a little and enjoy yourself! I liked her more before we got a look inside her head and I saw how she consistently treated Teddy like crapola (more on that below). She lets herself be a doormat for her cousin for so long, and I would refuse to stand by and watch that. Maybe in a few years, when she gains more confidence, we could hang, but I'm at a point in life right now where I am no longer hand-holding someone through drama of their own making.
Swoonworthy Scale: 4
Bennett gets mad at Teddy for a situation that is not entirely what it seems, and when they finally meet up again she's understandably wary (from her perspective). Evansley did a fairly decent job trying to show how these two hit it off so quickly, but I was less enamored with the second half; at first it was because we switched from inside Teddy's head (a fairly nice place to be) to Bennett's (re: ball o' mess). And then there was the wishy-washy way Bennett treated Teddy. They had multiple moments where it seemed like things would work out and then Bennett would interpret something said as highly offensive or freak-out-worthy and it would go downhill. By the time Teddy said he was done for the last time, I actually wanted him to stick to his guns and refuse to take her back, and that's not really the reaction you're looking for in your romance novel.
Talky Talk: Easy Breezy
Evansley adopts a millennial, breezy tone throughout the novel, with plenty of characters who "can't even", think others are being so "extra", and generally talk how I imagine many teens talk (at least if they're in with the Tumblr crowd). It's very conversational and, consequently, easy to read through in an afternoon. It's not a book I'd go back to again, but if you're looking for some mindless fun on a warm summer's day and enjoy a predictable and glossy read, you could do worse.
Bonus Factor: Lake Houses
Evansley writes about the North Carolina lake life like she's lived it. I was mad jealous of the Caldwell family's lakefront view and giant cabin, and then when they hung out at Pontoon Paul's (you KNOW you want to live near this guy) giant summer bash…trust, you are going to want to book your next kick-back vacation, STAT. I was already missing the Blue Ridge mountains this Memorial Day weekend; why do you want to make me cry, book?
Bonus Factor: Movie Sets
They seem like they'd be massively boring in real life, but hearing about them always seems so glamorous and exotic. A trailer full of makeup! Key grips! A snack table whenever you want! PAs! Green screens!
Relationship Status: Pontoon Pals
Here, Book—let's crack open a cold one while you tell me about your adventures and we sun ourselves on the water. I'll have my sunglasses on, so you won't see me rolling my eyes at some of the more ridiculous moments you recount, but, honestly, I do appreciate the entertainment as we lazily float around on this kickass pontoon boat. We might only see each other in the summers, but at least we'll always have your slightly over-the-top stories.
FTC Full Disclosure: I received my free review copy from Swoon Reads. This review was originally posted on Kirkus Reviews in exchange for monetary compensation, which did not affect or influence my opinions. Love Scene, Take Two is available now.