Cover Story: Big Coat Energy
BFF Charm: Make It Rain
Talky Talk: Mighty Aphrodite
Bonus Factors: WWI, Paris, Gateway Book
Relationship Status: Marry Me Before You Go
Cover Story: Big Coat Energy
Okay, I confess: I'm not a huge fan of this cover. Not because it's not beautiful—it is! And not because it's not appropriate for the story, from the pink coat to the trenches to the tiny Eiffel tower—it has plenty of elements from the book, so clearly a lot of care has been placed in its design. My reservations stem from the fact that I have at least 5 historical fiction books with extremely similar covers in my home right now. That tells me that the branding is on-point; I just wish they had gone in a different direction.
The Deal:
Aphrodite is on trial. Her husband, Hephaestus, is none too pleased that being married to the goddess of love means suffering her repeated infidelities, particularly with petulant, self-aggrandizing Ares. In order to avoid punishment, she weaves a tale of four young lovers who all meet thanks to the horrors of World War I.
Hazel is a pianist who entertains visiting troops. James is the boy who meets her at a local dance, just days before he ships off to war. Collette is a Belgian girl who lost everyone she loves in the war, and Aubrey is a ragtime pianist from Harlem. While Ares is busy ravaging the mortal world with death and destruction, Aphrodite—a hopeless romantic, natch—helps the young lovers make their matches and persevere through the worst that life has to offer. If she can convince Hephaestus that her motives were good, maybe he'll let her out of his trial in one piece.
BFF Charm: Make It Rain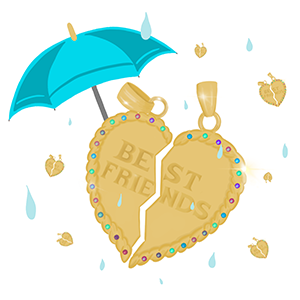 For all the political horrors we have endured over the last few years, which have a body count of their own, it's hard to imagine being caught in the first World War. (Trench warfare remains one of my biggest nightmares.) Yet, somehow, each of the four protagonists soldier on (sorry), grasping at the little moments that get them through: a new pink coat. A ragtime rendition of Reveille. Twenty-four hours in Paris. Stolen kisses. Letters from the front lines. They're all so real, so human, that you can easily imagine yourself beside them, trying to make sense of a cruel world…and the whims of the gods.
A bonus BFF charm, of course, goes to Aphrodite, who is as wily as she is romantic.
Swoonworthy Scale: 7
There's no higher stake than a wartime romance, in which the "getting to know you" courtship period is replaced by separation, possible death or injury, and delayed communications. (Then you have the small complication that Aubrey is a black American soldier in an overtly racist time, dating a white woman.) It makes everything good more precious. You'll hold your breath and then swoon right along with Hephaestus and Ares as Aphrodite brings their attention to a side of mortality they paid little attention to.
Talky Talk: Mighty Aphrodite
Gods telling tales of mortals is a trope that dates back centuries, if not millennia, and Julie Berry definitely does it justice here. Rather than perching atop Mount Olympus, Aphrodite and her cohort are holding court (heh) in a luxurious Manhattan hotel room. Her narration is woven throughout the book (talk about first-person omniscient!), giving context and foreshadowing to the distinct voices of the four protagonists.
It starts off a bit slow, but picks up steam until it barrels toward the ultimate conclusion; stick with it if it doesn't grab you by the throat immediately, and let her lush prose wash over you.
Bonus Factor: WWI
There is certainly a saturation of WWII YA books on the market—somehow the Greatest Generation captured our imaginations where others haven't—so the setting is slightly more novel. If you're familiar with Vera Brittain's Testament of Youth (which is especially good if you're in the mood to be shellshocked and wracked with sobs), you'll see that Berry nailed the horrors and uncertainties of a war that was, at the time, unlike any other.
Bonus Factor: Paris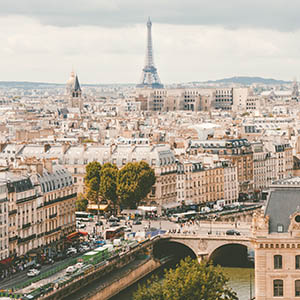 It's not all doom and gloom, of course, and how could it be, when part of the story takes place in Paris? (If you've never been, the hype is real: it is the sort of city that puts you under a spell which will linger long after you get home.) Anytime Paris plays a role, you're swept into an oasis of charm and beauty and culture, just like Aphrodite herself.
Bonus Factor: Gateway Book
Got a reluctant adult YA reader in your life? Lovely War could be the gateway book to get them on our level. You can hardly complain about the maturity level of the characters when they're teenagers being sent to the front lines—and dealing with all the horrific after effects. Plus, Aphrodite is an ageless narrator, and when she takes center stage, the voice skews far older than the mortals.
Relationship Status: Marry Me Before You Go
I knew this book would be something special, considering Julie Berry is responsible, but I wasn't expecting to go through a box of tissues. While The Passion of Dolssa will forever remain my favorite of hers (prove me wrong, Ms. Berry! No, seriously—please?), Lovely War was a gorgeously-layered, unusual take on the best and worst of what humanity has to offer.
FTC Full Disclosure: I received my free review copy from publisher. This review was originally posted on Kirkus Reviews in exchange for monetary compensation, which did not affect or influence my opinions. Lovely War is available now.