About the Book
Title:
The Shadow Society
Cover Story: Montell Jordan
BFF Charm: Make It Rain
Talky Talk: Straight Up
Bonus Factors: World Building, Alternate Universe
Relationship Status: Hot Date
Cover Story: Montell Jordan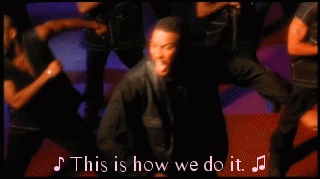 Rather than repeating the same joke over and over again for good covers, I've decided to just create a new label to signify covers that scream, "THIS IS HOW WE DO IT." This cover is beautiful and mature and even if it's just a compilation of stock photos, it's an EXCELLENT compilation of stock photos. I love the colors and the way "Shadow" is written transparently and how the reflection signifies both the alternate world in the book as well as the main character's ability to disappear.
The Deal:
We've all had moments when we wish we could just disappear. Like, that time in high school when you dropped your purse and tampons flew out right in front of your crush and you were just like WHERE IS THE GIANT HOLE THAT WILL SUCK ME UNDERGROUND? Well, as Darcy Jones learns, the power to disappear can be pretty dang handy, but it can also lead to all kind of trubs. After she was abandoned at age five, Darcy spent her whole life bouncing around foster homes until she finally ended up in the same place, outside of Chicago, for more than a year. Reveling in this major milestone, she heads back to school and her eccentric band of friends, but her sense of peace is short-lived. A mysterious new boy in school named Conn McCrea inexplicably sets his sights on her, but before you can say Twilight, Darcy discovers that Conn is not what he seems… and neither is she. Thrown into an alternate universe where the Great Chicago Fire never happened, Darcy learns that she's not actually human–she's a Shade, a being that can become invisible at will. And, as a Shade, Darcy is suddenly caught in the middle of a terrorist plot against humans, and she has no idea how to stop it.
BFF Charm: Make It Rain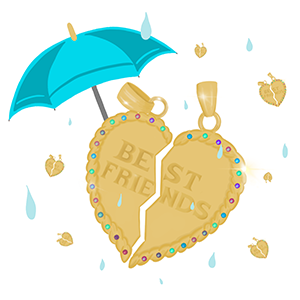 I found Darcy to be pretty refreshing as a heroine. She has PLENTY of baggage, what with being abandoned and then dealing with all manner of foster parents, but she's never too emo or angsty about it. She's determined to move forward with her life, and she appreciates things that most teens would take for granted–a group of friends, a stable home, a caring teacher. She's also got plenty of spunk, so when the shizz hitteh the fan-eth, she doesn't dissolve into a hot mess. She's also a real teenager without being annoying; she's brave but freaks out often; she's impulsive but thoughtful; and her hormones are all over the place.
I also MUST give charms to Darcy's Scooby gang: Lily, Raphael and Jims. They're the best friends a gal could ask for, and they're also totally cool with being a little weird in the vein of Damien and Janice. Jims is my favorite, because he's hilarious and does things like invite Darcy to see a band called Flippin Idjits just because they're "men with lean hips who know how to shake 'em."
Swoonworthy Scale: 6
DAMN, Conn is one fine specimen. Read this description of him and try NOT to swoon:
His beauty wasn't my type, but it was undeniable. A cool, angular face. Hair the color of golden wheat, shorn brutally short. Lips so defined they could have been carved by a deft knife.
He is one HOT TAMALE. And Darcy isn't sure she can trust him, which makes things even more sizzling. They don't get to spend as much time together as I would have hoped, which makes sense with the plot line but did lower the swoon score (a little). I also wish Orion, the Shade who crushes on Darcy, would've been fleshed out a bit better. I'm not demanding a love triangle or anything, but I think Orion could have added to the romantic tension by being a more emotional presence, aka someone who truly affected Darcy.
Talky Talk: Straight Up
Rutkoski strikes just the right balance between fast-paced action and moments of deep character reflection. Darcy's voice is dynamic and layered, and even her friends are dimensional enough to feel very real. The dialogue is particularly snappy–I love it when authors are funny (instead of just trying to be), and Rutkoski peppers her character's conversations with some very clever lines. The pacing allows you to savor time with the characters even while you're dying to know what happens next.
Bonus Factor: World Building
The premise of this book is creative and compelling, and Rutkoski includes enough details to develop her world without weighing the story down. The conflict between the Shades and humans was interesting, but their history was even more interesting, and I loved learning about the rules of their universe. More on that below.
Bonus Factor: Alternate Universe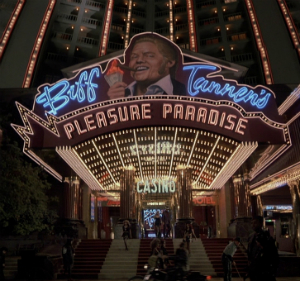 Darcy leaves our current world and enters an alternate universe where the Great Chicago Fire never happened. Some things are totally the same, others are very different, but the best elements are the more nuanced changes. Frank Ffloyd Wright instead of Frank Lloyd Wright, The Dreamer sculpture instead of The Thinker sculpture, and, the best part: Jane Austen's undiscovered novel! (Dear Darcy: Please bring Reservation back to our world with you. KTHX.)
Relationship Status: Hot Date
This book and I had a blast together! It pulled me in with fascinating stories and kept my attention with its attractive mix of cleverness and heart. This book isn't all flash; it has substance as well, and I enjoyed our evening of unique conversation (although there were a few twists I found a bit ridiculous). But let's be honest–I really enjoyed getting some play, too.
FTC Full Disclosure: I received my review copy from the author. I received neither money nor cocktails for writing this review (dammit!).