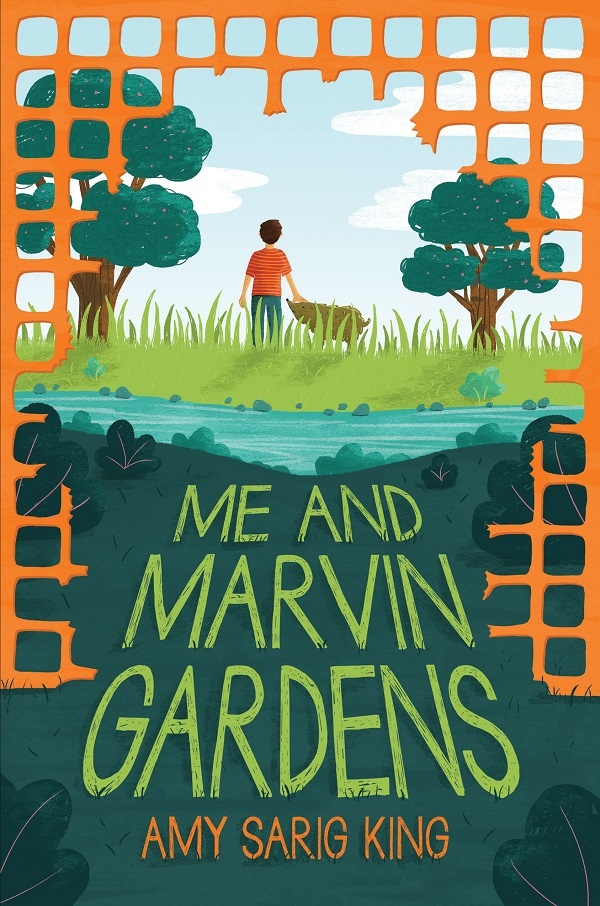 About the Book
Title:
Me and Marvin Gardens
Cover Story: Montell Jordan
BFF Charm: Big Sister
Swoonworthy Scale: 0
Talky Talk: A.S. King, MFs (My Friends)!
Bonus Factors: Environmentalism, Toxic Masculinity, Friendships, Monopoly
Relationship Status: Where Have You Been All My Life?
Cover Story: Montell Jordan
Middle Grade routinely gets better covers than Young Adult, but my goodness — Maeve Norton's illustration is absolute perfection down to every last detail: Devlin Creek, orange fencing that's been chewed through, and, of course, Obe and Marvin Gardens.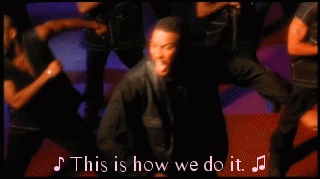 The Deal:
Eleven-year-old Obe* Devlin spends his free time at the creek by his house, the only remnant of his family's farmland that hasn't been taken over by housing developments. It's there that he finds a… creature: not a dog, not a pig, but something entirely new that only eats plastic. But with the developers forging full steam ahead and the neighbourhood boys stirring up trouble wherever they can, it's becoming increasingly difficult to keep the creature — aka Marvin Gardens — both a secret and out of harm's way.
*Pronounced like "Oh! Bee!", as he helpfully and adorably provides himself.
BFF Charm: Big Sister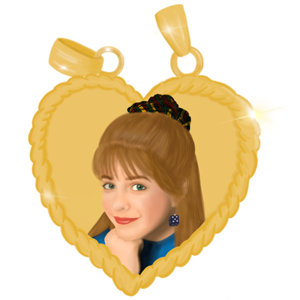 True to himself no matter what anybody thinks, Obe has a strong moral compass and he's passionate about the environment. He's one of those kids who you instantly know will rock at life, but it'll take his peers a little longer to catch up on how great he is. (#NerdLife) But I'm already there, Obe! … which I realize is on par with 'My mom thinks I'm cool' in terms of cred, so maybe I should be an embarrassingly proud Teen Mom instead.
Swoonworthy Scale: 0
While this book may not bring le swoon, it masterfully tackles the issue of consent for a younger audience. (Like, it should be required reading for that storyline alone.)
Talky Talk: A.S. King, MFs (My Friends)!
A.S. King's first entry in Middle Grade fiction partakes in a little more lightheartedness than her previous books. Most notably, Obe tunes out grownup drivel as Peanuts-esque blah-blah-blahs, and there are poop jokes to indulge immature book bloggers who never outgrew scatological humour (ahem). But King's writing remains as insightful and incisive as ever, still surprising and impressing with her versatility in Novel Number 9. Obe's narration also includes the occasional glimpse into the history of his family land from 100 years ago. (I wouldn't have minded if those sections went back even further, since the repetition of 'Devlin land' kept making me think, "Is it, though?")
Bonus Factor: Environmentalism
Even before his discovery of Marvin Gardens, Obe had taken a keen interest in the environment, both in the classroom and in his own backyard. Serving as the unofficial guardian of the creek, he regularly removes litter from it and keeps track of the wildlife that rely on it. With the damage that humanity has created becoming harder to ignore, the themes of preserving and protecting nature feel especially timely. (Although I def. felt a pang of sadness at the mention of the EPA.)
Bonus Factor: Toxic Masculinity
OK — toxic masculinity isn't a bonus, but examining its harmfulness is. According to messed-up gender politics, 'normal boys' shouldn't cry or have feelings or engage in behaviour that's actually just freaking human. But Obe's already learning for himself what utter donkey poop that line of thinking is.
Bonus Factor: Friendships
Obe gets an up-close lesson in how friendships can change, for good or for worse, as you're growing up. After his former best friend, Tommy, ditches him for 'cooler' kids, he becomes better friends with Annie, a budding geologist who doesn't care about being too cool to care — which, of course, makes Annie the cool one in Grownup World.
Bonus Factor: Monopoly
If the name Marvin Gardens sounds familiar, you've probably played many a game of Monopoly, just like the Devlin family. Most chapters also begin with an illustration of a Monopoly game piece, incl. the soon-to-be-extinct thimble.
Relationship Status: Where Have You Been All My Life?
Sometimes, you meet a book that you wish you could travel back in time to give to your younger self — and this is one of those times for me. Obvs, I can still love and appreciate it as an Old, but I'll also admit to being SUPER JEALZ of the young'uns who get to read this when they're a little more Y and a little less A.
FTC Full Disclosure: I received my free review copy from Arthur A. Levine Books. I received neither money nor gelato for writing this review (dammit!). Me and Marvin Gardens is available now.