About the Book
Title:
Mirage (Mirage #1)
Cover Story: Fantasy-tastic
BFF Charm: Fox Mulder
Talky Talk: In a Galaxy Far, Far Away (No, Not That One)
Bonus Factors: Intragalactic Worldbuilding, Body Double
Relationship Status: Slow Burn
Cover Story: Fantasy-tastic
Hot dang, this is a stunner. Although it has the look of a fantasy and downplays the book's sci-fi aspects. (I don't know; throw a drone on it? Except don't do that at all.) BUT WHATEVS, IT'S GORGEOUS. 
The Deal:
How would you like to get whisked away from your poor existence in a farming village, and into the life of a princess at the imperial palace? Sounds too good to be true, right? (Perhaps even like a mirage, if you'd like. And I'm incorrigible, so I would like.)
All you'd have to do is be forcibly separated from everybody you've ever known and taken off of the moon you've grown up on. Because it's not actually a choice; you've been kidnapped! Which is Amani's fate for looking identical to the cruel Princess Maram, who needs a body double on account of all the people who'd like to see her dead aka LOTS OF 'EM.
Sure, it's not the worst gig in the galaxy — the palatial life is pretty swanky, and hanging out with Maram's fiancé ain't too shabby, either — but there's just the constant threat of Amani never getting to see her own family again and not surviving any possible attempts on Maram's life. So, no pressure.
BFF Charm: Fox Mulder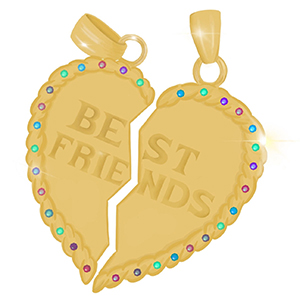 For all that she's been through, Amani's generous heart still has the capacity for so much trust, kindness, and forgiveness. Whereas I, on the other hand, am deeply suspicious and paranoid of everyone around her. It might be a byproduct of watching far too much Game of Thrones that I'm seeing potential enemies and conspiracies everywhere in a royal court, whether it's warranted or not. TRUST NO ONE, GIRL.
Swoonworthy Scale: 8
As it so happens, Maram isn't actually in love with her betrothed, Idris, and the feeling is mutual. Idris and Amani, though, bring about a case of the MAKE OUT MAKE OUT MAKE OUT. Heck, they made me understand why people used to share poetry during courtship 'n shizz. 
(Yes, that means this is a non-triangle involving two people with the same face. So, like a very extreme case of dating an identical twin… while being engaged to the other one.)
Talky Talk: In a Galaxy Far, Far Away (No, Not That One)
With a book about a royal body double taking place on different moons and planets, my mind immediately went to Star Wars. But there's not as much stars nor wars; in fact, it mostly feels like an elaborate fantasy with real-world Moroccan influences and then OH YEAH there's fancy space tech — and this combination fits really well together.
One other way that Mirage is similar to Star Wars, though, is how it's making me speculate about future installments. (Slightly spoiler-y, in that this doesn't get addressed, so skip ahead if you're averse.) How was it known that there's someone who looks exactly like Maram? Did someone betray Amani? Are Amani and Maram actually related? Is Maram a secret robot and Amani the real princess?!?! SOMEONE STOP THE MADNESS BEFORE I SPECULATE FURTHER.
(See, this is how the book made me so distrustful.)
Bonus Factor: Intragalactic Worldbuilding 
This is the kind of book I desperately want to be adapted just to see these spectacular settings from Amani's tantalizing descriptions. As well as meet the people, especially the badass Tazalghit horsewomen whom I've totally pictured as a cross between the Amazons from Themyscira and the Vuvalini from Fury Road, i.e., ULTIMATE SHEROES.
Also, my kingdom for a map of the star system to satiate my inner astronomy nerd. (I don't ask for much, other than, y'know, everything.)
Bonus Factor: Body Double 
In the grand fashion of The Lizzie McGuire Movie, Monte Carlo, or some other example without a Disney teen star, Amani must pose as her mean and privileged doppelganger*.
Maram herself is such a complex character, and the relationship between her and Amani so fraught. If danger and treachery weren't enough justification to get a body double, Maram sometimes just doesn't feel like being social. (Introvert peeps, y'all get it.) Despite her getting off to a disastrous start with Amani, I can't help empathizing with Maram and hoping that she can still be redeemed — even though she's holding Amani captive, even though she's robbing Amani of her life. 
… OK, when I put it like that, I'm a little less inclined to hype up Maram. But I have to believe that she isn't beyond saving — because Amani believes it, too. Or maybe her judgment's being clouded by Stockholm syndrome.
Like I said: FRAUGHT.
*I see you, fellow recovering fans of The Vampire Diaries.
Relationship Status: Slow Burn
Real talk: I'm a bit of apprehensive about getting together with series books. (It's just, like, a lot of commitment!) After finishing Mirage, I'm still in the excited, trying-to-figure-you-out stage — and not knowing where it wants to take me on our next date definitely has me intrigued. Only time will tell if this spark can ignite a fiery passion, but I'm down with returning to its galaxy to find out.
FTC Full Disclosure: I received my free review copy from Flatiron Books. This review was originally posted on Kirkus Reviews in exchange for monetary compensation, which did not affect or influence my opinions. Mirage is available now.