Cover Story: On Your Vanity
BFF Charm: Big Sister x2
Talky Talk: Meatier (Meteor)
Bonus Factors: LGBTQ+, Sisters, Small Town
Anti-Bonus Factor: Bullies
Relationship Status: All the Heart Eyes
Content Warning: There are memories of abuse and bullying and themes of intolerance, racism, and homophobia/transphobia in Miss Meteor that might be triggering for some readers.
Cover Story: On Your Vanity
I was never a person who needed a vanity for my makeup and gettin' ready goods, but I always thought they were pretty, and a small part of me probably wanted to be the kind of person who put a lot of time and care into their appearance. (I'm just lazy, OK?) But this cover is totally the kind of vignette I picture stting perfectly on a vanity, and the elements of the story it includes are sweet nods to what's within.
The Deal:
Lita and Chicky used to be friends. Until the summer after 7th grade, when a truth about herself that Chicky didn't want to share drove them apart, and a truth about Lita that no one can know kept her from fighting.
Now sophomores in high school, Lita and Chicky have been circling around each other for years, but the 50th Annual Meteor Regional Pageant and Talent Competition Showcase (colloquially referred to as the Miss Meteor Pageant) might be just the thing to bring the two girls back together and give them the strength they need to see that secrets don't have to come between friends.
BFF Charm: Big Sister x2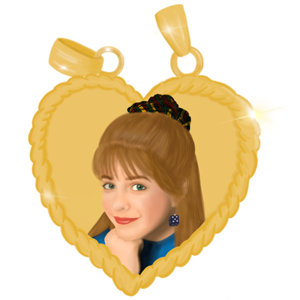 Although Chicky literally has three older sisters, both of the girls need someone in their lives that they can be open and honest with—and who can find the right balance of strict and loving to get both of them to open up about what's eating them up inside. For Chicky, that means being true about her sexual idenity, and for Lita, well, that means opening up about the fact that she's literally made of starstuff—she "arrived" on the planet as part of the meteor that gave Meteor, New Mexico, its name, 50 years ago. Obviously, this book wouldn't be the same if they had the confidence at the beginning that they both eventually find, but it hurt my heart to see them struggling so, alone.
Swoonworthy Scale: 7
There's something between Chicky and Junior Cortes, local artist and maybe best friend? But Chicky doesn't know how she feels, about anything, swoon-wise, and therefore keeps him at arm's length. And Lita's more concerned with the growing patches of stardust appearing on her skin than she is with the maybe feelings Cole Kendall has for her, which totally aren't there because Cole's popular and sporty and everything she's not … right?

Talky Talk: Meatier (Meteor)
As I was reading this book, although it has nothing to do with the meteor that killed the dinosaurs, I couldn't help but think of Eliza Petersen's viral TikTok that spawned a thousand memes. Because of the title, obviously, but also the content within the book; Miss Meteor, on the surface, is about two former friends and a beauty pageant, but—as the case with all of McLemore's books*—it's about so much more underneath.
Miss Meteor is about what it means to be "different" in a small New Mexico town that's a third non-white and overwhlemingly cishet. It's divided into two POVs—Lita and Chicky's—and through their eyes we get to know Meteor (or Meteorite … there's some contention over the actual name), both the good and the bad. I believe McLemore wrote Lita's POV and Mejia Chicky's—Lita's POV was the more magical, which McLemore excels at—but the book had a cohesiveness about it that is sometimes missing from collaborative efforts. Both authors brought their A-game when it came to infusing emotion into their characters and beautifully captured the angst of youth; even if you've never been a young woman struggling with her attraction to all genders or one who might not be of this earth, you can absolutely sympathize with the feelings of the characters thanks to the authors' honesty in writing them.
*I've not read anything by Mejia, but I can assume from what I've heard about her that her books are also quite poignant and truthful.
Bonus Factor: LGBTQ+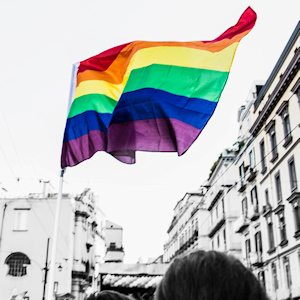 All of McLemore's books feature LGBTQ+ characters who aren't afraid to be themselves. While their earlier books focused more, in some cases, on the opinions of others about the characters' identities, as McLemore gets more comfortable with who they are, it seems so do their characters. Although Chicky is struggling with "naming" her feelings, there's a trans boy in the book who's absolutely 100% sure that he is who he is. And, thankfully, the townsfolk of Meteor seem to get it.
Bonus Factor: Sisters
I can't imagine what it would be like to have sisters like Chicky's—they're so over the top and loud, in the best of ways. (At least, I think so. Chicky has other thoughts.) And when they all come together to help the pageant preparations … Let's just say that I would not want to get on any of their bad sides.
Bonus Factor: Small Town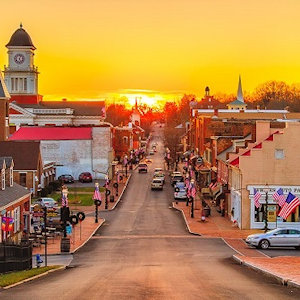 I grew up in a really small, rural, non-diverse small town, and although I totally have a nostalgic love for it, I know that it wasn't a good place for people unlike myself (i.e., who weren't white). Miss Meteor both celebrates and calls out small town life, and I love McLemore and Mejia for writing the internal confusion about such towns so well.
Anti-Bonus Factor: Bullies
As you can assume from some of what I've said above, Meteor isn't without its share of bullies, be they Lita and Chicky's high school classmates who live to torture people they don't understand or the parents of said classmates who are just older, sadder, and unfortunately more powerful versions of their children. Miss Meteor never veers into after-school special territory by making everything shiny and happy and "perfect" by the end, but some folks do get the comeuppance they deserve. (Which turns this more into a Bonus Factor, natch, but the fact that you have to read about them on the way is definitely not pleasant.)
Relationship Status: All the Heart Eyes
Although you tackle some tough issues, Book, you're a genuinely sweet, delightfully lovely read overall, and our time together was very well spent. You're going places, and I'm happy to support you on your meteoric (heh) rise to bigger and better things.
Literary Matchmaking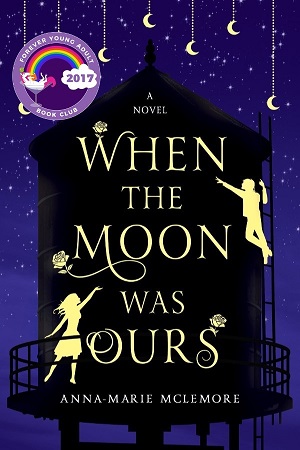 When the Moon Was Ours
I highly recommend all of McLemore's books, but if you want a specific place to dive into their catalog, I'd start with When the Moon Was Ours, their first book I read and the book that made me fall in love with their writing.
Beauty Queens
And if you're looking for more beauty pageant fun (and unexpectedness), read Libba Bray's Beauty Queens.
FTC Full Disclosure: I received a copy of this book from HarperTeen, but got neither a private dance party with Tom Hiddleston nor money in exchange for this review. Miss Meteor is available now.