About the Book
Cover Story: Art Deco Delight
BFF Charm: Eventually
Talky Talk: Form Over Function
Bonus Factor: American Monarchy
Relationship Status: Reluctant Romance
Cover Story: Art Deco Delight
I made the switch to mostly ebooks years ago, but when Harper Collins sent me the final hardback version of MUSE, I gasped out loud. This cover is gorgeous enough to display on my bookshelves, something that rarely happens these days. I could nitpick that this book is set in 1893 and Art Deco didn't really begin until the 1920s but a) that would make me a drag and b) this book is alternate history so maybe Art Deco started earlier?
The Deal:
It's 1893 and in the First American Kingdom, two provinces are close to war. In the province of St. Cloud, young governor Remy Duchamp plans to host the World's Fair, where he will showcase the might of his province: a huge, scary weapon (gun? cannon? details are unclear) that an inventor named Emerson has been working on for him. What Duchamp and the rest of the fair-goers don't know is that Emerson has been on the verge of insanity and for SOME reason, seems to think that he is only a genius inventor because of the touch of his teenage daughter, Claire. For years, Emerson has kept Claire under his watchful eye, making sure that she's always around to "bless" his latest invention. But Claire is fed up with her father's controling ways, and has made a plan to escape and go live with her brother.
When the time comes for Emerson to unveil his weapon at the World's Fair, it doesn't fire…until Claire touches it. In the ensuing chaos, Governor Duchamp takes Claire hostage, believing that her touch grants men anything they wish. He hopes that Claire can help him save his last vestiges of power as St. Cloud is overtaken by neighboring province Livingston-Monroe, but all Claire wants is to stop being a muse for powerful men and take control of her own life.
BFF Charm: Eventually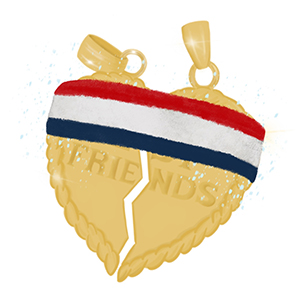 My biggest problem with most of this book WAS Claire. She is not an active protagonist. Everything is happening to her and she's merely reacting, if even that. For the first two-thirds of the story, Claire is an extremely passive main character. I was far more interested in Beatrix, Claire's best friend who builds/invents gliders and secretly passes information along to her feminist rebel group, Daughters of the American Monarchy. Imagine having a best friend that cool and just being like "whatever I may or may not have magic, wish-granting powers but instead I'm just going to run away to marry a random outfielder from my brother's baseball team."
About two-thirds of the way through the book, something happens that FINALLY kicks Claire's ass into gear, and once she's actually doing something, the book became fun to read.
Swoonworthy Scale: 5
"Failing governor takes girl hostage believing she has super powers and keeps her locked up in his mansion" is, admittedly, not a great start to a romance. But that's exactly how this one starts. The more time Claire and Remy spend together, the more they rely on each other (and not just for vague possible wish-granting reasons), but that's also part of the problem. Do they only like each other because they're all the other has? Remy is an interesting character, but never felt fully fleshed out to me, nor did his romance with Claire. It's possible that Cavallaro is saving some for the second book in this series, because I do think there's a lot of room for swoon in these kiddos' futures.
Talky Talk: Form Over Function
If you've ever read any of Brittany Cavallaro's work, you know she's an immensely talented writer (and poet!) and her prose never fails to disappoint. That's still the case in MUSE – it's clear from the first page that the writing will be beautiuful. Where this book seemed to fall apart was plot and pacing. If my description of the book up in The Deal sounded confusing, it's because it was. There were a lot of balls up in the air here: a girl who may or may not have powers – not even she knows, alternate history American Monarchy, World's Fair, crazy dad, feminist rebel groups, best friend betrayals, lots of political backstabbing, Stockholm Syndrome, burgeoning romance. Yet at the same time, the pacing lagged for most of the story. Everything and nothing happened simultaneously, and the fact that it wasn't written in first person made it that much more difficult to connect with the main character, Claire, when she was already sort of a difficult nugget to crack. As previously mentioned, the last third of the book turned things around and became exciting and fun to read, but I would understand if a lot of people don't make it that far.
That said, this is the first installment of a duology, and I do plan to read the second book.
Bonus Factor: American Monarchy
MUSE begins with a prologue from OG president (and my birthday buddy!) George Washington. Except…he's not the first president. He's one of the Founding Fathers, sure, but those guys had another idea: create the First American Monarchy, name George the king, and split it into a half dozen provinces led by wealthy governors, some of which are on the brink of war with one another. This book is the first in a duology and I'm hoping for details on this part of it in the next installment.
Relationship Status: Reluctant Romance
My relationship with you, Book, has been a rollercoaster. I went from being pumped about a new Brittany Cavallaro book to SUPER pumped when I saw the cover and read the description to confused when I read the first third of the book to disappointed when I got to the second third of the book. But then things turned around, and the last third of the book had me hooked. It was like meeting a hot guy but the dinner and movie portion of the date are awkward and boring. Just when you think you're about to give up on him, he surprises you with a round of drinks at the bar and things finally start to click. Here's hoping our second date will be stronger.
Literary Matchmaking
American Royals
For more American monarchy, check out American Royals by Katharine McGee.
FTC Full Disclosure: I received a free copy for review from HarperCollins. I did not receive money or Girl Scout cookies of any kind (not even the lame cranberry ones) for writing this review. Muse is available now.