About the Book
Title:
Neighborhood Girls
Cover Story: Together We Can Live With The Sadness
BFF Charm: Big Sister
Talky Talk: The Magic in the Mundane
Bonus Factors: Chicago, Catholic School, Bad Cop Comeuppance
Anti-Bonus Factor: Stupid Teen Tricks
Relationship Status: I Want To Know If Love Is Wild, I Want To Know If Love Is Real
Cover Story: Together We Can Live With The Sadness
I can't say I love this cover. It does have something to do with the story, especially with the flowers growing through the cracks and the Chicago skyline—but I don't think it does the haunting coming-of-age concept any justice.
The Deal
Wendy Boychuck's father is a dirty cop—no, not the kinky kind, the kind we see on the news all too often today. He was convicted for torturing suspects in order to gain confessions, and in the process, he ruined his family's life. Once comfortably middle-class, Wendy and her mother are now flat broke and outcasts for something neither of them did or supported.
Wendy's way of coping with it is to align herself with the mean girls of the Academy of the Sacred Heart, the all-girls Catholic high school her mother can barely afford. That way, no one dares say anything when they find out her name is Boychuck. She's bulletproof, until the time that she can get out of Chicago and break away from being just a "neighborhood girl."
Jessie Ann Foley's evocative prose elevates this beyond an average contemporary coming-of-age tale.
BFF Charm: Big Sister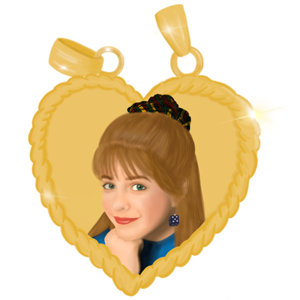 Good lord, but does Wendy need someone to just see her. Her cool aunt helps—someone her father has never liked or respected, but whom Wendy slowly realizes is a good person beyond what her father has always said was Good and Right. Just like everything else. As an adult, I wanted to shake her and tell her it's okay that her father is a jerk; she doesn't have to forgive him. I can't give her my BFF charm, because she's still figuring out the world, but I think she's well on her way to being BFF-worthy (as soon as she dumps the mean girls).
Swoonworthy Scale: 5
Boys are always around in Wendy's world, and the one who does seem to see her—and challenge her—is the sort of MLD that we love here at FYA. Despite his dreaminess, though, all I cared about was Wendy overcoming her circumstances in whatever way she wanted to do it.
Talky Talk: Baby, We Were Born To Run
It's no secret that I loved Jessie Ann Foley's first book, The Carnival at Bray — it caught me with the promise of grunge music in Ireland, and kept me going with her beautiful prose. I'm so happy to say that her writing continues to be haunting AF, as the kids say. (The kids probably don't say "haunting AF," and probably don't even say "AF" anymore since we've co-opted it, but an adult can dream.) Foley has a way of capturing a sense of a very specific, liminal time and place—her writing makes me vividly remember what it felt like to be young.
Between the Catholic high school setting, Chicago, and the bad cop father, I was hooked—but it's the way she finds the magic in the mundane that really keeps me reading.
I love the way she makes things seem so real, whether it's those late-summer nights when your teenage self feels invincible, the way a song can affect your entire being, or how you might find a religious totem helps keep you going, despite evidence to the contrary.
I didn't love this one as much as I loved The Carnival at Bray, but it's hard to compete with Ireland and 90s grunge. I would have liked to see this book go in a slightly different direction—on the other hand, I'm not going to pass up the chance to see the world through her eyes for a little while.
Bonus Factor: Chicago
I love Chicago. What's not to love? Beautiful architecture, great food, and delightful history—send me your best SF to ORD flight deals, please.
Bonus Factor: Catholic School
I was raised Catholic, so I loved Foley's descriptions of the Academy of the Sacred Heart. I find Catholicism historically and anthropologically fascinating, particularly the attitudes toward the saints. Even as a non-believer, it's kind of nice to think these saints might watch over you and intercede on your behalf. When the girls of ASH rubbed Catherine of Alexandria's painting for good luck on a test, I cheered (she was my Confirmation saint, and I picked her because she was a scholar…later, in college, I'd study medieval torture methods, including the Catherine wheel, which was named for her). There's so much to unpack in this environment, especially when you're exploring mean girls, cliques, and finding yourself. It contains a cult of femininity that, for better or worse, haunts a girl when she grows up in that environment.
Bonus Factor: Bad Cop Comeuppance
In this day and age, isn't it nice to hear about a truly bad police officer—even fictional—in jail for his crimes? Wendy struggles with forgiveness, and whether she should extend it; it's kind of nice to see a situation where she's only doing that within the bounds of her familial relationship. This is one part of the book that I think should have been explored more, however.
Anti-Bonus Factor: Stupid Teen Tricks
I can't tell you what the nature of Wendy's stupid teen trick is, but suffice to say that if she were my kid, I WOULD HAVE MURDERED HER.
Relationship Status: I Want To Know If Love Is Wild, I Want To Know If Love Is Real
Book, obviously I was going to pick you up purely based on your author, but when you said the key phases "mean girls," "Catholic school," and "police misconduct," you hooked me. You have a way with words that keeps me hanging on, even when I'm not sure I like what you're doing with your life. Even then, I want to live in your universe a little longer. Will you let me in? I want to be your friend. So…when's the next book coming out?
FTC Full Disclosure: I received a free review copy from Harper Teen. I received neither money nor a pet unicorn for writing this review, despite how hard I wished for one. Neighborhood Girls is available now.