About the Book
Title:
Night Spinner (Night Spinner #1)
Cover Story: Art Class
BFF Charm: Big Sister
Talky Talk: Retelling?
Bonus Factors: Superpowers, Revolution
Anti-Bonus Factor: Name
Relationship Status: Possibilities
Cover Story: Art Class
Although this cover is lovely, the watercolor against the stark white background is a little jarring on the eye. And the depiction of the "night spinning" superpowers/magic in the book are so much more than this painting belies. I do dig the title treatment, however; give me a fun piece of clipart instead of a certain letter any day.
The Deal:
Enebish used to be known as Enebish the Warrior … until the fateful day when she lost control over her power of spinning the darkness and controlling starfire and killed an entire caravan of innocent people. Now, she's known as Enebish the Destroyer, sentenced to live her live sequestered away from the general populace, doing penance as the royal bird trainer.
But Enebish wants something more than her provincial life, and when she's given the chance to truly live again, she takes it. Not knowing, of course, how wrong it'll all go and where that decision will lead—back to the Warrior, or even further down the dark Destroyer path.
BFF Charm: Big Sister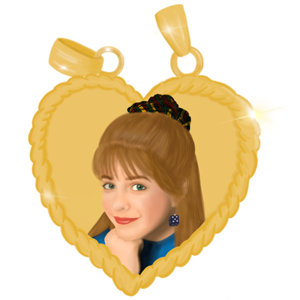 Enebish already has an adopted older sister, but for reasons that become clear through reading Night Spinner, her sister isn't the best example of what a sister should be. The many times Enebish shrinks from a situation or thinks about how awful she is absolutely broke my heart, and I'd love to try and make her see that she's not helpless, she's not unworthy, and everyone has an opportunity to make up for their mistakes. Like a big sister should.
Swoonworthy Scale: 6
Enebish has a best friend who grew up in the same household as her. A best friend who's grown into himself quite a bit in the years since The Incident, and who is pretty much the only person who looks at Enebish like a person, not a monster. Additionally, there are some hints of love triangle that actually make a whole lot of sense given the book's plot. I look forward to more swoon in the sequel, whichever way the scales tip.
Talky Talk: Retelling?
On Goodreads, this book is billed as a transformation of The Hunchback of Notre Dame. As the only version of this story I know is the classic Disney animated film, I totally didn't get any real Hunchback vibes while reading. (Except for that time that Enebish hid behind a gargoyle on the roof of a monastery …) Maybe I'm not remembering the plot correctly? Either way, Night Spinner stands on its own two feet as an imaginative story with expansive world-building and nuanced characters who are both fragile and strong. The plot is a little predictable (maybe my subconscious remembered the plot of Hunchback after all?), but that didn't detract from my enjoyment of the book on the whole.
Bonus Factor: Superpowers
Enebish's gift of night spinning is a really, really cool power. I can't say that I fully understand it, but the idea of being able to "control" the stars in your own personal night sky just seems magical (heh). I don't know that I'd want to use them to blow stuff up, but you never know when that might come in handy.
Bonus Factor: Revolution
I'll never turn down a good Robin Hood-style revolution tale.
Anti-Bonus Factor: Name
I'm sorry, but Enebish is a goofy name. I couldn't help but call her Nebbish in my head, and that's not exactly a flattering thing to call someone. (I mean, it works for Enebish's personality at the start of the book, but …)
Relationship Status: Possibilities
I had a good time with you, Book—maybe better than I expected. There were some kinks I think we need to work out, but I'd definitely give you another go if you wanted to get together again.
Literary Matchmaking

FTC Full Disclosure: I received a copy of this book from Page Street Kids, but got neither a private dance party with Tom Hiddleston nor money in exchange for this review. Night Spinner is available now.