Cover Story: Subtletastic
BFF Charm: Let Me Love You
Talky Talk: Informative
Bonus Factors: You're Not Alone, Awesome Grownups
Anti-Bonus Factor: Hockey Inaccuracy
Relationship Status: Welcoming Committee
Cover Story: Subtletastic
Simple and effective, this cover smartly avoids being too embarrassing or unappealing to the very readers that it wants to reach — especially important since there are so few novels about characters with intersex conditions.
The Deal:
Kristin Lattimer is living the good life. She's a kickass hurdler with a full college scholarship lined up, she has a loving (and hooooot) boyfriend, and she just got crowned as homecoming queen. But when she and the dreamboat take things to the next level (read: S-E-X), something is seriously wrong. Like, doctor visit wrong. Turns out, Kristin is intersex; more specifically, she has androgen insensitivity syndrome (AIS), so she looks female outwardly, but she has male chromosomes and gonads. Not only is this tons for Kristin to process on its own, but OH SHIZZ the whole school somehow finds out about her diagnosis, too.
BFF Charm: Let Me Love You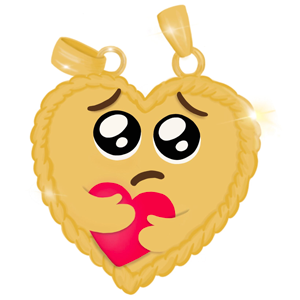 I'm not sure if Kristin and I would have run (har) in the same high school circle, with her being a jock in the popular crowd. Even though she wouldn't be one to look down on someone because of their social standing, I'd feel a little awkward crashing her trio of life-long besties with HBIC Vee and sweetheart Faith anyway. But in the aftermath of discovering that she's intersex and the whole school finding out along with her, what Kristin needs first and foremost is just a BIG OL' HUG. Kristin, I don't have the knowledge or resources to answer all the questions you have, but I'd gladly just listen and try to understand what you're feeling. 
Swoonworthy Scale: 4
When Kristin's diagnosis becomes public, her idyllic high school relationship with fellow track star, Sam, is turned upside down. Fortunately, not every teenage boy is a callous asshole, and there's one who's worthy of swoon. And, more importantly, worthy of Kristin.
Talky Talk: Informative
If this sounds like an issues book, I suppose it sort of is, in that Kristin being intersex is integral to the plot. But something can't become a non-issue without being an issue first, and this is a particular issue that demands more awareness and education. A founding member of #WeNeedDiverseBooks (and a practicing surgeon!), Gregorio obviously has done her homework for this book. She even sneaks in a cameo from the Genderbread Person! Aside from providing readers with accessible and valuable information on AIS, Gregorio also uses her platform to discuss something I've literally never read about in a novel: HPV prevention and vaccination. How awesome is it that an author is using their voice for SO MUCH GOOD? 
As for that voice, Gregorio doesn't sugar coat the ugliness that stems from ignorance. There are language and actions (but mostly language) that def. made me flinch from their cruelty. Speaking of mean, the Mean Girls comparison I came across when I learned about this book isn't quite apt. (I can't speak on Middlesex, as it's still on my TBR.) Although Kristin has a frienemy, the two properties aren't very tonally similar. None of the Above has its share of humour, but its emphasis is more on frank honesty.
Bonus Factor: You're Not Alone
To anyone who's ever thought that they don't belong — for whatever reason, small or life-changingly big — you do, you do, you do. It might not feel like it, but someone out there knows what you're going through. It's a beautiful sentiment that Gregorio captured here:
My cheeks flushed, and I felt a wave of warmth throughout my body, but not because of the subject matter. Because she had used the word us.

It was one of those times when you don't realize how lonely you are until, suddenly, there's someone by your side.
Bonus Factor: Awesome Grownups
Kristin's social life might be in disarray, but her support system of grownups is sincere. True, they aren't without missteps (like not using proper terminology right away), but they're each trying their best to be there for Kristin. She might even want to tell them…. "Thank you for being a friend."* #sorrynotsorry
*I'm a faker because I've actually never watched any Golden Girls, beyond the clips from the primer that Lee immediately sent me upon learning of this shocking revelation. So she, too, should be thanked for being a friend.
Anti-Bonus Factor: Hockey Inaccuracy
This is SUCH a minor quibble, and I guess there's a chance it could be prophetic, seeing as other pop culture clues indicate that the story starts in Fall 2015 (to coincide with the new James Bond (or it could be set in Fall 2012, when the last one came out?)). But it's one of those things I can't not notice, especially given the timing — which, of course, becomes less of an issue as more time passes. What I'm saying is: this doesn't really matter, I know it doesn't matter, and yet I'm drawing attention to it all the same.
ANYWAY. So there's a little bit of small talk about how poorly the New York NHL teams are playing, and how the Islanders haven't made the playoffs in forever. Except for the fact that both teams made the playoffs this very year. And prior to this postseason, the Islanders were in the playoffs just two years ago.
Plus, there's a knock on the Rangers' goalie. Even though goalies are easy targets and scapegoats, there really could not have been a worse player to deride on that team; their goalie is Henrik Freaking Lundqvist, who is majestic and glorious and beautiful on (and off) the ice. (He did, however, lose last night on a literal last-second goal, so I must have retroactively jinxed him with all my nitpicking.)
Like I said: DOES NOT MATTER. But I love hockey, so. 
Relationship Status: Welcoming Committee
Book, your move to the YA neighbourhood is long overdue. To paraphrase Foreigner, we've been waiting for a girl like you. Not to place unintentional pressure on you or anything! Obvs, you're not representative of every single intersex individual EVARRRR, and no one's asking you to be. But before there can be the many, there has to be the firsts — and you're one of 'em. The doors you bust down are paving the way for others to follow in your mighty footsteps.
FTC Full Disclosure: I received my free review copy from Balzer + Bray. I received neither money nor froyo for writing this review (dammit!). None of the Above is available now.