Cover Story: Montell Jordan
BFF Charm: Yay x 3
Talky Talk: Third Person Omniscient Real Talk
Bonus Factors: Sex Talk, Diversity
Anti-Bonus Factors: Men's Rights, Awful Grownup
Trigger Warning: The Nowhere Girls features depictions of sexual assault and discussion of such topics that might be triggering for some readers.
Cover Story: Montell Jordan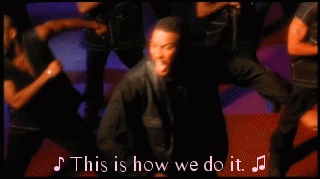 I LOVE this cover. It's bright and pretty and subversive all at the same time, which is wholly appropriate for the story within. I love how it looks like someone "defaced" an old, kind of boring painting, making it something new. I dig this kind of art so much. (As long as the original painting isn't a masterwork or the original OKed it, unlike what Montana did to Maggie's art in the last season of Younger. That's not cool.)
It also totally matches my current laptop wallpaper, so you know it called to me right away.
The Deal:
Grace is a pastor's daughter whose life turned upside down when her mother started preaching about a very different Jesus—a more compassionate, loving, liberal Jesus—than their church was used to.
Erin is a brilliant girl who's on the Autism Spectrum and thrives on having a set routine, but is hiding skeletons in her very organized closet.
Rosina is the lesbian black sheep of a giant Mexican family who chafes at the roles she's been forced into, including that of lone babysitter of too many cousins and a grandmother with dementia and waitress at their family's restaurant. (She doesn't even like Mexican food.)
Prescott, Oregon, is a town with a problem: sexual assault and mistreatment of young women that gets swept under the rug.
Grace, Erin and Rosina aren't the heroes Prescott wants. But when they start an anonymous group called The Nowhere Girls to try and shed light on the problem—and maybe even do something about it—they're certainly the heroes the town needs.
BFF Charm: Yay x 3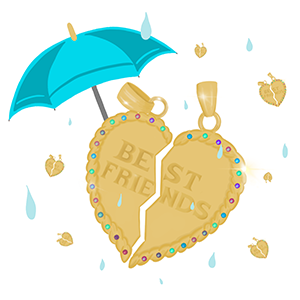 Grace, Erin and Rosina are an odd trio of girls. They become friends because none of them really fit in with any of the "normal" high school cliques. They all have aspects of their personalities that might make it hard to get close to them, too. Grace is somewhat judgy, thanks to her strict Christian upbringing; Erin struggles to connect with people because of her Autism; Rosina's standoffish and can often be cranky. But each of them are powerful young women with huge hearts and an unshakeable dedication to justice, particularly for their fellow Prescott High School female classmates. The amount of conviction it took for them to keep pushing with the Nowhere Girls's agenda, even as the adults around them threatened and plotted, was awe-inspiring. I'd be honored to be their friend.
Plus, Erin loves Star Trek: The Next Generation even more than I do.
Swoonworthy Scale: 0
The Nowhere Girls is a book about sexual assault. It features a wide variety of depictions of sex, from rape to consensual love making. But the sheer disgust I had for the guys in the book who perpetrated the assaults totally negated any swoon I might have found with some of the other stories within.
Talky Talk: Third Person Omniscient Real Talk
I don't usually get so clinical with my Talky Talk categorization, but in this case I wanted to make it clear that The Nowhere Girls is written in third person. The chapters are split up between the POVs of Grace, Erin, Rosina, and "Us," a catchall POV that features snippets of various other girls' stories. Third person narration can sometimes take readers out of the story and make it hard to connect with the characters, but I'm almost thankful for the distance in this case.
Reed delves deep into serious topics in this book, and does so with brutal focus. She doesn't shy away from the horrific truths of topics such as sexual assault, the tendency to sweep rape under the rug, victim shaming, slut shaming, etc. She also takes a look at the many different sides of the situations, including excerpts from one of the worst offenders' blog, which is filled with the all-too believable vitriol of a "real man," and discussions between boyfriends and girlfriends in which the boy is worried that he's done his girl wrong. She looks at feminism from different sides, too. In one "Us" chapter, a black girl thinks about how she appreciates what the Nowhere Girls are doing, but can't join in because of how people view feminists of color.
The Nowhere Girls is a frank, searing look at culture—and not just rape culture—that will stick with me for a long, long time.
Bonus Factor: Sex Talk
The Nowhere Girls have meetings that a wide variety of young women attend. Many are virgins, some are in committed sexual relationships, some have been assaulted. Some enjoy sex, some see it as a chore. Some like guys, some like girls. It's refreshing to read such varied accounts of and viewpoints on sex, and to see these girls talk about it. Not without some hesitation, of course, as it's not always easy for everyone to be so open about a topic that's still seen as somewhat taboo, but they are opening lines of communication that so badly need to be opened.
Bonus Factor: Diversity
The diverse natures of the main characters in The Nowhere Girls was a nice change of pace. None of the main trio are your standard YA MCs. Two are white, yes, but Grace is overweight and somewhat "plain," and Erin is on the spectrum. Rosina is a lesbian Latina. They're outcasts, but all the better for it. And man, do they ever feel real.
Anti-Bonus Factor: Men's Rights
I could feel my blood boiling while reading the excerpts "written" by one of the sexual predators. What makes it even worse is that I know that there are actual, real-life people out there who believe this sort of shit.
Anti-Bonus Factor: Awful Grownups
The people in Prescott who are supposed to be protecting the girls at the high school, particularly the school's principal and the town's police chief, are awful excuses for human beings. They don't think "their boys" would ever do anything wrong, and shift the blame toward the victims or ignore their cries for help. They think The Nowhere Girls are causing trouble and bullying. Their inability to see the truth is stunning, once again made worse by the fact that they could easily be real people.
Relationship Status: Lifelong Member
You weren't an easy read, Book, but you were an important one. And I'm pledging myself here and now to try and uphold your values in any way I can.
FTC Full Disclosure: I received a copy of this book from Simon Pulse, but got neither a private dance party with Tom Hiddleston nor money in exchange for this review. The Nowhere Girls is available now.