About the Book
Title:
One of Us is Lying
Cover Story: Big Paper Faces
BFF Charm: Make It Rain
Talky Talk: He Said, She Said, E'rybody Said
Talk Wordy To Me: Auditory A-Team
Bonus Factors: Murder Mystery, MacLeod Andrews
Relationship Status: Surprise Attack
Cover Story: Big Paper Faces
It's like Big Face times four! But with the faces cut out! I don't know *why* their faces are cut out, but I actually prefer this to four Big Faces, because I hate when books don't let us imagine the characters for ourselves. We are grown ass people, we can imagine characters however we want and you can't stop us!!!!!
The Deal:
Five Bayview High students walk into detention one day after school, but only four walk out. Cooper is the popular jock, a baseball player who's already being eyed for the major leagues. Gorgeous Addy can rarely be found without her popular boyfriend, Jake. Bronwyn is the brain—student council president and headed for the Ivy League. Nate is the bad boy: a rebel with a rap sheet for dealing drugs. And Simon is Bayview High's very own Gossip Girl—err, Gossip Boy. More notorious than popular, Simon runs Bayview's gossip blog, About That, and he's always the first to break the juiciest news about people at school.
Those five students are the only people in the classroom that day, but by the end of detention, Simon is dead. His four classmates are thrown into the national spotlight when they become the top suspects in his murder. Simon had planned to release some extremely sensitive information about Cooper, Addy, Bronwyn and Nate in the coming days, so all four of them had a motive—to keep Simon from telling their secrets. And as you read the story from each of their points of view, it's up to you to decide which of them is lying.
BFF Charm: Make It Rain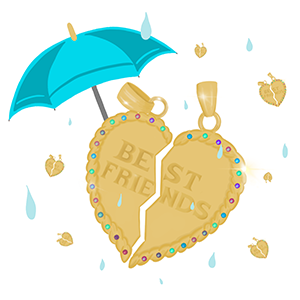 Maybe I was sympathetic to the fact that these four kids were being investigated for murder, but I wanted to be friends with all of them, even knowing that one of them murdered Simon. None of them were perfect, and Simon knew that. He was ready to tell their deepest, darkest secrets to the world, and even once I had learned their secrets, I couldn't make myself dislike them. There is definitely a bit of the whole Breakfast Club cliche thing happening: the jock, the brain, the princess and the criminal. But Simon's secrets actually proved that Cooper, Bronwyn, Addy and Nate were actually so much more than their respective cliches. Finding these characters so relatable and likable cranks up the tension, because they're all equally capable of being the guilty one.
Swoonworthy Scale: 7
Our Core Four all have little bits and pieces of swoon happening in their respective storylines, but it's Bronwyn and Nate that had me feeling the stomach butterflies. The smart goody-two-shoes and the drug-dealing bad boy is always going to be a fun combo, but Bronwyn and Nate have the added chemistry of childhood crushes on each other before they went their separate ways PLUS the shared trauma of Simon's death and the whole being murder suspects thing. What starts as supportive phone calls slowly develops into more—watching movies together, skipping school together, K-I-S-S-I-N-G together—and while Nate's whole You're-the-only-one-who-can-change-my-bad-boy-ways thing is a little eye-rolly, it's pretty swoony nonetheless.
Talky Talk: He Said, She Said, E'rybody Said
One Of Us Is Lying alternates between the perspectives of the four main characters, and McManus is really good at withholding just enough information to keep you guessing without making you feel confused. She is masterful at building tension and creating characters who feel real and flawed. Any of them could be guilty, but you don't WANT any of them to be guilty, you know?
Talk Wordy To Me: Auditory A-Team
I listened to the One Of Us Is Lying audiobook, which is voiced by four different actors reading the parts of Cooper, Nate, Addy and Bronwyn, and they really brought the A-Team in for this one. Each of the voice actors has an impressive list of previous projects, and they all held their own among the others. I'm usually pretty picky about books with alternativing POVs because I need to feel a definitive change in voice between the POVs, and frequently, I don't feel that in the writing quite as much as I'd like to. Obviously, with a full cast audiobook, I didn't have this problem. The change in tone and voice was really easy to differentiate (unfortunately, I don't know if this would have been the case if I'd just been reading the book), and I thought all the voice actors did a great job—none of them were really nasally or annoying.
My only issue was the way some of the voice actors would read dialogue of the other characters. For example, when Nate was reading Bronwyn's dialogue, his voice was a little too high-pitched and girlish, and when the other actors would read Cooper's dialogue, their Southern accent was a bit much. Thankfully, MacLeod Andrews, who voiced Cooper, didn't do a bad Southern accent throughout. As a Southerner, nothing hurts my soul worse than a butchered twang.
Bonus Factor: Murder Mystery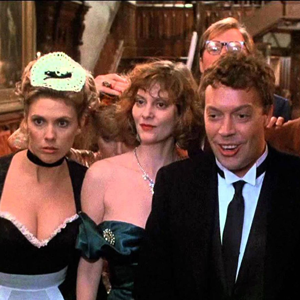 I love a good whodunnit, and McManus does a good job of keeping the reader guessing till the end. Everyone could be a suspect!
Bonus Factor: MacLeod Andrews
Okay, but have y'all ever listened to an audiobook narrated by MacLeod Andrews? His voice is hella sexy, and I enjoy an audiobook ten times more if he's in the cast. I wish this guy would record himself reading Henry Kissinger's Wikipedia page or something just so that I can listen to it while I fall asleep.
Relationship Status: Surprise Attack
Audiobook, when I downloaded you, it was mostly because I had an Audible credit I needed to use, and I'd heard you weren't bad. You aren't my usual type, and I just figured we'd have a casual fling while I got some brainless work done over a couple of days. But I found myself unable to stay away, listening to you while I did dishes or walked my dog…and then kept walking my dog even longer just to finish one more chapter. You had cliche moments, but overall, you turned out to be much more than I expected, and kept things fun and interesting by keeping me on my toes.
Literary Matchmaking
Easy Prey
For another high-stakes whodunit, check out the newly released Easy Prey by Catherine Lo.
People Like Us
Dana Mele's People Like Us is a murder mystery with lots of LGBTQA+ representation that takes place in a boarding school that'll keep you guessing.
Truly Devious (Truly Devious #1)
Maureen Johnson's Truly Devious also takes place at boarding school (those places are a breeding ground for murder), and features a protagonist who loves true crime.
FTC Full Disclosure: I did not receive money or Girl Scout cookies of any kind (not even the gross cranberry ones) for writing this review. One Of Us Is Lying is available now.