About the Book
Title:
The One That Got Away
Cover Story: Serviceably Cutesy
BFF Charm: Big Sister
Talky Talk: Have We Met?
Bonus Factors: Rich People Travel, Katy Perry
Anti-Bonus Factor: Mystery Reasons
Relationship Status: Summer Fling
Cover Story: Serviceably Cutesy
I like the colors and the mansion in the background: it's all very representative of the book, which is a plus; however, it's not the kind of cover that would make me intrigued enough to pick the book up off the shelf if I wasn't already looking for a contemporary adult romance.
The Deal:

Meet Ruby, a thirty-something, single, nose-to-the-grindstone New Yorker, living what she believes is her best life, which includes 60 hours work weeks and denying herself bagels (newsflash: You are NEVER living your best life if you deny yourself NY bagels!). She's about to get on a plane to England for her little sister's fairy-tale castle wedding to her ex-boyfriend's best friend…and guess who's the best man?
Enter Ethan, the son of a mechanic, who had his heart broken by Ruby ten years ago and remade himself into a multi-millionaire app developer with a string of beautiful girlfriends in his wake.
As soon as Ruby sees Ethan, she realizes she made a terrible mistake all those years ago. But how can she get Ethan to see she's the perfect one for him now, after all the pain she put him through?
BFF Charm: Big Sister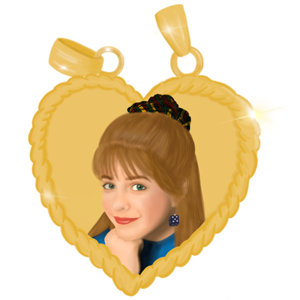 Ruby, bubby, look at your life, look at your choices. It would be tough to be friends with you, because a) I'd never see you (you work too hard, love) and b) when we would hang out, all I'd want to do is give you advice on how not to hate yourself.
Ruby was at her most likeable when she was dealing with all her family's oddities; managing her wheelin'-and-dealin' father, organizing her high-maintenance sister's wedding, and bonding with her awesome step-mom. She has plenty of potential to earn a BFF charm once she sorts out what's important in her life.

Swoonworthy Scale: 4
I was let down by the swoon. I was expecting many a fraught look and simmering sexual tension when confronted with past hurts, but Ethan was surprisingly genial in the present. He's extremely generous with his money and modest when accepting gratitude, and while it was obvious why Ruby still liked him, I didn't feel any angst when they were alone.
The main sparks came from the beginning of Ruby and Ethan's love story, but since it was fairly straightforward—as we already knew they dated in the past—it wasn't the magic I was looking for.

Talky Talk: Have We Met?
We learn about Ruby and Ethan's past with a "now and then" format. I personally always have mixed feelings on this narrative device, but, overall, I think it worked well for this novel. There were a few "then" chapters where the focus switched to Ethan's perspective, but we never got any of that in the present and I found myself wanting to hear more of his side, especially since he kept a lid on his feelings much of the time (see: Swoonworthy Scale).
This is a loose Persuasion retelling, and it hit some of the right notes: Ruby's family's fall from grace, a vacation by the sea in Brighton, old flames coming back into your life. But I didn't find myself loving it as the present love story fell flat, plus much of Ruby's sister, Piper, and her wedding shenanigans felt stale; we've seen this in dozens of chick flicks and chick lit books, and I would've enjoyed something more unique than secondary plot about a self-obsessed little sister who freaks out if everything isn't perfect.
Bonus Factor: Rich People Travel
Ethan's rich, and Piper's fiancé is rich, so doling out what must've been beaucoup bucks to rent a fancy British castle for the wedding and a mansion for everyone to stay in is basically just a Tuesday. I'd like to visit England with these people.
Bonus Factor: Katy Perry
Does anyone remember that ear-worm, "The One That Got Away" from Katy Perry? No joke, every time I think about this book, that song gets stuck in my head. *sings* The wha-oh-oh-oh-oh-oh-one! If you like the song, then it's a perfectly acceptable bonus factor, but I suppose if you hate it, then most definitely not. (If you don't care for the song, you may still be interested to know that hottie Diego Luna co-stars in the music video. Go ahead, watch it on mute. I'll wait.)
Anti-Bonus Factor: Mystery Reasons
In Jane Austen's Persuasion, we know why Anne Elliot broke up with Captain Wentworth way back when, but in this book the author chooses to keep it a secret until the very end. The reveal is messy and problematic, and I didn't like being kept in the dark. It didn't seem like it added anything for the better.
Relationship Status: Summer Fling
We could make this more than it was: a few drinks and some stolen nights, but I'd rather not dwell on the past, so let's just shake hands and wish each other the best. No pining allowed.

FTC Full Disclosure: I received my free review copy from St. Martin's Press. I received neither money nor peanut butter cups in exchange for this review. The One That Got Away is available now.