About the Book
Title:
Heist Society (Heist Society #1)
BFF Charm: Yay!
Talky Talk: No Nonsense
Bonus Factors: Sneakers, Glamorous Globetrotting, Being Rich, From the Mixed-Up Files of Mrs. Basil E. Frankweiler
Relationship Status: The Skater Dude at the Mall
The Deal:
Katarina Bishop is basically living the opposite of my high school life. Whereas I was a nerdy, regular old teenager who dreamed of being more like my heroes (Nancy Drew and Scully, obvs), Kat is a super crafty art thief who wishes she could just be normal. HA HA I KNOW, you have to suspend some disbelief with Heist Society, because WHO WOULD NOT WANT TO BE A TOTALLY BADASS TEEN CRIMINAL MASTERMIND? Anyhoo, in an effort to become ordinary, Kat scams her way into the ultra prestigious Colgan School, only to find herself getting kicked out over a (really awesome) prank that she had nothing to do with. The actual culprit, she quickly discovers, is her friend Hale, who is intent on getting Kat back in The Family Business in order to save her father, who's gotten mixed up with a really bad dude named Taccone. In order to protect her dad, Kat must put together the ultimate team to pull an extraordinary heist, all while matching wits with the greatest thief in the world, Visily Romani!
BFF Charm: Yay!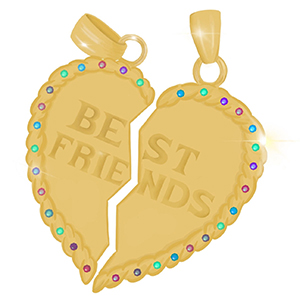 I will never miss an opportunity to give my charm to a complete and total badass, not only because I worship fierce girls but also cos INSTANT RESPECT IN THE CAFETERIA, Y'ALL. Kat is crazy smart, totally independent, and extremely driven, and in spite of what I just said about suspending disbelief, it makes sense that after spending her childhood as Lil Miss Art Thief, she would crave normalcy. Even though she tries to walk away from her criminal life, Kat can't escape her family roots, and her struggles will resonate with anyone who's left the nest and ventured out on their own (which is pretty much every adult out there, unless you're still living in your parents' garage, OH SNAP). Kat is definitely a super cosmo art thief, but Ally Carter manages to infuse her with just enough anxiety to be accessible. With that said, I didn't really have any "OMG! I KNOW!" or "I feel you, girl!" moments with Kat, because she reads WAY more like she's 24 than 15. I'm not gonna complain, though, cos this means I'm finally BFFs with a YA character I can EASILY SNEAK INTO A BAR. Holla!
Swoonworthy Scale: 4
Given the innate sexiness of heists, this book should've been way more swoonworthy. With that said, there's still some enjoyable sparks between Kat and Hale, who just happens to exemplify the Trifecta Of Hotness (physically smokin', clever, and not a douche! Oh and also RICH! So, more like SUPERFECTA). Oh Hale, you handsome cad! I'm always a sucker for a storyline that involves a badass girl pretending not to like the arrogant hottie, which only makes him like her more (Pro-tip from Katarina, ladies! Take note!). Carter also introduces a possible love triangle, but it seemed like a half-hearted attempt to me, so it didn't really up the swoon. I guess she was more focused on the heist plot, which is obvs important, but come ON! Art thieves are DEAD SEXY. WHERE IS THE KISSING?
Talky Talk: No Nonsense
As I mentioned in the BFF section, Katarina does not sound like a teenager. In fact, none of the characters do. But this is a superspy kinda novel, so Carter's straight up style compliments the story nicely. In fact, it might be kind of weird if, say, in the middle of the heist, Kat was all, "OMG YOU GUYS! I just realized I have NO IDEA WHAT I'M WEARING TO PROM!" or whatever. Yes, the story would've been more compelling if I felt like Kat was an actual 15-year-old capable of masterminding the greatest criminal caper in history, but I still got a major kick out following her (and her posse) as they got all international and sneaky pants (see Bonus Factors below).
Bonus Factor: Sneakers
Y'ALL I LOVE ME SOME SNEAKERS. Seriously, you could take the "Ragtag group of quirky characters, each with their own special skill!" plot line, drop it into any kind of movie or book, and I will EAT. IT. UP. Like tasty business with gravy on top (see: Ocean's 11, Mission: Impossible and, of course, Step Up 2 the Streets). Kat does a pretty bang up job in putting together her own crew, which includes: Simon the computer guy, Gabrielle the hottie, Nicholas the pickpocket, and, my personal faves, Angus and Hamish, the heavy lifters. To be honest, I wish there had been more heists in the book, just so I could've seen this crack team work their magic again and again.
Bonus Factor: Glamorous Globetrotting
THIS BOOK IS ALL OVER THE PLACE. Poland! Paris! New York! Italy! And all without jet lag! IT'S AMAZING!
Bonus Factor: Being Rich
And of course, all of that globetrotting would not be possible without BEING RICH! Kat is already pretty wealthy, but Hale is loaded. He has like four mansions! Fancy cars! And, most importantly, a butler named Marcus who is totes a Jeeves (in the best possible Wodehouse sense)! These kids act like jumping on a plane to Paris and staying at a posh hotel is pocket change… BECAUSE IT IS!
Anti-Bonus Factor: I GOT REALLY JEALOUS.
Bonus Factor: From the Mixed-Up Files of Mrs. Basil E. Frankweiler
So, obvs nothing can compare to living at the Metropolitan Museum of Art and stealing change out of the fountain BUT I loved the scenes in the book when Kat and her gang case the Henley (I also enjoy using the verb "case"). I can only imagine how much fun it was for Carter to make up not only a famous museum but also the priceless works of art inside of it, and I was fascinated by all of the behind-the-scenes details, from the insane security measures to the intense art world politics.
Relationship Status: The Skater Dude at the Mall
When I saw this book outside the food court, I was immediately intrigued by its sexy air of danger. It was reckless and wild, and it did stuff that I would never dream of doing. I felt a thrill just watching it bust those crazy skateboard moves and hang out with its cool friends, smoking and drinking (gasp!!). Every time I went to the mall, I would sneak outside for a peak, but I knew deep down that our relationship wouldn't deepen into anything meaningful. Even though Heist Society was a super fun distraction from my regular life, it was never gonna be someone who inspired any kind of emotional connection. Of course, if a sequel ever comes out, I will definitely find an excuse to hang out in front of the food court again, so I can snack on some fries and enjoy a dose of my favorite type of danger–the vicarious kind!
FTC Full Disclosure: I checked this book out from the library, and I received neither money nor cocktails in exchange for this review.