About the Book
Title:
The Memory of After (The Memory Chronicles #1)
Cover Story: Early '80s Sci-Fi Dance Party
BFF Charm: YAY!
Talky Talk: Intensity In Ten Cities
Bonus Factors: You Tube, Prancing Goats, Level 2
Relationship Status: I Can't Wait to Get Back in My Pod and Relive My Memories with This Book!
Note: This book was originally named Level 2.
Cover Story: Early '80s Sci-Fi Dance Party
Sure it has a girl in a fancy dress, but thanks to the typeface and excellent use of dots, it's a girl in a fancy dress, on her way to a dance party with Buck Rogers and the cast of Battlestar Galactica! In other words, I want to go to there.
The Deal:
Felicia Ward is dead. And wherever she thought she might end up when her life was over, it wasn't here, in Level 2. Now she spends her days in her pod, reliving her favorite memories from Level 1 (her life), and watching her credits pile up as other dead folks in Level 2 rent her memories to entertain themselves. That's before something terrible happens to one of her podmates, and a boy she thought she'd never see again appears and tells her he's part of a rebellion. He's hell-bent (ahem) on overthrowing the Morati, the angels in charge of Level 2, who have been keeping them all there. Even more surprising, the boy promises that if Felicia helps him, he'll help her in turn–by finding the one person she misses the most….
BFF Charm: YAY!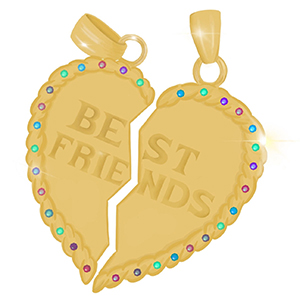 Felicia is sweet and thoughtful and innocent–no matter how much she's made to believe otherwise, and I wanted so badly to be able to call a timeout with her while reading this book, because it was hard to watch her go through frustrations and challenges and feelings of guilt and shame, when I, as an adult, could have really helped a girl out. However, I'm ultimately glad I had to sit back and let her discover these things on her own and watch as Appelhans used Felicia's memories to develop her character over the course of the story. I would also kind of like to give a charm to Felicia's dad.
Swoonworthy Scale: 6
While there are two love interests, Felicia knew each of them at different times, thus avoiding the pitfalls of a traditional triangle, and the author does a fantastic job of showing them to us from a teenaged girl's perspective: Neil, the super-sweet youth group boy, and Julian, the bad boy (with a heart of gold? I hope? Possibly?). We readers get to fall for both of them in turn–how hot and bothered things get with Julian, and the sweet tenderness she shares with Neil–and by the end, we're left with questions that make me think we might not have seen the last of either boy.
Talky Talk: Intensity In Ten Cities
Fellow book blogger Lenore Appelhans shines in her debut novel. I say this as a reader and as someone who counts herself lucky to know her. I read this book in its infancy, parsed out a few chapters at a time, which I can testify was sheer torture. The author builds the story craftily, layer upon layer, ending each chapter in a fever pitch that left me emailing responses that–while I tried to be constructive–tended to be limited to three-letter acronyms: "OMG!!!!" and "WTF?!!!" Essentially, I could not wait for MORE, and found myself compulsively turning page after page. As if she knows this, Appelhans keeps it at a tidy 280 pages as she takes us on the literary equivalent of a high-speed train, traveling break-neck right up to the end.
Bonus Factor: YouTube
As I mentioned above, in Level 2 memories are used as a means of entertainment and currency. If you have a lot of good memories, not only are you going to want to relive them, but others in Level 2 will rent, watch and rate them. This was an ingenious device that brings a level of relevancy to the genre. The way Appelhans organizes these also makes for a nice segue between what's currently happening in Level 2, and what happened before Felicia got there.
Bonus Factor: Prancing Goats
Do I really need to say any more?
Bonus Factor: Level 2
This bonus factor could also be filed under World Building, because the realm of Level 2 itself was a character; it's well developed and described in vivid detail that painted a clear enough picture that I think I could be in charge of set design, when the book gets made into a movie.
Relationship Status: I Can't Wait to Get Back in My Pod and Relive My Memories with This Book!
This book and I had SUCH an amazing time together. It took me to fantastic locales! There was romance! Adventure! Self-discovery! So, not to brag or anything, but I'm pretty sure the two of us are going to get a LOT of views once we upload our memories of each other.
FTC Full Disclosure: I received my free review copy from Simon & Schuster. This review was originally posted on Kirkus Reviews in exchange for monetary compensation, which did not affect or influence my opinions. The Memory of After is available now.