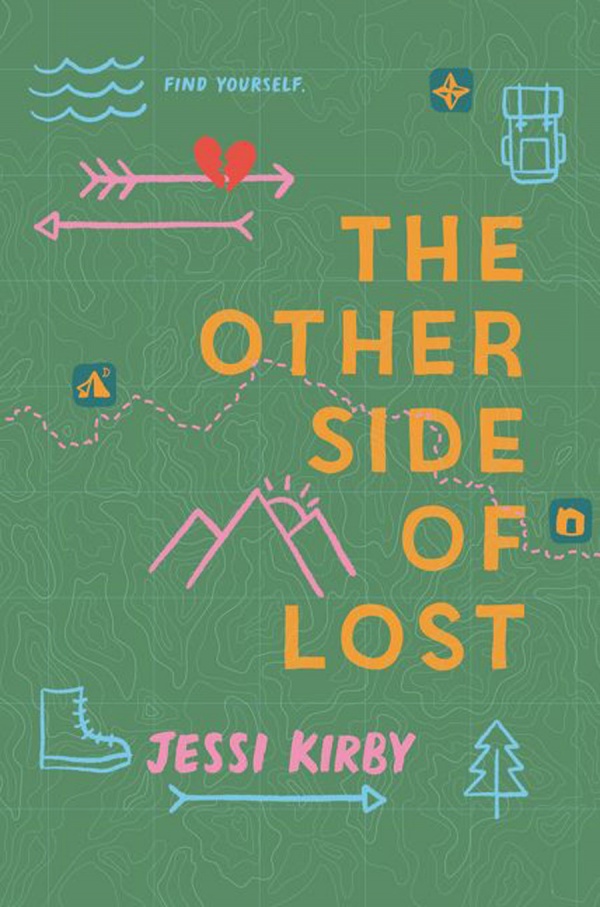 About the Book
Title:
The Other Side of Lost
Cover Story: Montell Jordan
BFF Charm: Yay
Talky Talk: School of Sarah Dessen
Bonus Factors: Social Media Detox, Purple Mountain Majesties, Bullet Journal
Relationship Status: Hiking Buddies
Cover Story: Montell Jordan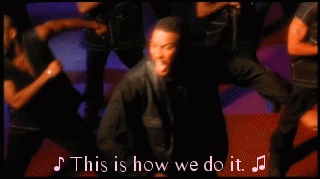 This is how we do it, people! I love the map background and the little hand-drawn icons on this cover on their own, but knowing how they tie in with the story makes them extra special. Bonus points for a killer color combo!
The Deal:
Mari is internet famous. As in, half a million Instagram followers famous. Every moment of her carefully curated life is an opportunity to get more likes, more followers, and more sponsorship deals. Her smoothie bowls are styled just so before being photographed, then thrown down the sink, because her bikini photos leave little room for extra calories. Her Prana flow is practiced in the hippest yoga pants as part of promotional deals with brands. Even her relationship with her "boyfriend" is monetized and scripted for maximum crossover potential on the 'gram.
Now, on the 18th birthday she should be sharing with her late cousin, Bri, Mari loses it. This was the day she was supposed to set out to hike the John Muir Trail with Bri, the day they had dreamed of as children, before Mari and her cousin grew apart…and before Bri died in a hiking accident.
With nothing but her cousin's boots, backpack, and journal, Mari posts a tearful video letting her followers know she's done with the social media life and getting away from it all, then she sets out on a journey to complete one of the hardest hikes in the United States with no training, no friends, and no idea who she is anymore.
BFF Charm: Yay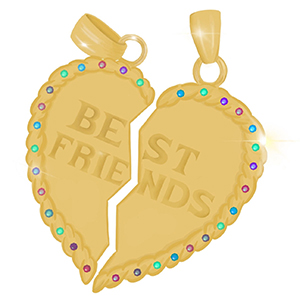 At first, I had quite a bit of side-eye for Mari. The amount of effort she put into seeming perfect, while actually sort of hating her entire life, was…a lot. She was obsessed with the empty reassurance she got from the amount of people who liked her posts. But once she set out on her own to hike the John Muir Trail, everything I thought about her changed. Was she exhausted? Yes. Scared? Hell yes. Lonely and grieving the loss of her cousin? Of course. I would have been too. But the fact that she kept going, even when she wanted to quit, was admirable. I wanted to pump my fist in the air for her every time she made even the smallest milestone. Trail Mari was everything I'd want in a BFF and then some.
Swoonworthy Scale: 5
When Mari meets a group of hikers on the trail, it's pretty clear that dark-haired, dark-eyed cutie Josh is into her. And duh, of course Mari is into him too! He lends her his trekking poles, saves her from river rapids, and *ahem* shares his sleeping bag. There are some swoony moments, but at the end of the day, Mari and Josh aren't hiking this trail for a hookup, so kissing takes a back seat to more important things.
Talky Talk: School of Sarah Dessen
Jessi Kirby's books are always quick, easy reads that also manage to pack a huge emotional punch, and The Other Side of Lost is no different. I'd drool over the gorgeous setting and feel Mari's despair over the loss of her cousin Bri every time she made it to the top of a mountain that Bri would never get to see. And while this book dealt with a lot of heavy stuff, there were still moments when Mari's hiking buddies could act silly and make me laugh. My only complaint was that the ending, while beautiful, left me wondering about a handful of loose ends that I wish had been tied up, especially concerning Mari's life outside the trail.
Bonus Factor: Social Media Detox
If you've ever wished you could erase your online accounts and just go off the grid for awhile, Mari's departure from her Instagram persona will have you feeling green with envy. She lets her phone die and stay dead for most of her hike, and I'll admit, I was very jealous of that.
Bonus Factor: Purple Mountain Majesties
Kirby's descriptions of the Sierra Nevada range, Yosemite, Sequoia and other stops along the John Muir Trail will have even the most indoorsy kids (me!) wishing they could make the hike. Okay, fine, maybe it made me want to plan a road trip through the area. I'm just not a hiker, guys! Despite this, the descriptions are so gorgeous, it's easy to understand why Mari never wanted to give up.
Bonus Factor: Bullet Journal
Mari uses her late cousin Bri's journal as a guide along the way, and Bri's hand-lettering and doodles are included as illustrations throughout the book, and any of you BuJo kids will especially appreciate these details!
Relationship Status: Hiking Buddies
Book, every time I feel like taking a hike or going camping, or just feeling a little closer to nature, I'll grab you off the shelf. And enjoy you with a drink in hand on my back patio. I warned you I'm not outdoorsy! But that won't stop me from enjoying you any less.
FTC Full Disclosure: This review was originally posted on Kirkus Reviews in exchange for monetary compensation, which did not affect or influence my opinions. The Other Side of Lost is available today.