Cover Story: Tampon Ad
BFF Charm: Eventually
Talky Talk: Dessentastic
Bonus Factors: Colby, Real Characters
Relationship Status: Summer Lovin'
Cover Story: Tampon Ad
When it comes to book covers, Sarah Dessen has suffered through more than her fair share of soft pastels and headless girls. After her publisher repackaged all of her books last year, I was relieved to see that none of them looked like brochures on "Your Changing Body." Things in the artwork department seemed to be improving…until I saw this cover.
"Want the moon and more on your summer vacation? Trust Tampax so you can hit the beach with confidence!" Look, I am all about feminine protection, but y'all, we're talking about Sarah Dessen, aka the Queen of YA. Girlfriend deserves something that could be hung in the MoMA, not an ad from Seventeen.
The Deal:

It's the summer before her freshman year in college, and Emaline wants to make it count. Between her job at her family's beach house rental company and her relationship with Luke, her longtime boyfriend, Emaline can already feel the time slipping away. She knows that life will be different in college, but change arrives earlier than expected in the form of her estranged father and her little half-brother, Benji. Things between Emaline and her father are complicated, so when she meets Theo, another summer visitor to Colby, she welcomes the distraction. In town to film a documentary on a local artist, Theo is smart and cultured, and his city-boy ways remind Emaline that a bigger world exists outside of Colby. It's a world that she is eager to explore, but as the summer progresses, Emaline learns that you don't have to leave your hometown to redefine yourself.

BFF Charm: Eventually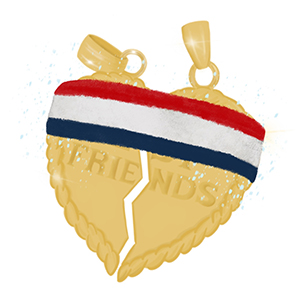 I never met a Sarah Dessen heroine that I didn't like, and Emaline is no exception. She's thoughtful and incredibly mature, and she's got a good head on her shoulders. I found it incredibly easy to relate to her, but I'll admit that it took a while for our friendship to reach BFF status. She's a teenager, after all, so even with the best of intentions, she made some questionable decisions. Plus, in contrast with her own besties, Morris and Daisy, she sometimes felt a little boring. But even when I felt frustrated with Emaline, I knew it was because I cared, and ultimately, I enjoyed accompanying her on the road to self-empowerment.

Swoonworthy Scale: 6
In order to avoid spoilers, I'll have to be purposefully vague in this section. I can tell you that the romance in this book strays from the usual Dessen formula, and I found that change refreshing. And by refreshing, I mean aggravating. Sarah Dessen has a pretty amazing track record when it comes to swoon, so while I think it's admirable that she went off the beaten path with The Moon and More, I was left feeling rather unsatisfied in the tingles department.
Without resorting to a love triangle (thank God), Dessen puts two boys in Emaline's life: Luke, her super hot, good-guy boyfriend, and Theo, the incredibly charming breath of fresh air. I won't say which, but one boy was my clear favorite from the get-go, and the other boy… was not.

Talky Talk: Dessentastic

At Forever Young Adult, we love Sarah Dessen so much that she has her own Talky Talk label. Her books are the literary equivalent to comfort food, her insightfully straightforward style the voice of a dear old friend. Her characters are wonderfully layered, and her ear for dialogue is impeccable. It's a high standard, but The Moon and More upholds it with a skillful balance of emotional depth and lighthearted spirit. Dessen is an author who knows how to take her time without losing the reader's attention, and her artful pauses make this story far more than a beach read. (Although it is definitely a great summer companion.)

Bonus Factor: Colby
Part of the thrill of reading a new Dessen novel is catching glimpses of beloved characters and locations featured in her other works. I was particularly excited to return to Colby, since its small beach town atmosphere is my favorite Dessen setting. I had a blast revisiting old haunts like Clementine's (hi Auden!), Last Chance Cafe and yes, even Tallyho.
Bonus Factor: Real Characters
Sarah Dessen has a fantastic gift for creating characters who are both authentic and ridiculously charismatic. So when I say they're real characters, I mean that in a realistic sense, but I also mean that they're real characters. As Emaline says: "Everything was small in Colby except the personalities." It's hard to choose, but my favorite is probably Morris, Emaline's bestie and the male equivalent of Monotone from The Truth About Forever. (Except he does speak in actual sentences.) Morris is "not a believer in vegetables other than pickles," and he makes serious pronouncements like, "[w]hen you go for Squeeze Serve with someone, it's a safe zone. What's said there, stays there." I also got a huge kick out of Clyde Conaway, the retired artist who would rather eat pie in his laundromat/cafe than hang out in the spotlight of the NYC art scene.
Relationship Status: Summer Lovin'
Summer lovin', had me a blast. Summer lovin', happened so fast!
This book and I felt an instant connection when we met under the hot summer sun. It wasn't really a physical attraction, although there was some swooning involved. Our relationship was as meaningful as it was entertaining, and I found great comfort in this book's company. I'll admit that my feelings never reached the intense levels of previous Dessen relationships, but we still shared something special. This book may not have delivered the moon and more, but it certainly gave me some great summer nights.
FTC Full Disclosure: I received my free review copy from Viking. This review was originally posted on Kirkus Reviews in exchange for monetary compensation, which did not affect or influence my opinions.