About the Book
Title:
Picture Us In the Light
Cover Story: Picture This On A Wall
BFF Charm: Big Sister
Talky Talk: Language As Art
Bonus Factors: Silicon Valley, Immigration
Relationship Status: Picture Me In Love With You
Content Warning: This book deals with suicide, untreated mental illness (depression and panic attacks/panic disorder), and the separation of families. All of these subjects are handled sensitively, but Gilbert pulls no punches—if they're triggers for you, you may want to avoid it.
Cover Story: Picture This On A Wall
This cover reminds me of my general apartment aesthetic: black and white with giant pops of bright color. Naturally, I love it. I think it's incredibly appealing, but I was pretty surprised to find out that the main character's art is not street art. In that, it's a bit misleading, but it nevertheless does an excellent job of being eye-catching.
The Deal:
Danny Cheng's parents, like all parents, have secrets. Theirs, however, threaten Danny's entire perception of his family, his life, and his future. When he discovers a box of clippings in his parents' closet, indicating that his Ma and Ba may have a far darker, sadder past than he ever imagined, he fights with himself as to whether he really wants to know what they're hiding.
It would be so much simpler if things kept going the way he had always pictured: his acceptance to RISD, working on the school paper with his best friends, and maybe one day getting to be openly in love with his friend without hurting anyone. It's not perfect, but it's a good life in sunny Cupertino.
You know what they say about the best-laid plans, though. It becomes clear that the Cheng family is spiraling toward a breaking point, and the truth behind his father's job loss, the box in the closet, and his parents' fights are about to be brought into the light.
BFF Charm: Big Sister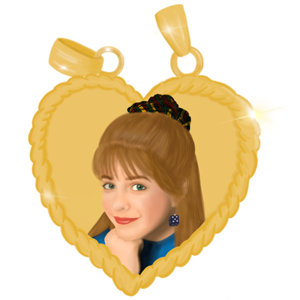 I use the Big Sister BFF charm a lot, because my natural inclination is to want to squeeze the crap out of anyone I see suffering. Danny is no exception, nor are his friends. They are muddling their ways through life (some more efficiently than others)—they're charming, driven, often idealistic, and occasionally beaten down by life. Anyone who has talked to a teenager lately—or watched the MSD students take to the airwaves and the streets to demand change—knows that these characters are an honest portrayal of what the Kids These Days are often like. And so I still want to give them a giant group hug, and write them letters of recommendation, and tell them that life never really gets easier, but they'd be amazed at the things they'll do and the places they'll go.
Swoonworthy Scale: 4
Danny is in love with his best friend, Harry—romance isn't the focus of the story, but it's always hovering in the background. Danny's love for Harry is just one component of Danny's search for his own identity.
Talky Talk: Language as Art
For anyone who has read Conviction, you already know that Kelly Loy Gilbert can write a hell of a book. This follow-up cements her as a pretty stunning talent (seriously, how? How do you write so well?!). I love the literary-yet-incredibly-realistic voice running through this novel; Gilbert seems to effortlessly offer up a vivid sense of place, complex characters, and beautifully sad observations about life.
I optimistically thought that this wouldn't break me the way Conviction broke me (former lawyer from the Central Valley here, so that book was close to my heart). Ha. Ha. Haaaaaaaaa.
Bonus Factor: Silicon Valley
You just don't see this area represented in YA books very often. Having lived near and visited Silicon Valley my entire life, I feel as though this book has been sliced directly from life and put on the page. From Danny's predominately Asian high school, to the sleepy Cupertino streets, to sun-baked San Jose and escapist jaunts up north to chilly San Francisco, it feels extraordinarily real—which makes the story even more arresting.
Bonus Factor: Immigration
Danny's parents are Taiwanese immigrants, and their immigration status has a significant bearing on how they handle the secrets of their past. It's so relevant to today's political climate, and Gilbert renders it in heartbreaking sincerity.
Relationship Status: Picture Me In Love With You
Book, I had anticipated our date for what seemed like forever—but you blew me away with your ability to connect me with your characters as if they were people in my own life. Our date was sweet and honest, occasionally funny, often frustrating, and I will even forgive you for the tangible reminder that I really need to go buy some waterproof mascara.
FTC Full Disclosure: I received my free review copy from Little, Brown. This review was originally posted on Kirkus Reviews in exchange for monetary compensation, which did not affect or influence my opinions. Picture Us In the Light is available now.