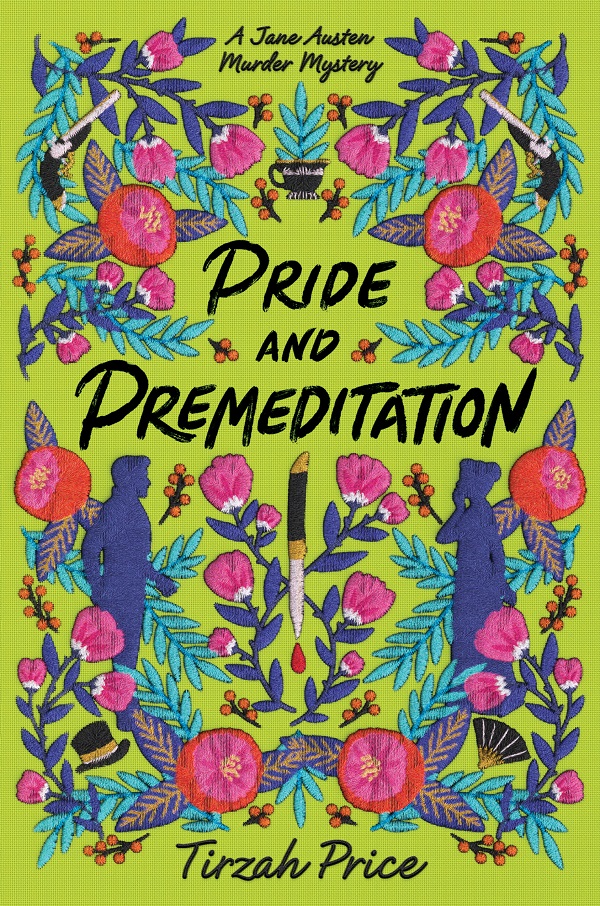 About the Book
Title:
Pride and Premeditation
Cover Story: Stitch-Crossed Lovers
BFF Charm: Yay!
Talky Talk: A Truth Universally Acknowledged
Bonus Factors: Austen Retelling, Murder Mystery, Mr. Darcy
Relationship Status: Yes, Yes, A Thousand Times Yes!
Cover Story: Stitch-Crossed Lovers
This cover is freakin' GORGEOUS. The cross-stitched pattern is perfect and I love the details like the guns, dagger and teacup. And this is the SECOND gorgeous cover this book has had! It's original cover was amazing too, but underwent some last minute changes before publication.
The Deal:
Lizzie Bennet loves to help her father at the Longbourn & Sons office, but helping is about as much as she can do. At 17, Lizzie dreams of being a lawyer – something that's practically unheard of for women of her time. She's sick of men like her father's apprentice, Mr. Collins, taking credit for her work and ideas. But Mr. Bennet has a soft spot for his second daughter, and agrees to hire her on as a lawyer if she can convince him with facts and logic.
To prove herself, Lizzie decides to solve the recent murder of George Hurst and prove the innocence of Hurst's brother-in-law Charles Bingley. Bingley has already hired his own lawyer – Fitzwilliam Darcy, his best friend and the heir to the prestigious law firm Pemberley Associates – but he appreciates Lizzie's help and offers to pay her for finding the real murderer.
Darcy is none too happy to have Lizzie getting in his way, and Lizzie sees Darcy as just another man taking credit for her work. As the evidence piles up and the clues are pieced together, everyone in Charles Bingley's life begins to look like a suspect, and more than one of them has it out for Lizzie. Can she solve the case to land her dream job, without getting murdered for trying?
BFF Charm: Yay!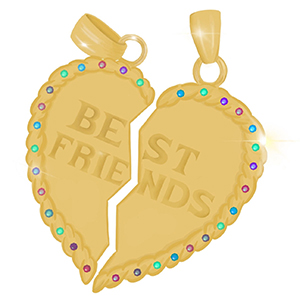 Lizzie's got a keen eye and a sharp mind, and when she wants something, she goes for it. In this case, she wants to earn her father's trust and use logic to win him over (and prove Bingley's innocence, of course), and she won't be stopped in her fight to uncover the truth. There are a few times when she gets into precarious situations because she's not thinking about her own safety, but overall, she's level-headed and smart, cares about other people, and totally worthy of a BFF charm.
Swoonworthy Scale: 7
It would be difficult to write an un-swoony Pride & Prejudice retelling, and I'll admit that this one had me worried. Lizzie and Darcy as rival attorneys has the makings for a lot of arguing and enemistry, but they are BARELY on the page together in the first half of the book. If you are impatient for on-page romance, this is probably not the retelling for you. Price really makes us wait for it. But the swoon amps up in the second half – with the added tension of a killer on the loose, and the occasional nod to some of my favorite scenes from the 2005 film adaptation.
Talky Talk: A Truth Universally Acknowledged
All the usual suspects are here – and most of them are indeed suspects. Though the story is different, Price does a wonderful job of incorporating the characters we know perfectly into the murder mystery. Wickham is a handsome runner who charms Lizzie as he helps her with her case. Darcy is an uptight lawyer-in-training who is ride-or-die for Bingley. Bingley is going to end up in prison for being too trusting and open of those around him. And of course Mr. Bennet would own a struggling law firm called Longbourn & Sons when he doesn't have a single son to inherit the business.
Bonus Factor: Austen Retelling
I can never get enough Pride and Prejudice, honestly. But we're in luck, because Pride and Premeditation is the first of three Austen Murder Mysteries Price is releasing!
Bonus Factor: Murder Mystery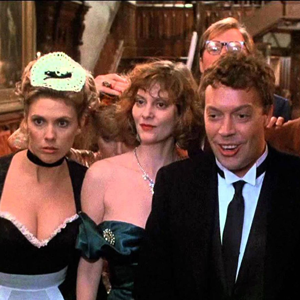 An Austen retelling that's ALSO a whodunnit? I love when authors tailor books perfectly to my tastes.
Bonus Factor: Mr. Darcy
No further comment needed.
Relationship Status: Yes, Yes, A Thousand Times Yes!
I'm always on board for a Pride and Prejudice retelling, but what I particularly loved about Price's version was the murder mystery element. A little mystery and intrigue only heightened the romance. And what's more romantic than being locked in a dark room, afraid for your life with a killer on the loose, and you just happen to be locked in that room with Mr. Darcy?
Literary Matchmaking
The Other Bennet Sister
Janice Hadlow's The Other Bennet Sister is a moving portrait of Lizzie's most misunderstood sibling as she struggles to find her place in the world.
FTC Full Disclosure: I did not receive money or Girl Scout cookies of any kind (not even the gross cranberry ones) for writing this review. Pride and Premeditation is available now.
Shop Our Jane Austen Themed Merch