About the Book
Title:
All-American Girl (All-American Girl #1)
Ready or Not (All-American Girl #2)
BFF Charm: Obvs
Talky Talk: So 2000 And Late
Bonus Factors: The White House, Losing Your Virginity
Relationship Status: Not Even The Secret Service Could Tear Us Apart
The Deal:
Samantha Madison is your average 16 year old nerd. The middle child – stuck between popular cheerleading older sister Lucy and crazy genius who will probably end up setting the house on fire younger sister Rebecca – Sam is pretty much universally ignored, until one day when she happens to save the life of the President.
Soon Sam's an accidental hero and the most popular girl in America. But that's almost as bad as being ignored, because, after all, how is she supposed to juggle a horrible frenemy, a sister who wants to make her over, her sister's boyfriend (on whom she has a huge crush), Susan Boone's crazy art classes, and the growing frission between her and the President's totally hot and awesome son, David?
BFF Charm: Obvs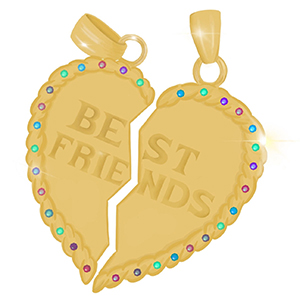 Hello, OBVIOUSLY I'm giving Sam a BFF necklace. After all, she's a Meg Cabot heroine, so even if she weren't smart and spunky and sarcastic, which she is, she'd still love Buffy and Battlestar Galactica and Star Wars. Those are pretty much ALL of my requirements for a bestie! Oh, that, and: Must Love Baked Goods, which Sam totally does.
Plus, we're a lot alike! Okay, I haven't saved the life of anyone, but:
Sam's favorite band is No Doubt, and No Doubt was my very first "on my own" concert, at age 14
Just like Sam, I also had a lisp and had to go to speech therapy classes for several years and everyone made fun of me
I also had a high school freneny who was a huge slut-shamer who used to be my best friend when we were kids
I also have a sibling who's way more popular than I am (though he is younger, and a boy)
I, too, love hamburgers.
So, yep, BFFs! The only thing, in fact, that might hinder my friendship with Sam is that I would be constantly crushing on her boyfriend, tall, cute, wonderful artistic David. SWOON.
Swoonworthy Scale: 10
Yep! That's right! Meg Cabot earns another coveted 10 on the swoonworthy scale!
Guys, I don't know what it is. Is it the accurate portrayal of sexual exploration? Is it just because I'm in love with every boy character Meg Cabot writes? I don't know! But yet again, I caught myself blushing and swooning at the same time while reading these books.
David, you can come play parcheesi with me anytime. Um, I mean, anytime after your 18th birthday.
Talky Talk: So 2000 And Late
Meg Cabot tends to write in a fresh, authentic, pop-culture-laden voice. Which is awesome, cause that's how I talk, so it's like I'm also cool! But, of course, when you make a lot of pop culture references, you never know how they'll hold up over the years. I mean, all of my Golden Girls jokes are still hysterical, but that's probably only because there's been a resurgance in Golden Girls-related nostalgia. (Tainted with sadness though it may be. Can we please put Betty White in some sort of hyperbaric chamber to keep her safe?)
So while some of the pop culture references still make me laugh, some are, of course, a little uncomfortable to read (like how Catherine, Sam's best friend, is pretty sure that she's going to grow up and marry Heath Ledger). But, although the references may be dated, I sort of love that. It reminds me of who I was and how I felt during that particular period in time, and I feel like I'm visiting an old friend.
(Sarah will be delighted to know that one pop culture reference mentioned in the book has particularly stood the test of time. And that is everyone's swooning crush on Keanu Reeves.)
Bonus Factor: The White House!
Holla! It's the White House! Home of The Lincoln Bedroom, the West Wing, and Michelle Obama's clothes collection!!! How awesome would it be to basically have an open invitation to go hang out at the White House whenever you wanted?
If I had an open invitation to the White House, I would talk to Malia and Sasha about what books they're reading, and how iCarly is, in fact, a way better show than Hannah Montana. I'd ask Michelle if I could try on some of her dresses, and then I'd go shake the hand of our Commander in Chief and politely ask him where he thinks he might have misplaced his balls in the past year, and whether he might want to go find them again. (I expect my invitation to be forthcoming!)
Bonus Factor: Losing Your Virginity
Okay, for a LOT of people, losing the big V is not a bonus factor. More like a "wow, was that it?" factor. But! That doesn't mean it HAS to be anything less than totally awesome, and if that's what you want, then that's what you should make sure you get!
But I'm not sure there's ANYTHING more awesome than losing your virginity at Camp David. Maybe, like, losing it in a field of rose petals while cupids play harpsichords and birds make a banner out of flowers and tin foil that spells out "You Did It!" But that's pretty much it.
Relationship Status: Not Even The Secret Service Could Tear Us Apart
Dear Book,
I know I shouldn't have crashed the State Dinner just to see you, but I couldn't help myself! Book, I just love you so much! You're always there for me when I'm having a rough day and need to smile and I just want to do the same for you! Could you please ask your friend the President to take me off the blacklist so that we can hang out in the Rose Garden again?
If not, I'll still see you every day from just outside the White House gates. I'll be the girl next to that one guy who's been protesting nuclear war every day for like 20 years.
Yours in Patriotism and Swooning,
Erin
FTC Full Disclosure: I received neither money nor cocktails for writing this review (dammit!). All-American Girl and Ready or Not are available now.