Cover Story: Montell Jordan
BFF Charm: Platinum
Talky Talk: Straight Up, Y'all
Bonus Factors: Exploring Sexual Identity, The Parks & Rec Award for Ensemble Cast
Relationship Status: Love That Defies Labels
Cover Story: Montell Jordan
I'm sensing a pattern with Julie Murphy's recent covers, and I LIKE IT. Similar to Dumplin', Ramona Blue's artwork features a delightful illustration of the title character (with her blue hair, tall stature and love of swimming accurately depicted) along with playful typography and a simple color scheme. This is the kind of design that makes great covers look easy, and yet we here in the YA world of stock photos and big faces know that ain't the case, so tip up your cup and throw your hands up!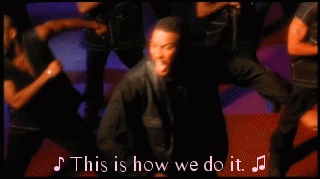 The Deal:
Living in Eulogy, Mississippi as a lesbian isn't exactly smooth sailing, but Ramona Leroux takes great pride in the label. In many ways, it defines her, and while her mother, who left the family after Katrina, treats it as a phase, Ramona has supportive friends (two of which are gay) and a loving father and older sister, Hattie, with whom she shares a trailer. She feels at home in the small beach community, bouncing between her two jobs and attending school, but she had big plans to bust out… until Hattie got pregnant.
Facing a more limited future, Ramona wrestles with her roles as a provider for her family, as a partner in raising Hattie's child, as a girlfriend left behind after each summer romance. Her sexual orientation is the one bedrock she can cling to, but when her childhood bestie Freddie moves back to town and rekindles their friendship, even that aspect of herself comes into question. Turns out, it's easier to be a lesbian in the South than a girl in search of her identity.
BFF Charm: Platinum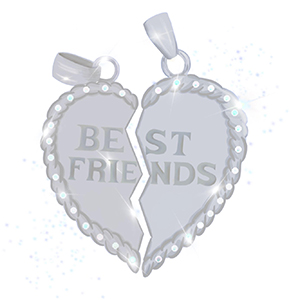 Ramona is one of the most winning heroines I've ever come across, which is like duh, because Julie Murphy. She's made of strong stuff, and though she's been dealt a rather rough hand, she's determined and resilient and unflinching in her loyalty to and compassion for her family and friends. While she's incredibly mature for her age (which makes sense, given the aforementioned cards at play), Ramona is still a believably flawed teenager, and her candor just makes her that much more endearing. Take, for example, her explanation for the poor treatment of an ex:
Listen, I was only fifteen and not really emotionally prepared to be her guide through the Gay Mountains.

Her texts started getting pretty intense, so I did what any normal person who is not really an asshole but is acting like an asshole would do: I ignored her.
Ramona also has a super practical side, which I found refreshing in a young adult, and that perspective leads to some wry observations like this one, after a swimming session at the Y:
Working out is for rich people. I don't have time to feel this exhausted for no reason.
See? You love her already.
Swoonworthy Scale: 6
Given that Ramona doesn't like boys like that, and Freddie is recovering from a recent break-up, this isn't a straightforward romance, yet that's exactly what makes it so compelling. Freddie is such a great guy—incredibly thoughtful and easygoing and kind—and his shared history with Ramona provides an instant intimacy that feels both safe and enticing. There are definitely a few butterflies that flutter from the pages (my favorite frisson involves the recurring appearance of the game MASH) but the most heart-grabbing moments spring from the bumps in the road, when the pair must navigate unchartered territory together.
Talky Talk: Straight Up, Y'all
From the first page, Ramona's voice is vibrant and utterly dynamic, with an engaging familiarity that transports you smack dab in the middle of Eulogy, Mississippi. Each character, while colorful, feels completely realized, and the Southern twang that pervades the dialogue adds just the right amount of seasoning without feeling cartoonish. Although I have to admit, I cherished the few times when Murphy really let loose with the sass, specifically through the characters of Saul, Ramona's friend, and Hattie, who uttered this DREAM SPEECH at two frenemies who showed up at her baby shower:
"Gretchen," she says. "MaryLou, I know y'all are just here to check out the class slut. I get it. Someone had to get knocked up first, but y'all can just leave your presents on the gift table and take your backwards attitudes out of here. Don't let the door hit ya where the good Lord split ya."
That last line is sooooo taking up residence in my lexicon next to that gem from Dumplin', "Let the glitter fall where it may."
Bonus Factor: Exploring Sexual Identity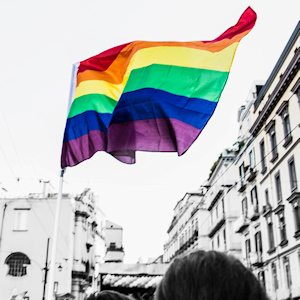 I've read books plenty of books about straight girls, and some about gay girls, but this is the first YA book I've read which focuses on the idea of fluid sexuality. Ramona is extremely confident in her attraction to females, so her unexpected desire for a male results in a narrative that isn't just a refreshing take on LGBTQ themes–it's also a powerful reminder that we as individuals decide who we are, regardless of the way the world tries to categorize us. Ramona sums it up perfectly:
Life isn't always written in the stars. Fate is mine to pen. I choose guys. I always choose girls. I choose people. But most of all: I choose.
It's also worth noting that Murphy acknowledges not just the hardship of being gay in the South, but also the challenges of being black in the South.
Bonus Factor: The Parks & Rec Award for Ensemble Cast
Ramona is awesome, obviously, but the supporting characters in this book pretty much steal the show. From Saul (last name Pitre, holla!), a gay guy who rocks what he calls a "beach trash aesthetic" and his lesbian sister, Ruth, who thinks feelings are gross, to Freddie's tiny and sweet grandma Agnes and Prudence Whitmire, a crotchety old swim coach who hangs at the YMCA, the ensemble in this book is absolute dynamite.
Relationship Status: Love That Defies Labels
It's impossible to precisely define my emotions about this book, because I have rainbow of feelings. It made me laugh, it made me think, it made my heart swell up like a big ole balloon. (It also left me jonesing for a summer vacay to a Mississippi beach town.) Ramona Blue really is something special, and as much as I treasure it and hold it close, it would be a crime not to share this book with the world.
FTC Full Disclosure: I received a free copy of this book from HarperCollins. I received neither cocktails nor money in exchange for this review (dammit). Ramona Blue is available now.