About the Book
Title:
The Realms of the Gods (The Immortals #4)
Cover Story: Exotic
BFF Charm: Yay to Platinum
Talky Talk: Well-Rounded
Bonus Factors: The Darkings, Stormwings, Apocalypse Imagery
Relationship Status: Take Me With You
Careful, Sweetie: spoilers! This is the last book in The Immortals series, so if you haven't read Wild Magic, Wolf-Speaker, or Emperor Mage, you should probably hop back in the TARDIS and go curl up in the library by the pool with the first book before continuing.
Cover Story: Exotic
Well, this is definitely the strangest assortment of "animals" depicted out of all of the series' covers. Fun fact: did you know that a platypus can also be called a duckmole? It is apparently a more archaic term for this adorably odd looking creature. YA: fun AND informative!

The Deal:
Ever since former-Emperor-turned-Stormwing Ozorne flew away from Daine and her dino-skeleton army, he's been collecting allies and stirring up trouble for Tortall. Daine's beloved kingdom is fighting a war on multiple sides, and as important mages and all-around badasses, she and Numair have been living the last six months out of their saddlebags, racing from one magical crisis to the next.
When their latest battle against the unstoppable Skinners (creepy man-like blobs that literally skin anything they touch) turns seconds away from certain death, Daine's parents enact some godly magic to pull her (and, by virtue of proximity only, Numair) to safety in the Divine Realms. In order to get themselves back to their friends and back to the action, Daine and Numair must travel across the beautiful but deadly home of the immortals and gods to ask the dragons to help them get home.
It's going to take all of their wits and teamwork to make it out alive.
BFF Charm: Platinum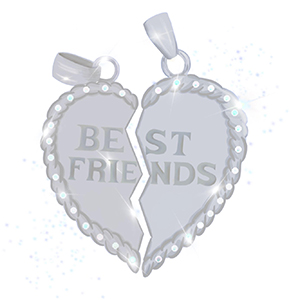 Daine is now sixteen, pretty much a grown woman by olden-day standards, and she's not only become an invaluable tool for the crown, but also a trusted friend of the crown. Hers is the kind of loyalty you'd want on your side, because even though she gets this wonderful respite from the war, gets to meet her dad for the first time, and finally has an opportunity to hug her mother who has been dead for four long years—all she can think of doing is getting back into the fight to protect her friends and loved ones. I'd be happy for her to have my back any time.

Swoonworthy Scale: 10
I'm pretty sure I intentionally forget a lot about this book so I can enjoy the rereading experience, because I'm always surprised by how swoony and emotionally satisfying I find this last installment. Early on in the first few pages, we see Numair come to this realization about his feelings, and with Daine still teetering on the precipice of the same realization, the whole first half has these little moments scattered here and there that may not be overt, but create plenty of tension and electricity. Oh, and the last half is pretty darn good, too…
Talky Talk: Well-Rounded
In a similar move to Wolf-Speaker, Tamora separates her two leads from their group and supplants them into uncharted territory. I love that the author keeps expanding her world and populating it with fun and fantastical places I'd love to visit. This final volume combines a classic journey with one of the things I've always thought Tamora does best: combat/battle moments and strategic war room planning.
And even though Numair and Daine are away from the action in the mortal world, Pierce uses a cool story device to keep them connected and up-to-date by making it so everyone staying in the Divine Realms has prophetic dreams and can see glimpses of the human world through mirrors or reflections of light. It works in the increasingly dire situation without breaking up the main plot's pacing.
Bonus Factor: The Darkings
For a series about a girl who can speak to animals, this book has quite a lack of animal characters. Sure, we do get more of the badger and the duckmole gods, but since Daine is stuck in the Divine Realms she's unable to use her power, as all of the animals she encounters are gods and therefore immune to her magic. So to take the place of the furry cuteness, we get the darkings: blobby, jelly-like creatures created from Ozorne's blood and magic in order for him to spy on his enemies. A few of them end up defecting, partially because Daine—unaware of what they are—treats them with simple kindness. As their little personalities emerge they become fun additions to the novel, and as a child I was always bereft to know that I could never have one.
Bonus Factor: Stormwings
I enjoyed the way the Stormwings' journey played out in this installment. It really brought everything full circle, from Daine's initial hatred and mistrust to begrudging acceptance of Rikash to her eventual respect for their purpose.
Bonus Factor: Apocalypse Imagery
When Malady, War, and Famine are released, they are each represented by an animal. I thought it was quite a clever way for Ms. Pierce to adjust the mythology of the horsemen to fit her own narrative.
Relationship Status: Take Me With You
Your life, Book, seems to be one magical adventure to the next. You've been to some crazy places—some awesome, some scary, but wherever it is, I just want to let you know I've got a go-bag ready and waiting by the door whenever you're heading out on your next adventure. Just say the word.

FTC Full Disclosure: I purchased my own copy of this book. I received neither money nor peanut butter cups in exchange for this review. The Realms of the Gods is available now.